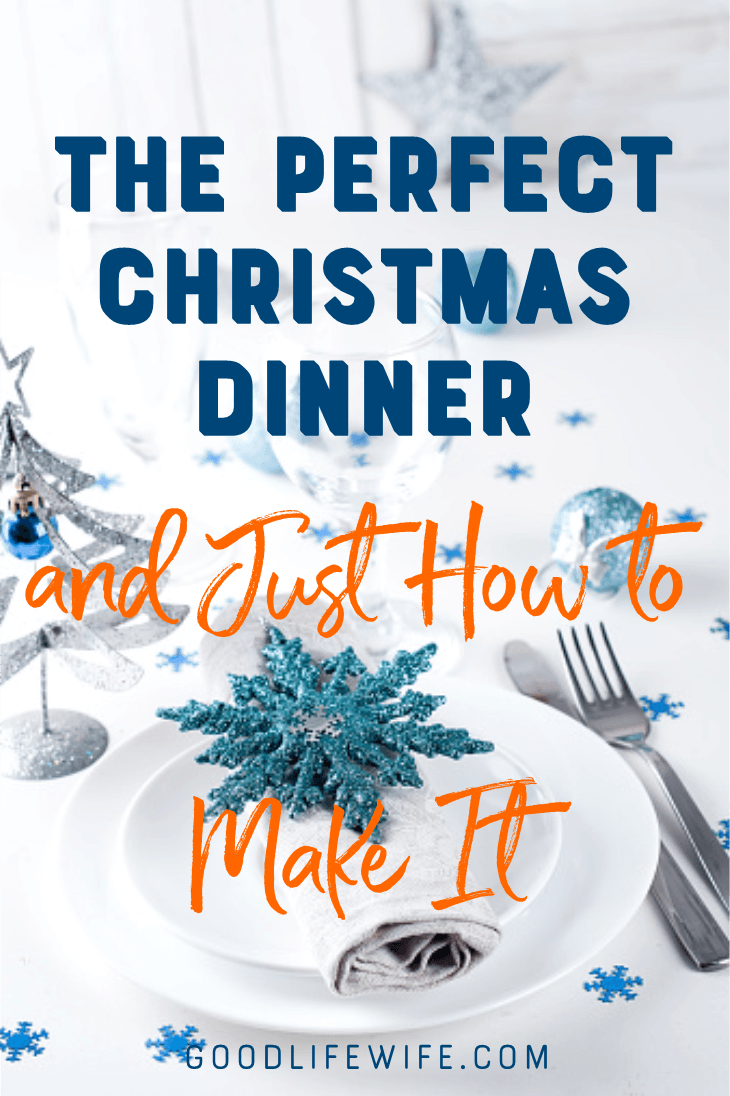 Did you see my awesome Thanksgiving timeline? Probably not as there were about a million others online! But, guess what? I could only find a few timelines for Christmas dinner, so I got busy making my own. Because you're special, I'm going to share it with you, along with a yummy menu, sure to please a hungry crowd! Let's get cookin'…
Perfect Christmas Dinner Menu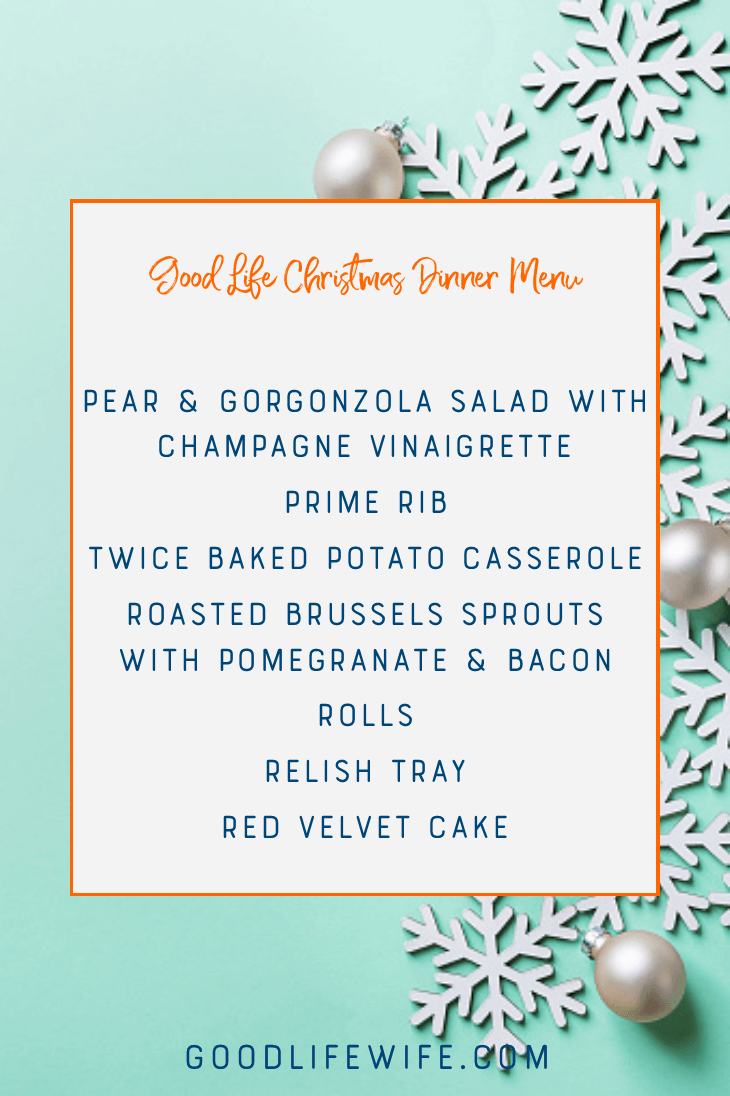 This menu is time-tested. I serve this every Christmas. Oh, except for the year that my giant prime rib went bad and was a sickly shade of green when I pulled it out of the fridge on Christmas day. What a freakin' nightmare! Did you know that no grocery stores are open after noon in Wilmington, North Carolina on Christmas Day? Luckily, I had a couple pounds of hamburger meat in the freezer and we had Christmas sliders for dinner! Lesson learned: always buy your prime rib real close to the day you're going to use it.
Some of the dishes may seem a little fancy, but they're really just everyday favorites that I jazzed up for the holiday meal. My goal was to make a meal that looked beautiful AND even the pickiest eater would enjoy!
Perfect Christmas Dinner Recipes
That's right, you don't even have to look everything up on Pinterest! I'm giving you all of the recipes right here. Could planning this year's dinner be any easier?
Pear & Gorgonzola Salad with Champagne Vinaigrette. This salad is super pretty and delicious. Red pears give it a Christmassy touch. You have a lot of dishes to pass during a holiday meal, so a plated salad makes sense. It looks fantastic on the table, and you can quickly clear the salad plates when everyone is done so you have one less dish to mess with. This recipe serves four, so just multiply it for the number of people you're serving. Get the recipe here.
Perfect Prime Rib. A big, beautiful hunk of meat is kind of awesome, right? We're turkeyed out after Thanksgiving and ready for some beef on Christmas. This prime rib roast is quick to prep and the flavor is out of this world! Figure one rib bone per adult, which usually works out to about a pound per person. Here's the recipe.
Twice Baked Potato Casserole. This dish was adapted from an Emeril Lagasse recipe I found years ago. It has all of the flavors of traditional twice baked potatoes without the hassle. You might be tempted to use an electric mixer because this is a lot of potatoes, but don't! The mixture needs to be a little chunky. Find the recipe here.
Roasted Brussels Sprouts with Pomegranate and Bacon. More bacon? Yep! Can you really have too much bacon? Green sprouts and red pomegranate seeds shout, "Merry Christmas!" Even picky eaters can usually be persuaded to try a bite or two. This recipe only serves four, so again, multiply to feed your crowd. Figure a bag of fresh Brussels sprouts for every four guests. Click here for the recipe.
That's it for recipes. Where are the ones for the rolls and Red Velvet cake? Check Harris Teeter! I serve store-bought rolls and I buy a cake. I may be good but I'm not crazy! No way could I make homemade rolls and decorate a cake while getting everything else together and keep my sanity.
Perfect Christmas Dinner Timeline
Okay, you're almost set. You have a lovely menu and have printed the recipes but how are you going to get everything on the table at the same time? Duh, da da dahhh…the Good Life Christmas Dinner Timeline!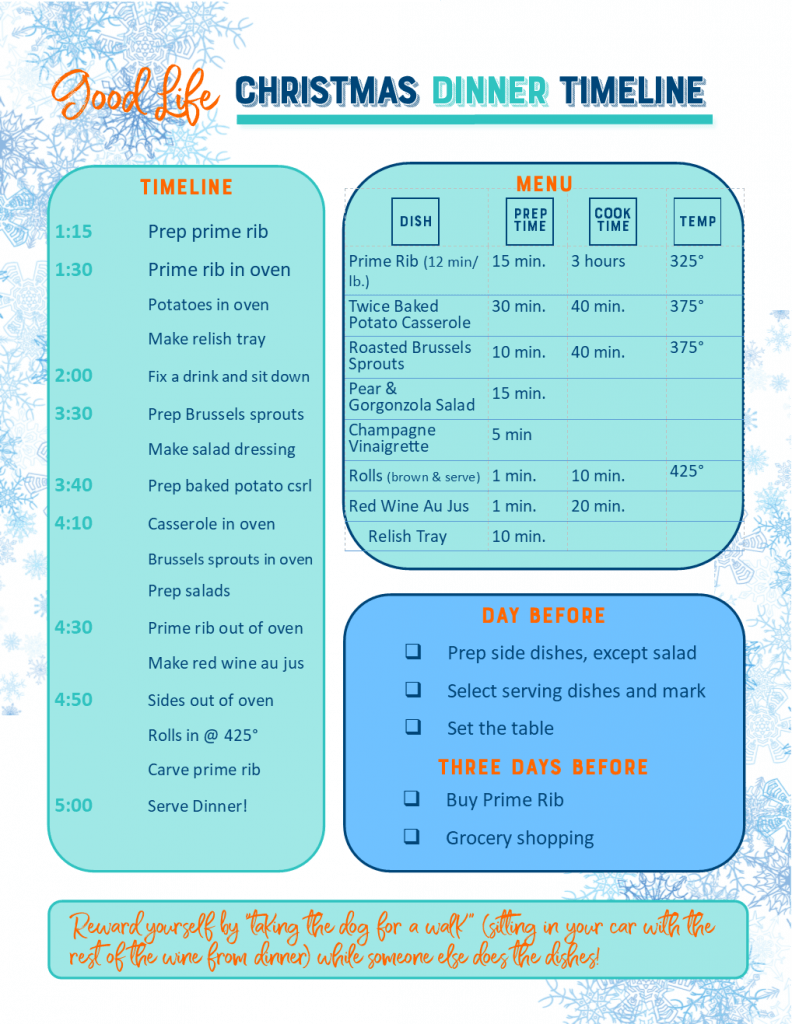 It's nice to get your side dishes made the day before so you can relax a little on Christmas day, but in case you can't, I created a timeline for doing all of the work the same day. If you would like a blank timeline or a printable version, click here. Yep, you're gonna have to fess up your email address but, trust me, it's going to be worth it! Just work the plan and it'll all come together.
Y'all, I'm kind of whooped just thinking about all of the shit crap fun-filled activities I'll be taking part in this month. I really want to be able to relax and focus on what's important this season, wine and Netflix. Seriously though, a little planning will make your holiday easier so that you can enjoy those sweet little faces on Christmas morning. Don't forget to take time to breathe and soak all of the warm and happy in!