This post contains affiliate links.  If you click on the link and buy something, I will receive a teensy commission.  Rest assured that I won't recommend a product that I haven't used myself, or at least, desperately wanted to use myself.  For more information, please see my disclosure page.
We have prime rib every Christmas.  My family loves it and it's something we all look forward to.  Does making a whole prime rib sound kind of intimidating?  It was for me too but it's really pretty easy.  You'll need a good roasting pan and meat thermometer to get it right.  Let the meat come to room temperature before roasting.  It will probably need to sit out of the fridge at least an hour, if not two.
Yield: 12 adults
Good Life Wife Perfect Prime Rib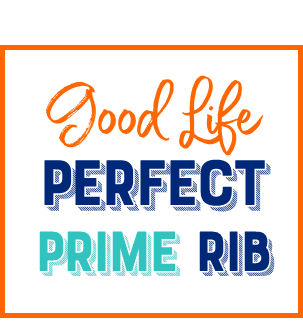 Cook Time
2 hours
30 minutes
Total Time
2 hours
45 minutes
Ingredients
10 lbs. Prime rib roast, bones on
1 cup Horseradish, prepared
10 cloves Garlic, crushed
4 sprigs Rosemary, fresh and chopped
1/2 cup Kosher salt
2 tbsp. Black pepper
1 cup Extra Virgin Olive Oil
Instructions
Preheat oven to 325 degrees.
Mix all ingredients, except meat, to make paste. Pat over entire roast and drizzle with extra olive oil.
Place in large roasting pan, bones down.  Roast until an internal temperature of 120 degrees is reached.  Figure about 15 minutes per pound.
Remove from oven and let rest for 20 minutes before carving.