This is an amazing side dish!  It's very decadent with cream, butter and bacon but worth every calorie.  We have twice baked potato casserole every Christmas with our prime rib.  I adapted this from an Emeril Lagasse recipe I found years ago.  One note, don't use an electric mixer; it makes the potatoes too soupy.  It's better a little chunky, just like me!
Yield: 12 adults
Good Life Wife Twice Baked Potato Casserole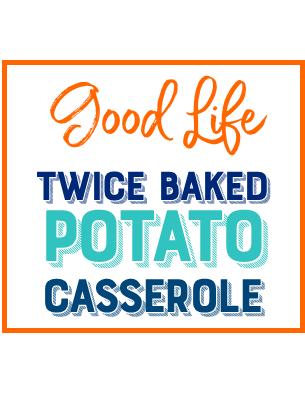 Total Time
2 hours
20 minutes
Ingredients
5 lbs. Yukon Gold potatoes, baked
8 tbsp. Butter (1 stick)
3/4 cup Sour cream
1/2 cup Heavy cream
2 tsp. Salt
1 1/2 tsp. Pepper
3/4 lbs. Bacon, cooked and crumbled
4 cups Sharp cheddar cheese, grated
1/2 cup Green onion, finely chopped
2 Eggs, lightly beaten
Instructions
Preheat oven to 375 degrees.
Slice cooled, baked potatoes in half, lengthwise.  Scoop the flesh out of the skins, getting as much as you can, and place in a large bowl.
Add butter, sour cream, heavy cream, salt, pepper and eggs and mash until chunky-smooth.
Add bacon, 1/2 of the cheese, and green onions and mix well.
Pour mixture into a buttered casserole dish.  Top with remaining cheese and bake for 35-40 minutes or until brown and bubbly.