Brussels sprouts are an acquired taste for some, but my family loves them!  I finish them with pomegranate seeds and a little balsamic vinegar to jazz them up for Christmas when I serve them with prime rib.  Roast your Brussels sprouts (and everything else) on a sheet pan covered with foil to make clean-up super easy.  I like almost all vegetables roasted, where were they when I was growing up?
Yield: 4 adults
Good Life Wife Roasted Brussels Sprouts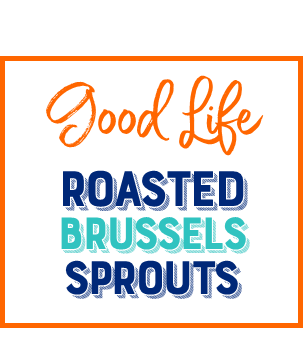 Ingredients
1 bag Brussels sprouts, trimmed and halved
2 tbsp. Olive oil
Salt and pepper to taste
Instructions
Preheat oven to 425 degrees.  
Trim Brussels sprouts, removing loose leaves and cut in half.
Place on a sheet pan and toss sprouts with olive oil, salt and pepper.
Roast for 20-30 minutes or until outer leaves are a bit brown and crispy.
For a festive twist, add pomegranate seeds and cooked, chopped bacon after cooking.  Finish with a little balsamic vinegar.  This dish can be roasted at a lower temperature if you need to share space in the oven.  It will just take a bit longer.