What a delicious salad!  With crisp pears, creamy Gorgonzola cheese and crunchy walnuts, it's sure to please.  You can serve this salad tossed any time, but I like to arrange it on individual plates for Christmas to serve with our prime rib.  It looks so pretty on the table with it's red pears.  Update:  this recipe call for Romaine lettuce which you may not want to use right now.  Substitute another, safer, lettuce.
P.S.  I can't say I'm surprised that salad kills.  A cupcake would never pull this shit.
Yield: 4 adults
Good Life Wife Pear & Gorgonzola Salad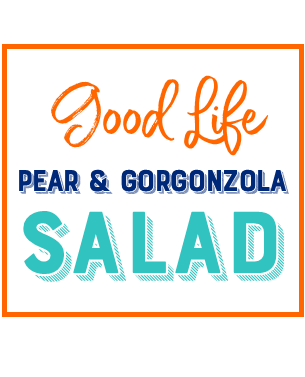 Ingredients
Salad
2 cups Romaine lettuce
1 Ripe pear, cored and sliced
2 oz. Gorgonzola cheese
1 handful Walnut pieces, toasted
Champagne Vinaigrette
1/4 cup Champagne vinegar
2 tbsp. Honey
1 tbsp. Lemon juice, freshly squeezed
1/2 cup Olive oil
salt and pepper to taste
Instructions
Place lettuce in a salad bowl.  Top with sliced pear, Gorgonzola and walnuts.  Drizzle with Champagne Vinaigrette.
For Champagne vinaigrette
Add all ingredients to a jar with a lid and shake well.