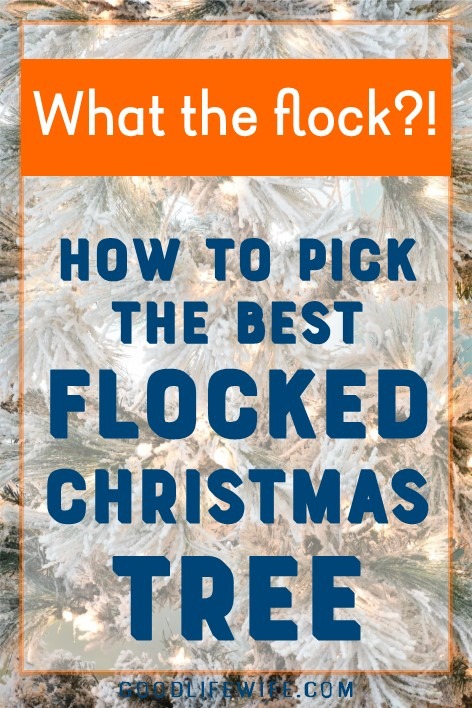 So, I had to get a new tree this year. John went to put up the old one and none of the lights worked. He didn't want to mess with putting strings of lights on that tree and it's kinda old, so we decided to get a new one. I've been seeing flocked trees all over Pinterest this year, so of course, I had to have one too! But how to choose the best flocked Christmas tree?
I've done the research so you don't have to! Read on to find just the right tree for you.
What the flock is flock anyway? Flocking a tree adds texture and color to mimic snow. It's been around forever but the new trees look way better than the one your Granny had back in the day. Commercial manufacturers use a mixture of paper pulp, corn starch and boron which makes it flame retardant.
You can DIY flocking but it's a dang mess! If you're dead set on doing it yourself though, check out this post from my friend, Kim at Sand and Sisal.
Okay, I'm going to warn you now, if you click on one of these trees and end up buying it, Amazon is going to send me a teeny, tiny commission. It won't cost you a bit more though, so click away!
Size Matters
Of course size matters! If you have an eight foot ceiling, you don't want a nine foot tree, right? I (and the internet) recommend getting a tree no more than 6 1/2 inches smaller than your ceiling height. Keep in mind the size of your tree topper. If it's gigantic, you're going to want to give it plenty of room.

A four-foot tree on a table is perfect for a grand foyer or a small apartment.

This seven-foot tree will work for most homes and gives a traditional look.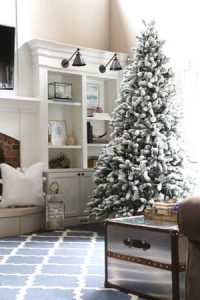 A nine-foot tree is great for soaring ceilings.
Artificial trees also come in full, medium and slim widths.

If you live in a condo, a slim tree might be the perfect fit.

For rooms with plenty of space, a full tree looks beautiful.
Type of Needle
The type of needle you choose will have a huge impact on the way your tree looks and feels. I prefer a tree with long, soft needles. These needles hold lots of flocking so the tree looks super snowy. This is a closeup of my tree, which is a Northeastern Fir. You can only see hints of green peeking through, so the overall effect is white.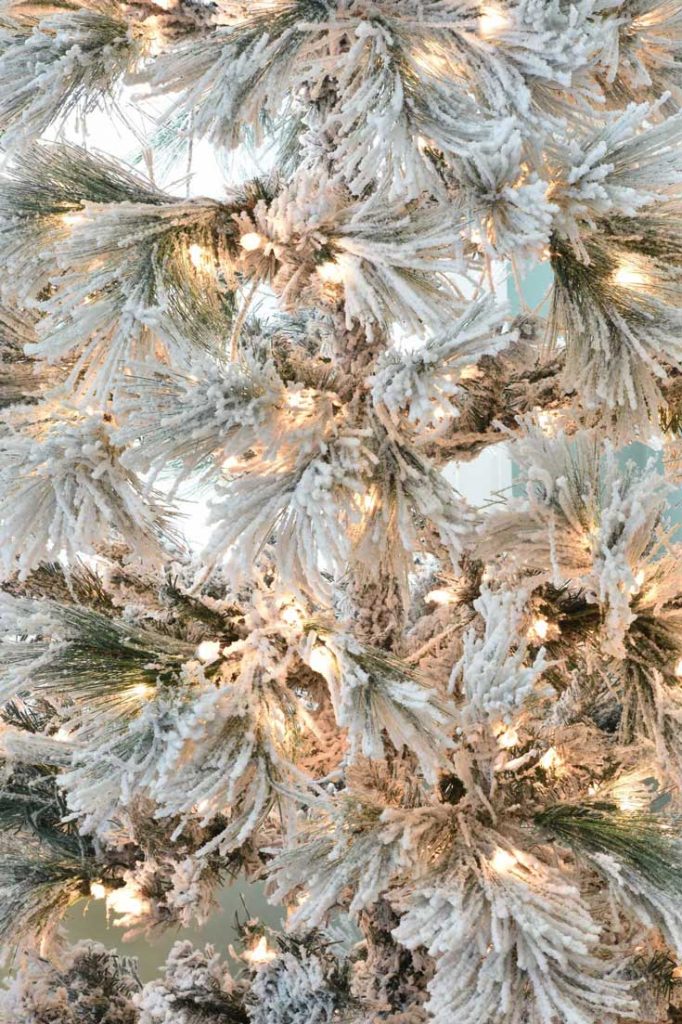 A shorter, spikier needle will hold less flocking and more green will show. They also hurt your hand when you decorate them.
Style of Flocking
Styles of flocking vary between a light dusting to a heavy snowfall. Some include a little sparkle. Beware the super glittery ones as they will leave a trail of glitter everywhere! If you have girls, you're probably used this. I really wanted a sparkly tree but the ones I could find locally just weren't full enough.

This beauty actually has glittery tips!

You could even go with a fun color like pink!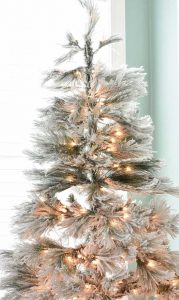 I like the one I got from Walmart best. It's a Holiday Time Northeastern Fir. Sadly, they don't have this exact one online but it's number T-54 if you go in the store. I can't wait to get it all decorated!
Don't Be Afraid to Flock it Up
There are so many options out there but I'm sure you can find the best flocked Christmas tree for you. Remember to keep the height and width in mind and, if you're not afraid of a mess, try doing it yourself.
Another thing to keep in mind during the holiday season is your budget. There are some great tips in this post!
I've really got to go now and get my tree decorated. Merry Christmas from my family to yours!