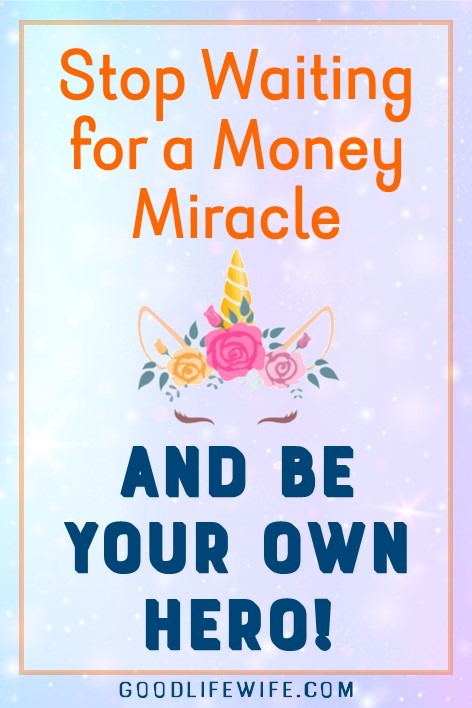 If only, someday, when I hit the lottery, when I get a promotion, when my husband gets a better job, when a rich uncle dies…Do any of these excuses sound familiar? Have you been waiting for a money miracle instead of managing the money you already have? Do you even have a rich uncle?
The other day, I was cleaning the toilet and I really didn't mind (all that much.) That kinda surprised me! I thought, "when did I stop hating to clean toilets?" Then I had an aha moment!
I stopped minding cleaning toilets when I finally figured out that it was my job and no one was going to do it for me. Boom, mind blown.
Turns out, I had spent much of my life waiting for someone else to do all the things: clean my house, manage my finances, cook my dinner. I was so pissed that no one came riding in on a white horse and took me away to a castle where I never had to take care of myself again.
Life gets so much better once you come to terms with adulting. The earlier you can start, the better. But, if you're a late bloomer like me, there's still hope! Let's stop waiting for our money miracle and start being our own hero!
This post may contain affiliate links. If you click on the link and buy something, I will receive a teensy commission. Rest assured that I will not recommend something that I would not use myself. For more information, please see my disclosure page.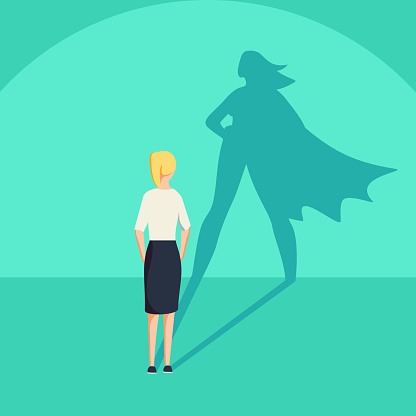 Taking control of your personal finances comes down to three basic things: knowing, spending and planning.
Knowing
You absolutely, positively must know how much money you have. Like all the time. The best way to do this is with technology. If you aren't already using your bank's mobile banking app, download it to your phone this instant! Now use it religiously. Check out this article on the best mobile banking apps to learn more.
Check your balance. Open the app and look at your balance every, single day. Even on the weekends. You need to get comfortable seeing money come in and out of your account. This will also alert you to any fraudulent activity.
Don't write checks. Checks can get you in trouble faster than a Kardashian marriage ends. The problem is, the money doesn't come out right away, so you can "forget" that you wrote the check and spend all your money up before it hits the bank. Work on a strictly cash or card basis.
Set notifications. Calendar any automated payments or other automatic withdrawals and set notifications for them. I set mine to remind me two days before the payment, so I'm not caught off guard.
Spending
Spending sounds like the easy part, right? Naw. Because it's about spending responsibly and deliberately. Don't spend what you don't have. For everything but major purchases, if you don't have the money in your bank account, don't buy it.
Don't carry credit cards. You can have credit cards, just keep them at home, in a safe place. This way, you're not tempted to use them for random crap at Target.
Pay yourself first. Put money in savings before you spend a dime on anything else. After saving, paying your bills is the next priority. Don't go out to a sushi lunch, followed by a quick trip to Marshall's and pay your bills with whatever is left over.
Make paying off debt a priority. When you're paying interest on something, you're literally throwing money away. Don't fool yourself by just paying the minimum on your credit cards and think that you're ever going to pay them off. You won't.
Be leery of no interest promotional offers. It's great to buy something now and pay later, especially if you don't have to pay interest. But read the fine print carefully. On some offers, if you're ever late on a payment, you owe interest on the entire purchase. Just make sure that you can for sure make the payments on time every month.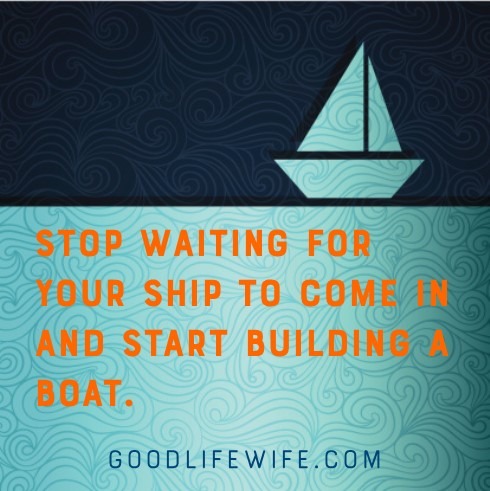 Plan
Plan how you will spend today, tomorrow, next week, next month and next year. Knowledge is power!
Every expenditure counts. The little stuff adds up quickly. Spending $5 at Starbuck's doesn't seem like a big deal, right? But if you do that every day, that adds up to $1,825 in a year.
Delay gratification. You can put a new sofa on a credit card today and stress about how to pay for it every day for the next umpteen years. Or, you can save up for a new sofa and bask in the knowledge that you paid hundreds of dollars less than you would have if you paid interest.
Feel confident. The confidence it gives you to have a budget plan in place, that you follow to a tee, is amazing. You won't be up worrying at night about robbing Peter to pay Paul. It's exciting to see your savings account grow and your credit card balances drop.
Stop fantasizing about what ifs and start celebrating what is. No matter how much or how little money you have to work with, you'll feel better if you use it to it's maximum potential. You don't need a stinking knight in shining armor, you just need faith in yourself to do what needs to be done.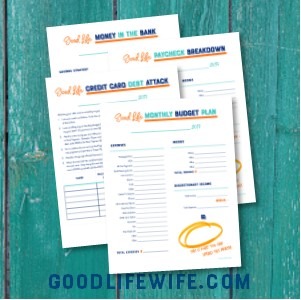 Oh, and printables. You need tons of printables to manage this shit, seriously. Click here, pop your email in so you can subscribe to my newsletter, and get instant access to the entire free resource library. It's got everything you need to be your own hero and create your own money miracle!