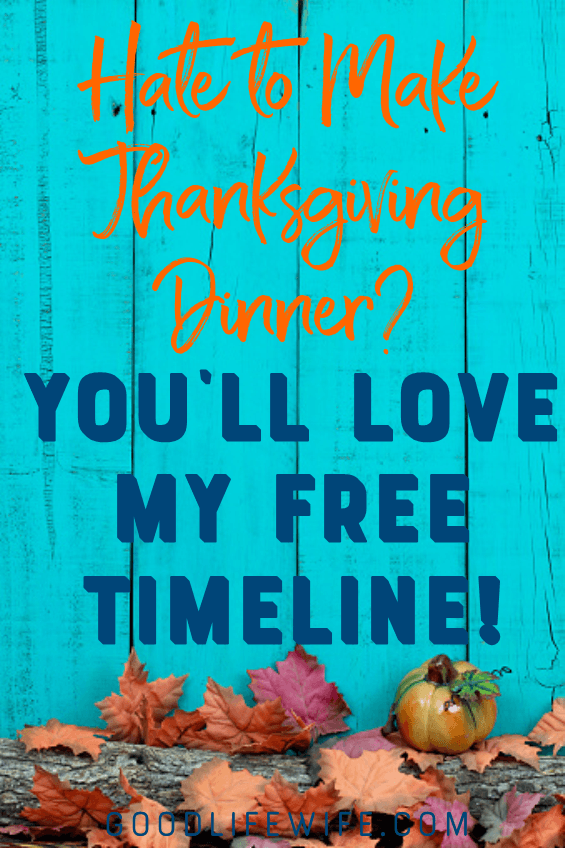 Thanksgiving dinner is just a few weeks away.  Wtf?  It's not even Halloween yet.  I know, but once Halloween is over, turkey day will be on you like white on rice.  You have to be ready with a rock-solid plan.  I just happen to have an excellent plan in the form of a Thanksgiving Timeline!
What's On the Menu, My Lovelies?
My amazing sister-in-law and I fix Thanksgiving together.  We have the same menu every year because it's what the people want.  We both love to cook and are total foodies, but we have 364 other days to experiment, so we're good with tradition.
When you're deciding what's going to be on your Thanksgiving menu, keep a few things in mind:
Traditions.  Lots of people love the traditional dishes.  Probably because they only get them once a year.  It's not like I'm going to be whipping out sweet potato casserole on a random weeknight!
Dietary Considerations.  Are you having any vegans?  What about guests with food allergies?  How about cultural food restrictions?
Reality.  If you're cooking by yourself and having 12 for dinner, you need a simple menu.  If you have a small kitchen and a tiny oven, a 12-pound bird is not going to work.  Trust me, your guests will enjoy a simple meal that you can get on the table without tears much more than having to wait for the take-out to be delivered!
Okay, so now you have your menu
Or do you?
If not, no worries!  Here's mine.  Feel free to copy off my paper.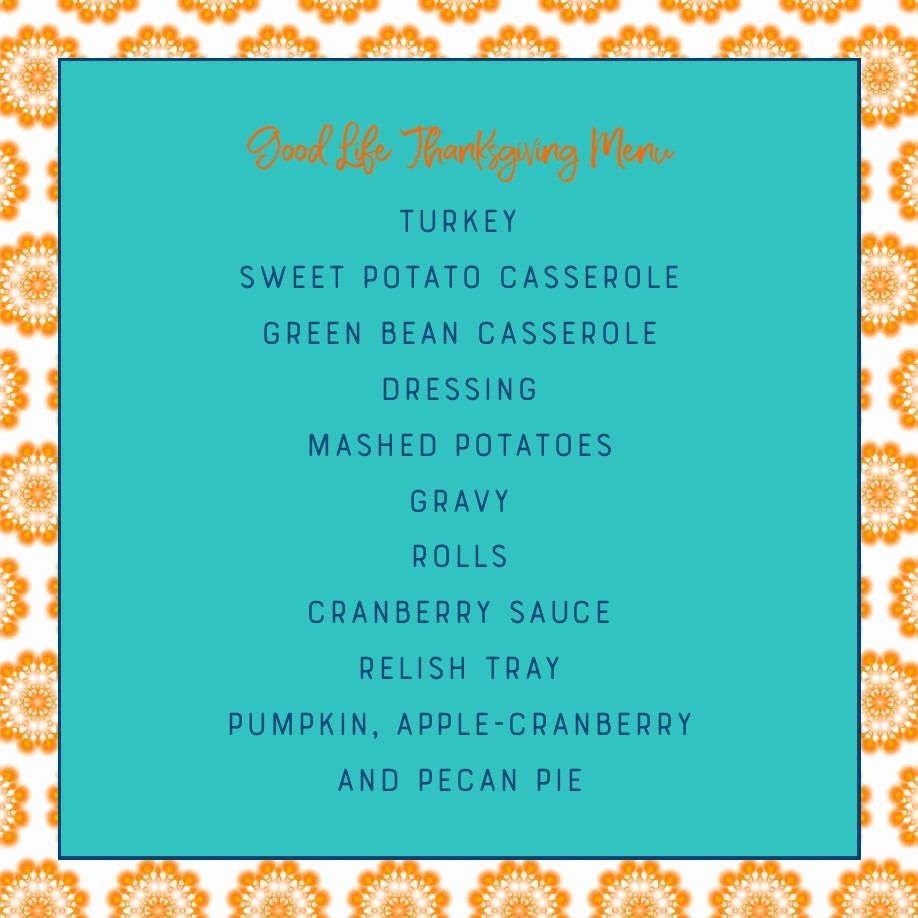 Thanksgiving Timeline
Before we get to the Thanksgiving Timeline, we need to know who's going to be stuffing this turkey!  Are you making this meal all by yourself, or do you have some reliable help?  Do you have time to make anything ahead of time?  I try to make everything I can ahead.  You can even fix your mashed potatoes and just reheat them.  Prepping before the big day will save you time on your feet and let you enjoy the holiday a bit more.
Let's get this party started!  Click here for your free Thanksgiving Timeline.
Yep, you heard that right.
Absolutely free, not even asking for your email.  That's my little gift to you for coming over to my blog!
Here's one that I filled in based on the Good Life Thanksgiving Menu above.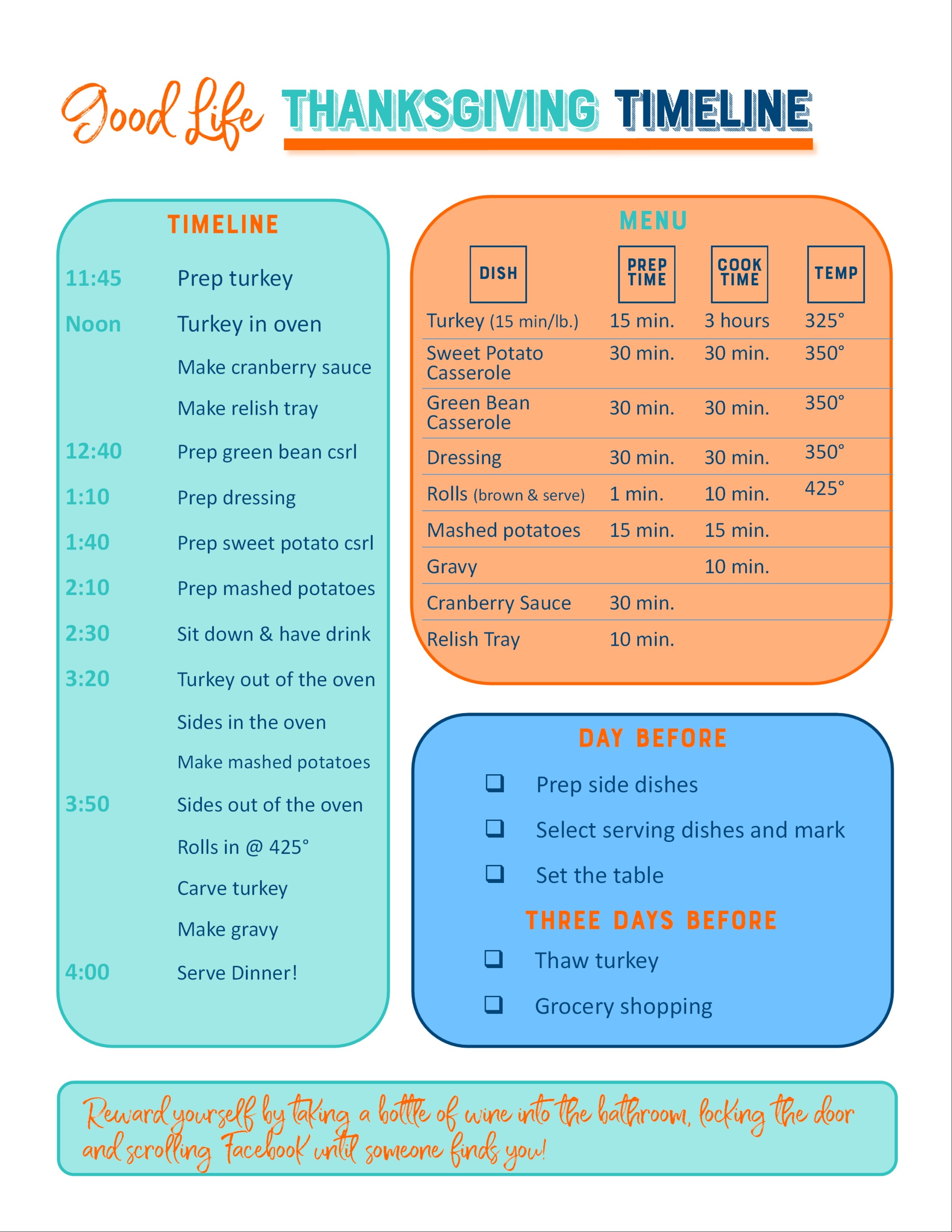 Gather all of the recipes for your dishes.
Enter your menu items in the "Menu" box, along with prep and cook times and temperature for the things that go in the oven.
Decide if you can do any prep beforehand and check it off under "Day Before."
Now fill in the times on the "Timeline" box.  Start at the bottom and plug in the time you want to serve dinner.  Calculate the cooking time for your turkey and add a half hour for it to rest. Using a 12-pound turkey as an example, it will take about three hours to cook, plus 30 minutes for it to rest before carving.  If we want to eat at 4:00 p.m. we'll need to put the turkey in at noon.  It takes about 15 minutes to prep the turkey for roasting.  Working backward, we'll need to prep the turkey at 11:45 a.m.  Fill in the rest of the times based on cooking and prep times.
A Few Parting Thoughts
Did you notice that there was no mention of the pies on the timeline?  That's because we don't bake the pies for Thanksgiving.  My sister-in-law's mom brings the pies because she's kind of awesome.  If you're cooking the whole shebang, someone else can dang sure bring dessert!
If you can spend a couple of hours on Wednesday putting your side dishes together, Thursday will be so much more pleasant.  No matter what, you're going to be on your feet a whole lot that day, so try to break up the tasks a little.  If you aren't making the sides on Thanksgiving Day, you can play a game after you get the turkey in and have some fun!
Enjoy yourself!  This is a time to be thankful for your incredible life.  I'm thankful that you're reading this and I hope that I can help you enjoy the holiday a little bit more!
P.S.  If all of this cooking has you a bit intimidated, check out this post!