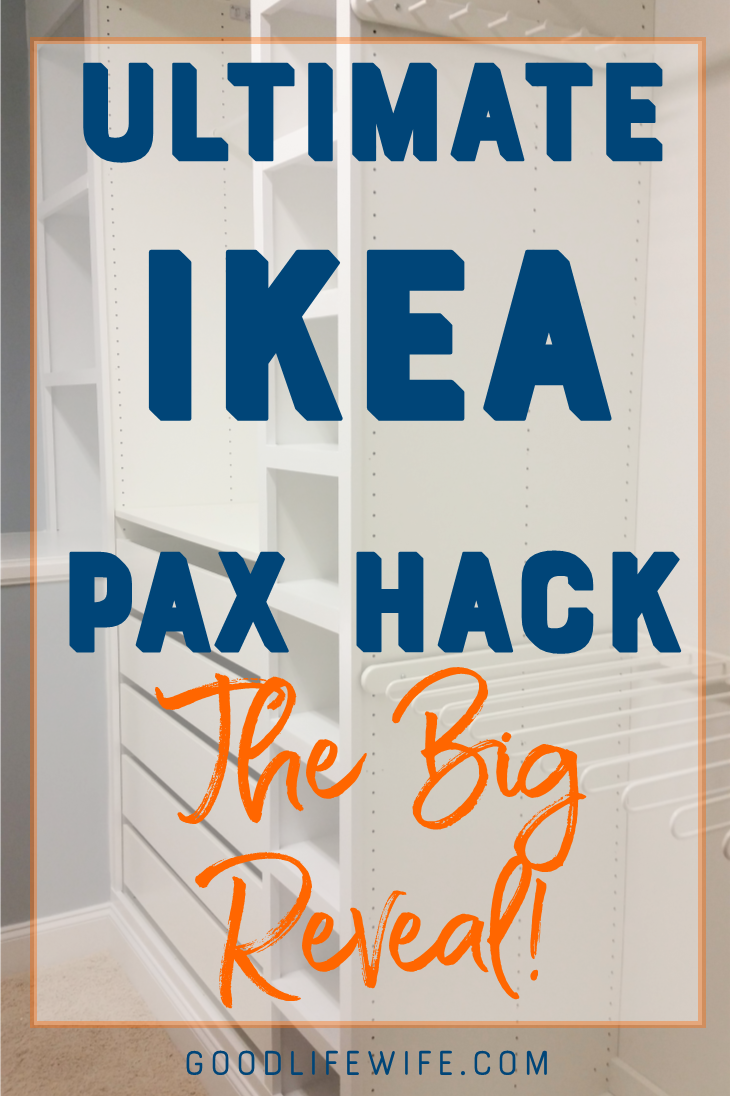 This post contains affiliate links. If you click on the link and buy something, I will receive a teensy commission. Not that Ikea is paying me a commission. Do they even do that? I don't know but there might be something else for you to click, so I'm putting this out there. For more information, please see my disclosure page.
Drum roll please, duh duh duh duh duh, the Big Reveal! I am so excited to show you my finished closet! This is the ultimate Ikea PAX hack because it takes something relatively inexpensive and makes it look fabulous and custom. If you want to know how we made it look so amazing, check out this post. Let's go on a tour…
John's Side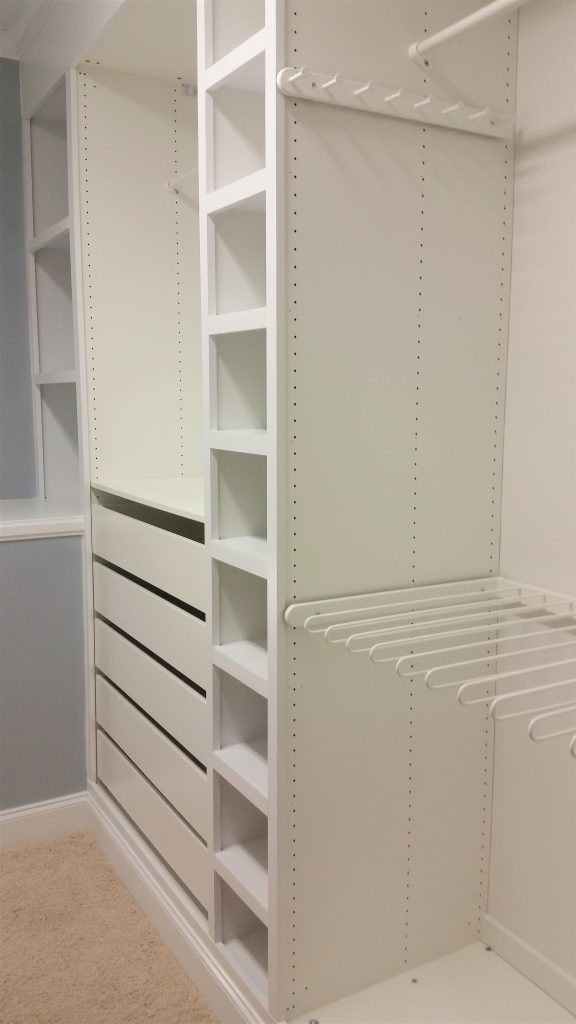 Moving from right to left we have:
Rack for shirts. Dress shirts hang here.
Pull-out tie and belt holder. There are two of these and we use one to hold belts and the other to hold ties.
Pull-out pants hanger. You can fit about 36 pair of pants on this baby!
Shoe shelves. These shelves are not actually Ikea. We had this space left between the two frames and it was perfect for shoes, so we built them out of plywood and faced them with trim for a seamless look. Each shelf hold two pairs of shoes.
Rack for shirts. Golf shirts hang here.
Drawers. These drawers are super wide and deep so they hold a ton. I used the Konmari folding technique and was able to get all of these t-shirts in one drawer!
Shelves for storage. These are not Ikea either. We had that weird space above that half-wall thingy. Turns out it holds a laundry basket perfectly, so that's where I keep it, as well as sweaters and sweatshirts and the all-important cowboy hat.
Kim's Side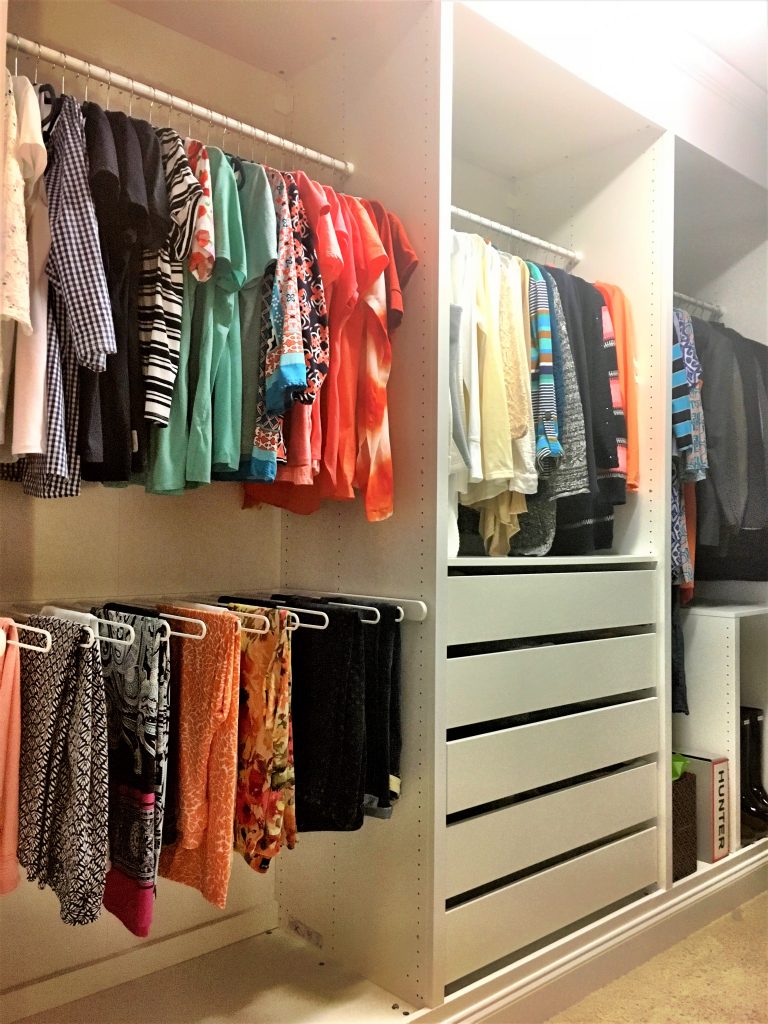 I couldn't fit my entire side into one picture. My photography skills leave something to be desired, but I didn't want that to keep me from sharing! Anyway, moving from right to left…
Rack for long clothes. Dresses and sports coats go here.
Boot storage. We added this cool shelf to keep my boots together.
Rack for tops. This is for my long-sleeved things. You might notice that I arrange things by color. It really helps for putting outfits together.
Drawers. These drawers hold so much that the bottom one is actually empty! I keep underwear, socks, pajamas, workout clothes and t-shirts here.
Rack for tops. Short sleeves, tanks and camis live here.
Pull-out pants hanger. Slacks, jeans and skirts go here. I love that you can see everything so clearly.
Shelves. Handbags and shoes go here and these are Ikea shelves.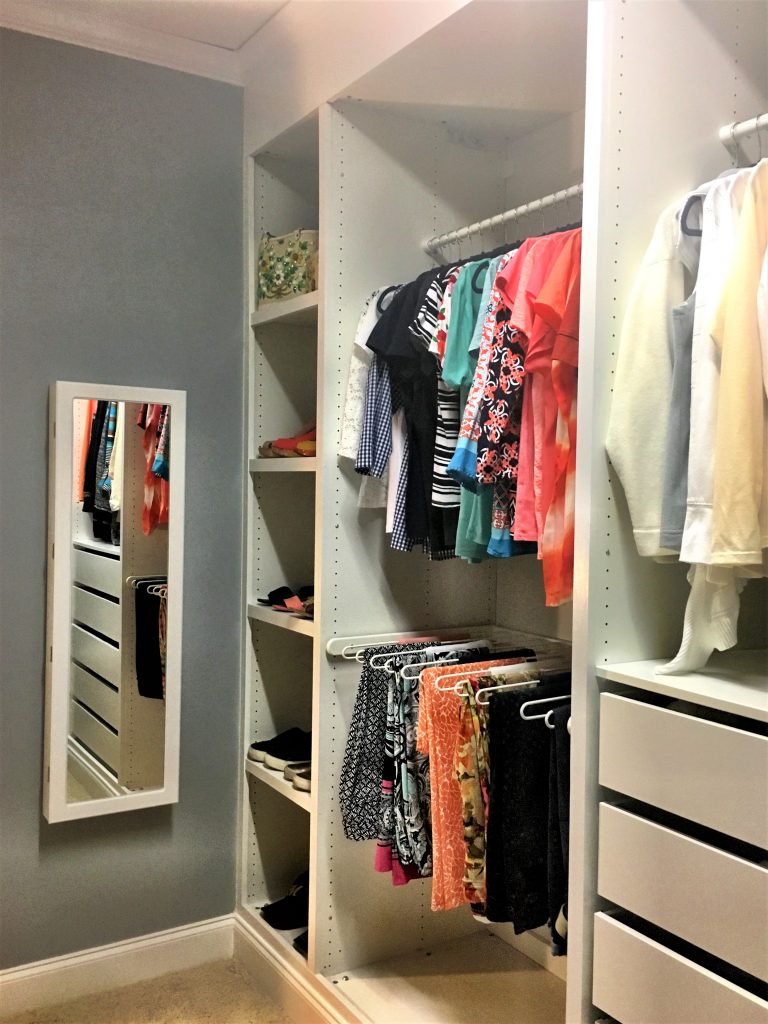 Accessories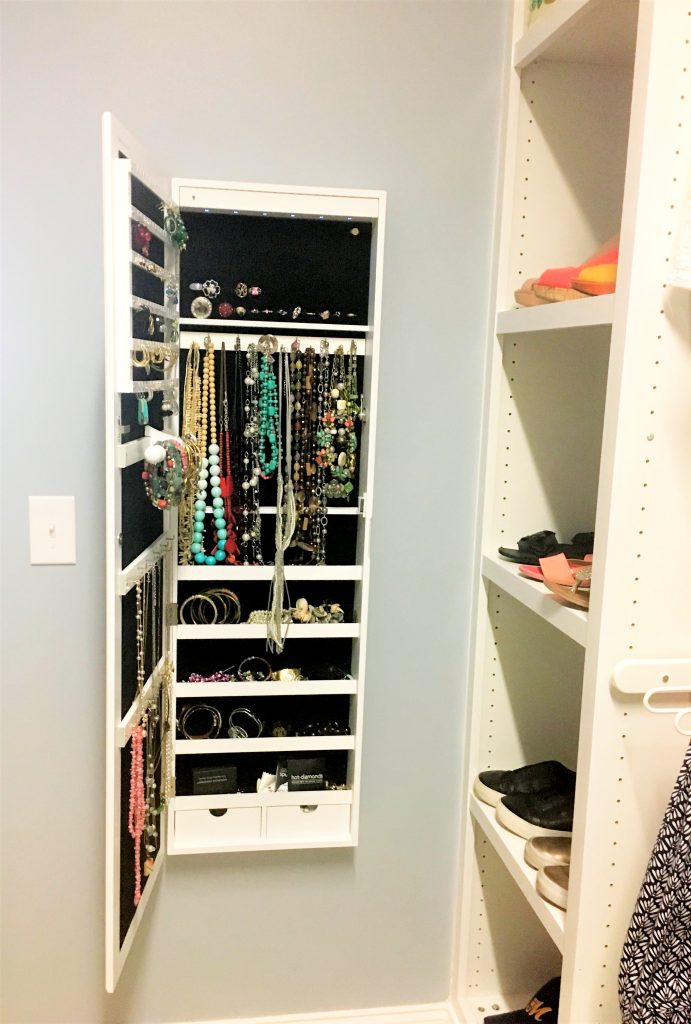 Check out this awesome jewelry box! It's not Ikea, I got it on Amazon and I absolutely love it. Not only does it hold all of my jewelry, I have room for more! It's also lighted and lined with velvet. The best part is that you can see everything you have. My old jewelry box had a bunch of drawers so that you couldn't see anything. That meant I only wore about three pieces because I left them out. If you want one too, click here.
What's Next?
After getting everything loaded in, I realize that I need a chandelier. I mean, really, this gorgeous space is chandelier-worthy. That ugly florescent fixture really needs to go. Kind of thinking something like this. It's sparkly and would cover the holes from the old fixture.
I also want to add valet rods. They would be great when you're packing or styling an outfit.
Well, that wraps up the amazing Ikea PAX hack tour. Have I mentioned how much I love my closet? Having a beautiful, organized closet makes everything from getting dressed to doing laundry so much better. If you're considering taking the plunge and doing your closet, you might be interested in my free printable closet planner! Click here to subscribe to my newsletter and get access to an amazing, free resource library.