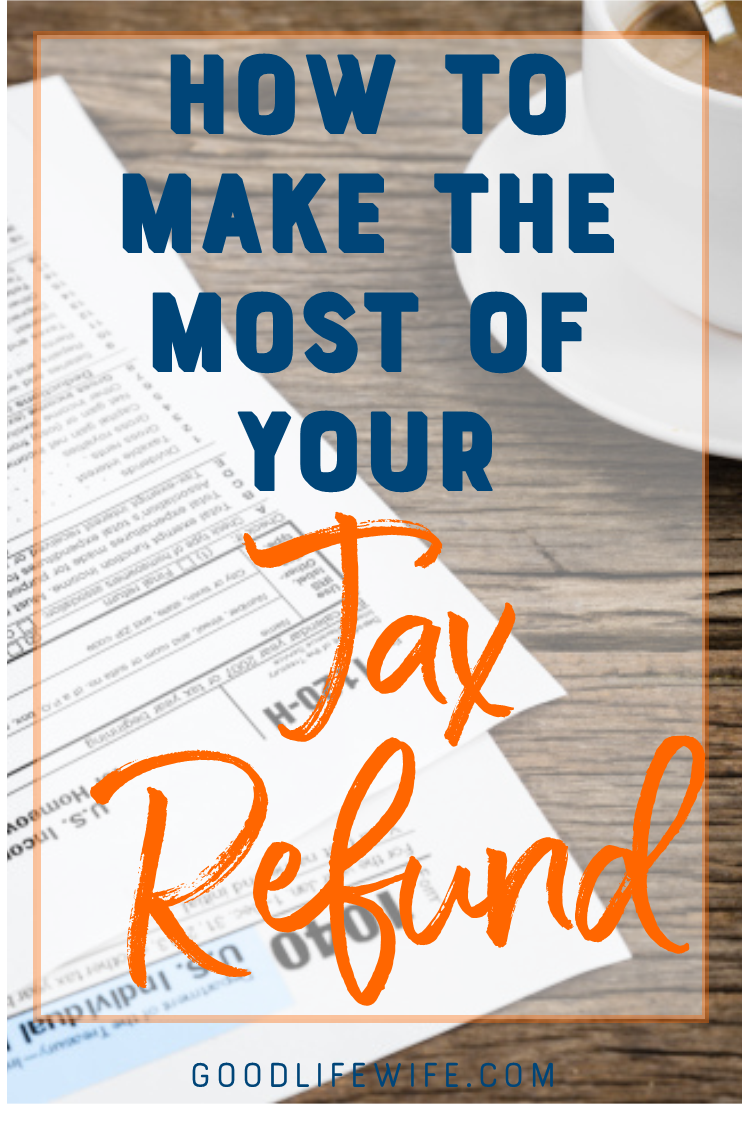 This post contains affiliate links. If you click on the link and buy something, I will receive a teensy commission. Rest assured that I will not recommend something that I would not use myself. For more information, please see my disclosure page.
Have you done your taxes yet? Are you expecting to get some back? Let's talk about how to make the most of your tax refund. Getting a nice, lump sum of money is great, but if you don't have a plan, it can slip through your fingers in a heartbeat. Let's go over the three steps that will bring success: planning, saving and smart spending.
Have a Plan for Every Dime
I'm kind of a planning freak. Not going to apologize though because it serves me well! I like to use a "no white space" method for planning my day, meaning that pretty much every minute is planned. Before you get all, "that's totally not gonna work for me 'cause I'm a free spirit," hear me out. You don't have to plan your day like I do, but taking a "no white space" approach to planning your spending will make sure that you make the most of your tax refund!
You want to make sure your partner is on the same page about how this plays out. Find some quiet time, maybe after you get the kids to bed, and try this exercise:
Get a piece of paper for each of you and brainstorm a list of everything you would like to do with your tax refund. Be sure to include savings, paying down debt, etc. not just buying stuff.
Compare your lists and circle everything that's the same.
Make a new master list of with all of the circled items.
Prioritize your master list.
Success! Now you have a list of things you would like to do, that everyone agrees on. Let's move on to saving.
Saving
It would be more fun to spend all of this refund, but it's not smart. Let's save some so we can feel all superior about our financial wizardry.
Okay, but how much?
That depends.
Saving or paying down high-interest debt make you more financially secure. A good rule of thumb is to save 20% and spend 80%. That's totally doable, right?
Are you drowning in debt and living paycheck to paycheck? If that's the case, you probably want to save a little more and spend a little less. Don't worry, I'm not going to tell you to save it all. Life is too short, live a little. But do make good choices that will help you sleep better at night.
Do you have an emergency fund, plenty of retirement savings, all of your debt paid off and money for college? Bahahaha, snort, coffee comes out of nose. Oh, yeah, uh me too…
Okay, I've almost stopped laughing. Let's agree to use at least 20% of our tax refund to make us more financially secure by saving it or paying down high-interest debt.
Spend Smart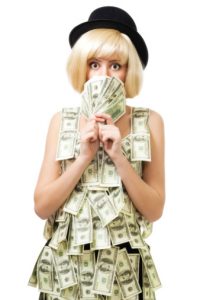 It's go time. Get your game face on and let's do this! Armed with your master list, which you have prioritized, you need to make a detailed spending plan. This plan needs to be completely finalized before that money gets in your account, otherwise, before you know it, Amazon will have most of it and Harris Teeter will have the rest. The goal is to make the most of your tax refund.
Here's a few ways to spend smart on…
Home Improvement Projects
Coupons. Check online and in the mail for coupons to use on the items you'll need.
Sales. Ask customer service if there will be an upcoming sale.
Recycle. Look at ReStore or thrift shops for gently used and sometimes even new, fixtures and materials.
Stock sizes. Plan with stock sizes in mind for windows, doors, plywood, kitchen cabinets, etc.
Rebates. Several times a year, Lowe's and Home Depot have rebates on paint.
Discounts. Be sure to ask about discounts for military, teachers, first responders, etc.
Travel
Flexibility. Being flexible on flight dates and times can save hundreds of dollars.
Fly mid-week. Flights during the week are generally much less than on the weekend.
Airline websites. Going directly to the airline website can save money, but be sure to shop around too.
Stay Sunday. Lot's of people check out on Sunday, leaving hotels with empty rooms that they're willing to discount.
Rent a house or condo. Check out AirBnB or VRBO. Staying in a house can save money on meals too.
Home Decor & Furniture
Shop online. Discount sites like Overstock, Wayfair and Hayneedle have amazing deals on furniture and home decor.
Warehouses. Check out the furniture warehouses for discounted pieces.
Consignment. Consignment stores are a fabulous way to save big. You will find new and like new things at a fraction of the price.
DIY. A coat of paint or new fabric can give a piece new life for much less.
Discount stores. Obvi…Home Goods, Tuesday Mornings, TJMaxx and Marshalls. Need I say more?
Strategy
I can't leave you without talking about strategy. This means holding yourself accountable for following your plan so you get what you want.
Pay yourself first. Transfer money into savings or pay credit cards first thing. Do it before you talk yourself out of it and decide to "wait a few days." I don't know if the road to hell is really paved with good intentions but I do know that if you don't pay yourself first, you aren't getting paid at all.
Stage your purchases. Use online wish lists and shopping carts to stage your purchases so you can pull the trigger when you're ready.
Schedule time to make shit happen. If you plan to say, (I-hope-John-isn't-reading-this-because-I-haven't-really-talked-about-it-yet) retile your bathroom, then mark it out on the calendar. You need time to demo, shop and tile. It's probably going to take three weekends at least.
Feel like the rock star you are! You are making great decisions, sister!
For more tips on budgeting, check out this post. Whatcha gonna do with your refund this year?