On cold days, nothing sound quite as good as soup.  This potato, leek and sausage soup is hearty and delicious!  Let it simmer a couple of hours if you can.  You could put it in a crockpot, but I hate to dirty up another pot.  When I want to simmer something at a low temperature for a bit and not worry about the bottom scorching on my stovetop, I use the oven.  When the soup is all assembled and ready to simmer, put a lid on your dutch oven and put in the oven at 200 degrees.  It will simmer nicely without the worry of a burned bottom.  No one wants a burned bottom!
Good Life Wife Potato, Leek & Sausage Soup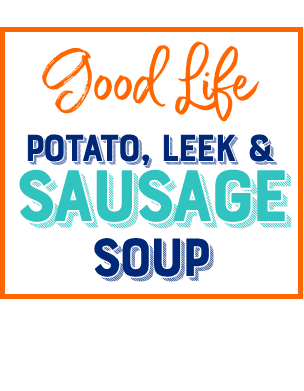 Ingredients
2 1/2 lbs. (1/2 bag) Yukon Gold potatoes, peeled and cubed
1 lb. Bratwurst, sliced 1/2" thick
4 Carrots, peeled and diced
1 Onion, diced
3 Leeks, sliced thinly (cut off the dark green part and rinse well)
1/2 cup Heavy cream
64 oz. (2 boxes) Chicken Stock
3 Bay leaves
2 tbsp. Oil (I use bacon fat)
salt & pepper
Instructions
Heat oil in large dutch oven.  Brown sausage in batches, about 1 minuter per side.  Remove to plate and set aside.
Add the carrots, onion and leeks to the pot and soften in batches (about 5 minutes).  Season with salt and pepper.
Return vegetables and sausage to the dutch oven.  Add chicken stock, bay leaves and potatoes.  Simmer at least 30 minutes.   A couple of hours is even better.
Remove bay leaves.  Remove about 2 cups of vegetables and liquid (carefully avoiding sausage) and place in a bowl.  Add heavy cream and process with an immersion blender.  You can use a regular blender or a food processor but be careful with hot liquid.
Return smooth vegetables to pot.  Blending a bit of the vegetables with cream gives you a little thicker and richer soup. 
Serve with crusty bread.