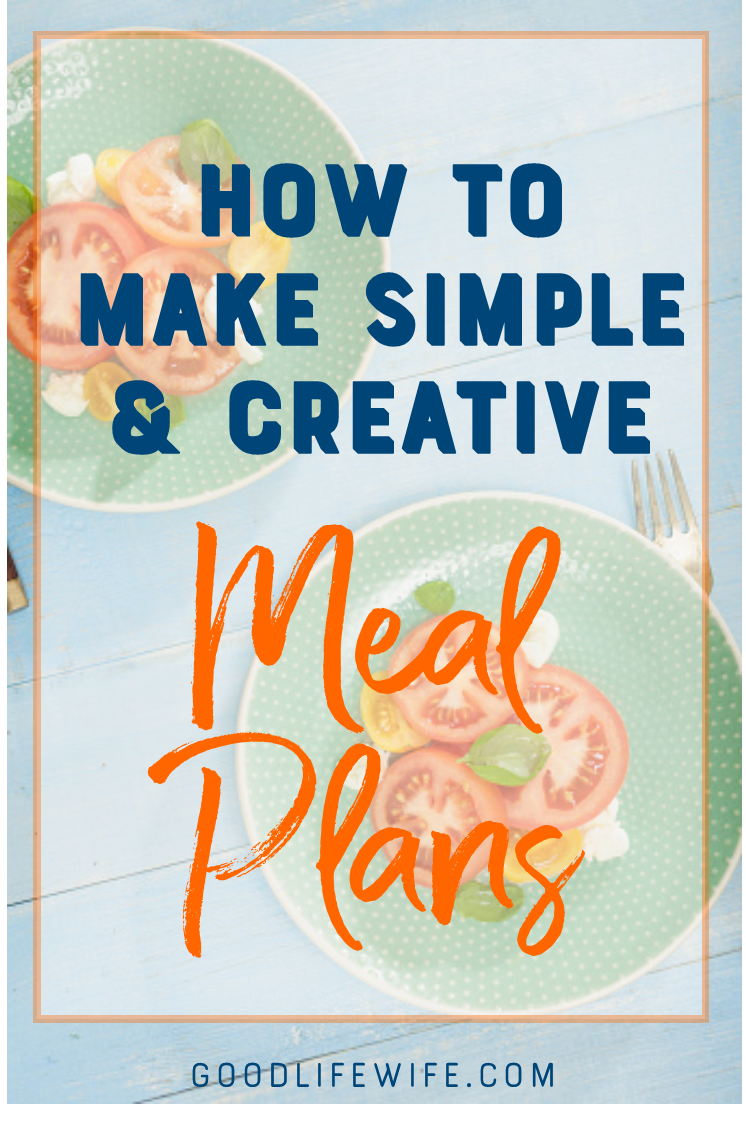 This post contains affiliate links. If you click on the link and buy something, I will receive a teensy commission. Rest assured that I will not recommend something that I would not use myself. For more information, please see my disclosure page.
Do you struggle with making creative meal plans? Do you just cringe when you hear, "Mom, what's for dinner?" Never fear, Good Life Wife has got your back!
Having the same old thing every night gets old quick. On the other hand, routines make life so much easier. Enter the theme night meal plan. This fun and creative meal plan banishes boredom but allows you to have an easy-to-follow routine.
Mind blown…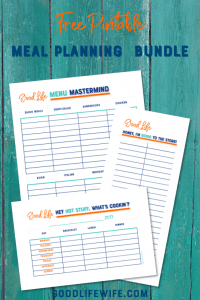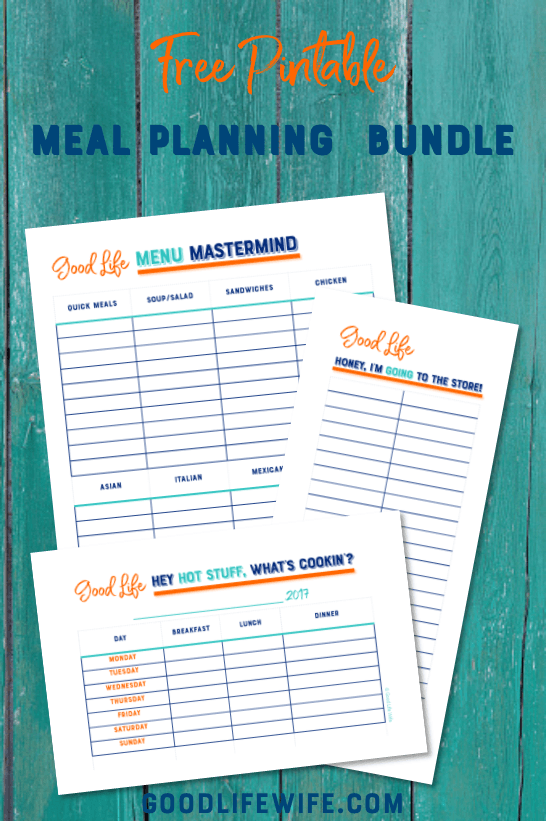 I'm going to share 21 dinner themes to get you started but the possibilities are endless! Use this list with your free, printable Meal Planning Bundle to make life a breeze. If you don't have it, click here to enter your email address and get instant access to it and the rest of the amazing resource library.
Meatless Monday
Skipping meat one night a week is as easy on your budget as it is on your waistline! Serve dishes that rely on beans, tofu, quinoa, eggs or even Greek yogurt to provide protein.
Taco Tuesday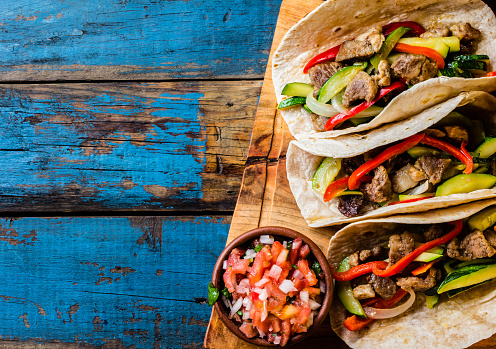 This appears on pretty much every list of dinner themes out there for good reason! There is a huge variety of tacos to try. Chicken, fish, pork, steak, and veggie tacos go without saying but have you thought of sausage and egg or Thai tacos?
Far East Wednesday
Any kind of Asian food is always a hit. You can try stir-fry, pad thai, Good Life General Tso Chicken, and tons of other Asian-inspired dishes.
Italia Thursday
Italian cuisine is so much more than spaghetti and meatballs. Braised sausage and peppers, cioppino, and veal piccata can be added to the mix when you're ready go out of the box. Having a jar of magic meat sauce in the freezer is great in a pinch.
Pizza Friday
Make it at home or call for delivery. Pizza is like sex, even when it's bad, it's still pretty good.
Souper Saturday
Soup is easy and yummy. It's a great one-dish meal and a super sneaky way to hide veggies. Try Good Life Potato, Leek and Sausage soup for a hearty meal.
Slow Cooker Sunday
#crockpotisinocent! The slow cooker is a must for busy families. Dump everything in before lunch and it will be ready by dinner time. I love Skinnytaste for great slow cooker recipes.
Meat & Potatoes Monday
Meat and potatoes say comfort food to me. Fried chicken, mashed potatoes and gravy? Yes, please! Meatloaf, pot roast, pork chops and roasted chicken are things lots of our grandmothers relied on to put smiles on hungry men's faces.
Thai Tuesday
My friend, whose parents are from Thailand, said, "somebody tosses some peanuts on top of something and all of the sudden it's Thai food!" Try pad thai, red or green curry and tom yum.
'Wich Wednesday
Yay, sandwich night! From grilled cheese to gourmet, sandwiches are pleasers. Put out ingredients and let everyone make their own.
Pasta Thursday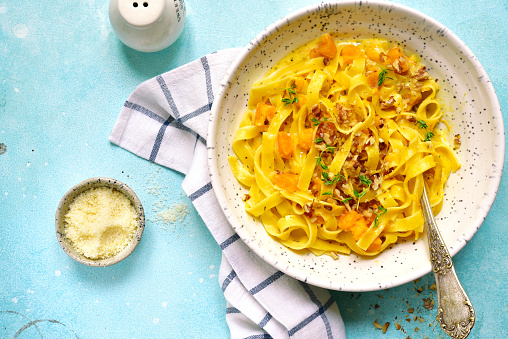 Pasta is a good opportunity for a one-dish meal. Boil some noodles and make a sauce with meat and veggies and you've got it covered!
Finger Food Friday
Have an all-appetizer dinner while you play games or watch a movie!
Steak Saturday
Saturdays seem like good days to grill. Marinate the meat, throw some potatoes in the oven, start the coals and have a drink on the patio while you're waiting for them to heat up.
Sunday Salad
You probably feel like eating light after your big steak dinner last night! Salads are a great way to use leftover meat and they make you feel virtuous, even if you put a bunch of cheese and salad dressing on all of those veggies.
Breakfast for Dinner Monday
Love the idea of making a big breakfast but hate getting up early to do it? Just make it for dinner! Kids love this wacky change-up.
Pork Out Tuesday
Barbeque, bacon, pork chops, pork loin…so many good things come from pigs! Try this barbeque rub for a smoky, sweet kick.
Around the World Wednesday
Try a dish from another culture. Are the kids learning about another country in school? Let them pick out a dish from that country for you to make together.
Burger Bash Thursday
Hamburgers and French fries are always a hit. Change it up with veggie or chicken burgers and zucchini fries.
Fishy Friday
For lots of people who don't eat meat on Friday, this is a given! End the work week with a healthy fish dish. Grilled salmon or shrimp are quick and easy.
See it Again Saturday
Use up those leftovers from the week. Be creative…or not. It's perfectly acceptable to just heat it up again and serve it without comment!
Adios Amigo Sunday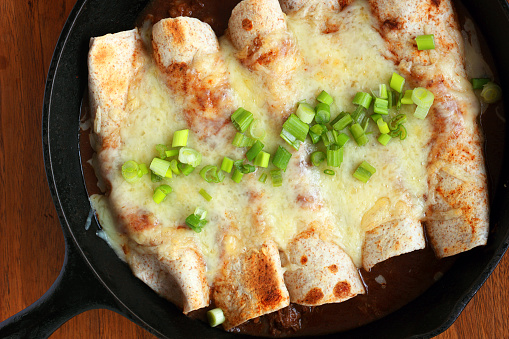 Say, adios, to another week with tex-mex! Enchiladas, burritos, tacos and chili are great Sunday meals.
Don't forget to grab your free, printable Meal Planning Bundle! Click here to enter your email address for instant access.
What are your favorite meal themes?