This is John's favorite dinner.  I can always feel the smile over the phone when my answer to "What's for dinner?" is General Tso!  It has all of the flavors of the traditional restaurant dish with it's sweet and spicy sauce, but I added fruit and vegetables so it would be a one-dish meal. It's pretty easy to make but it's a little messy, so save it for the day before you clean the kitchen, not the day after.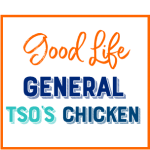 Ingredients
1

lb.

boneless, skinless chicken breast

cubed

1

cup

flour

1

tsp.

salt

1/2

tsp.

pepper

1/2

tsp.

garlic powder

1/2

tsp.

ground ginger

2

cup

oil for frying

1/2

pineapple

cut into chunks

1

bunch

asparagus

Removed the tough ends and discard. Cut the remaining stalks into 2" pieces.

1

tbsp

oil

4

green onions

thinly sliced
Sauce
1/4

cup

sugar

1/4

cup

soy sauce

1/4

cup

orange juice

1/4

cup

rice vinegar

2

cloves

garlic

crushed

1

tbsp.

fresh ginger

grated

1

tsp.

Siracha

1

tbsp.

cornstarch mixed

3

tbsp.

water
Instructions
Mix flour, salt, pepper, garlic powder and ground ginger in a large ziplock bag. Add cubed chicken and toss to coat.

While you are dredging your chicken, heat 1 cup oil in a heavy, deep pan. I use a dutch oven. When the oil is hot enough to sizzle when a pinch of flour is dropped in, begin frying the chicken pieces in batches until brown. About 7-8 minutes. Drain on wire rack over a sheet pan and keep warm in 350 degree oven .

Cover a sheet pan with foil and preheat the oven to 425 degrees. Toss asparagus and pineapple with 1 tbsp. oil and arrange in single layer on foil. Roast for 15 minutes or until asparagus is beginning to brown slightly. You can put this in the oven while you're frying your chicken.

Make the sauce by adding all of the sauce ingredients to a saucepan, except the cornstarch and water. Bring to a simmer. Meanwhile mix the cornstarch and water together in a small bowl. When the sauce is simmering, add the cornstarch mixture, stirring constantly. Continue to simmer and stir until thickened. If it gets too thick, just add a little water to thin it out.

Toss the chicken, asparagus and pineapple with the sauce and garnish with green onions. Serve warm over cooked rice.