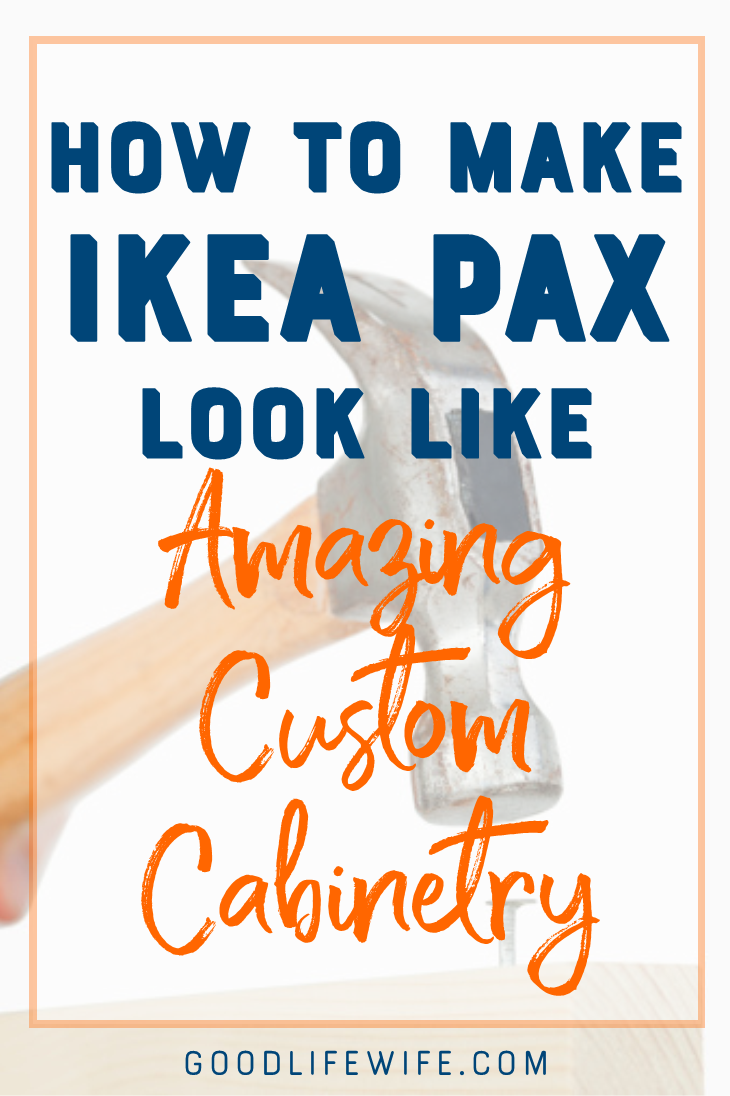 This post contains affiliate links. If you click on the link and buy something, I will receive a teensy commission. Not that Ikea is paying me a commission.  Do they even do that?  I don't know but there might be something else for you to click, so I'm putting this out there.  For more information, please see my disclosure page.
I'm totally in love with Ikea PAX wardrobes!  If you've been reading my posts lately, I'm sure you're already aware!  PAX looks great on its own and is super functional, but if you're willing to go the extra mile, you can make Ikea PAX look like custom cabinetry.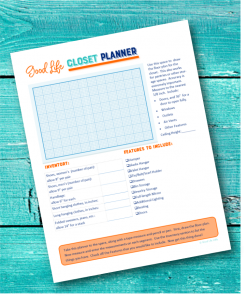 Not gonna lie, it takes some time and effort to get a custom look.  But, it's soooo worth it! If you're considering tackling a project like this, check out my free closet planner printable.
Click here
and subscribe to my newsletter. You'll get access to the amazing free resource library, including the closet planner.
Why Build It In?
It all starts with the baseboard.  If you assemble the PAX frame, then put it in against a wall, it doesn't sit flush because the baseboard trim stands out from the wall.  This leaves a weird gap behind the frame where dust and who knows what else, can collect.
When you search Pinterest, the pictures of PAX just sitting in the closet feel kind of temporary.  Yes, it's way better than cruddy wire shelving, but it doesn't give that "dream closet" look that we're after.
Luckily, my husband is pretty handy so building the wardrobe in was doable.  Yay!  Here's how we did it…
Step 1:  Clear Out
Take everything out of the closet.  This will make a huge mess out of some other area of your home.  Be prepared for it to take quite awhile, so try to put everything somewhere accessible, but out of the way.  I borrowed a couple of clothes racks from my neighbors for the things that we were wearing every day.
This is probably a good time to get rid of some things.  When you're pulling clothes out, think about the last time you wore each item.  If it's been more than a year, put it into a donate pile and out it goes!
Pro tip:  this is a great time to get rid of things that you don't like.  Like that "I'm With Stupid" shirt your husband pulls out when you say you want to go to Disney on spring break.  Boom, it's gone!
Step 2:  Create a Clean Palette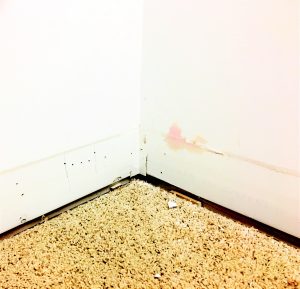 Now that the closet is empty, it's demo day!  Pull all of the existing shelving out, as well as the baseboard trim.  Remove the trim carefully, because you can probably reuse at least some of it.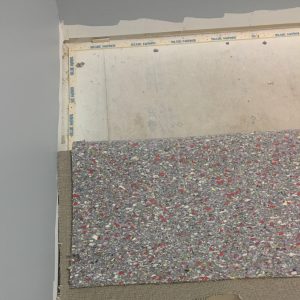 The bases you will be building need a flat surface to sit on, so if you have carpet, you may need to remove some of it.  We cut the carpet and left a three-inch margin so that the carpet could be re-stretched and tacked back down.  Be sure to take the tack strip up too.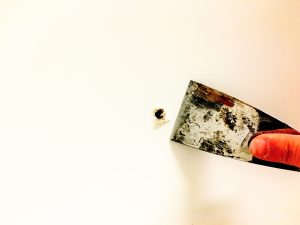 Fill all of the holes left when you took the shelves down.  Some of them will probably be covered up by the new PAX, but it's easier just to fill them so you don't have to worry.  I had a ton of holes, so I used spackle, then sanded.
Step 3:  Plan, Measure and Mark
This is the time to get the awesome floorplan that you created using the Ikea PAX Planner.  It will have all of your measurements, including the measurements of all of the frames.  Using masking tape, mark out where each base will go.  If you need a step-by-step guide on using the planner, check here.
Taking the time to mark everything will give you a last check before you start cutting wood.  In the interest of transparency, we didn't do this but I sure wish we would have!  See how much grief I'm saving you?
Step 4:  Build Bases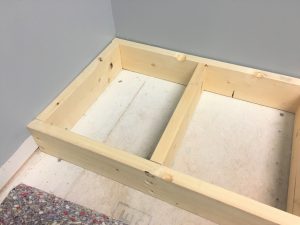 Just removing the baseboard and leaving the PAX on the floor won't give you a custom look.  You have to raise the wardrobes so that the baseboard will go around them and not cover up the bottom of the frame.  This means building platforms for the Ikea frames to sit on.
We used two by fours, which were the perfect height for the baseboard trim to run along.  We created frames 22 7/8″ deep.  Building one long platform wasn't an option because we couldn't get the lumber up the stairs and around the corners, so we had to build a couple, ending up with the exact length of the frames that would be installed on top.   Crossbeams were added in the middle for stability.  Each platform is screwed into the subfloor and wall studs.   A piece of plywood is screwed on top, giving a flat, sturdy base.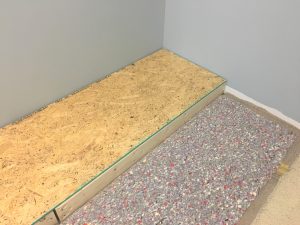 Pro tip:  be sure to install your platforms first so you can screw them into place before you cover up the big hole with plywood.
I know reading this makes it seem kinda easy, but it's not.  In reality, it took a good two days and several trips to Lowe's.  There's no real blueprint because every closet is different.  You kind of have to figure it out as you go.  Accurate measurements and cuts are key!
Step 5:  Paint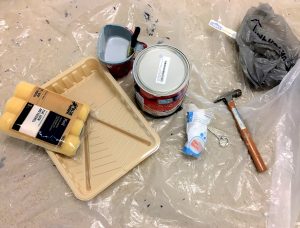 After you have the bases built and installed, it's a good time to paint.  You don't have to paint the entire wall, as the PAX wardrobes have a back, but give yourself plenty of room for error!  You don't want to get the bases all installed, only to realize that there is a big patch of wall that needs paint.
If you need tips on painting, check out this post.
Step 6:  Assemble Ikea PAX Frames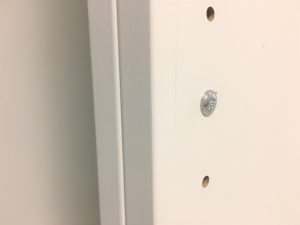 I was absolutely giddy at this point!  Assembling all of the frames is a huge step towards the finish line.
All of the Ikea PAX frames are 22 7/8″ deep, 93 1/8″ tall and the large ones are 33 1/4″ wide, so they are big.  We had to assemble them in the closet in order to get them in place. Start at the back and work your way forward, placing each frame on the platform when it's together.
When you have checked and double checked the plan and each frame is in place, screw each one to the platform to make sure it doesn't go anywhere.  Also screw the frames to one another.
Step 7:  Install Accessories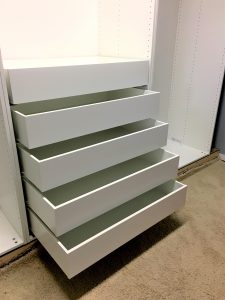 Slowly but surely, your dream closet is coming to life!  Now you get to add all of the fun accessories, like drawers, shelves and racks.
This is another time you want to measure and mark before you get started.  The frames are now elevated four inches off the floor, making them 97 1/8″ tall.  I can't reach the top, so I needed to find out how high I could reach to put the racks.  Also, I wanted to be able to see in the drawers, so I needed to measure that too.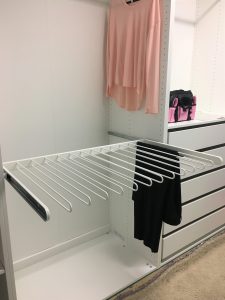 If you're making two rows of hanging space, measure the longest item that will be on the top rack so that it doesn't cover up the lower rack.  For the pants hangers, get a pair of pants and make sure they won't drag the floor.
Pro tip:  count the holes, don't use the tape measure.  All of the Ikea accessories use the little holes inside of the frames to attach.  It's a lot easier to just count the holes from the top or the bottom.  Use sticky notes to mark each spot and label it with the accessory that goes there.
This is an OCD-friendly activity!
Step 8:  Add Trim
I know this feels like Step 800, not eight, but we're getting there!  It's time to add crown molding, baseboard and facing trim.  Being totally honest, this step is a bitch.  You need to be very exact and patient.  There will be cussing, there may be tears, but it can be done.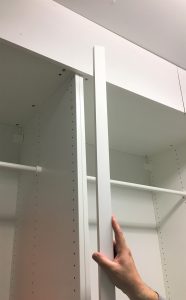 Check out YouTube for some good videos on installing crown molding.  Even though John had done crown before, he learned some things to make the job a little easier.  Expect a little waste and a couple of trips to Lowe's.
Baseboard trim is easier to work with because it's not angled.  Just make sure you have a tight fit.  Caulk is your friend if you have some small gaps.
The facing trim is really what finishes the project and makes Ikea PAX look like custom cabinetry.  We used a finish nailer to install one-by-two trim, covering the fronts of the frames.
Step 9:  Caulk and Paint
Or paint and caulk, whatever.  I paint all of the trim with two coats of shiny, high-gloss white.  Then, I go back and caulk to cover any gaps.  If you're not a very good caulker, you should probably caulk first.
Tada!  You have yourself an amazing dream closet, courtesy of Ikea PAX, sweat and tears.  Next week we'll have the big reveal and talk about what to put back in this gorgeous space.
Hey, if you loved this post, I would appreciate it so much if you would save it to Pinterest!