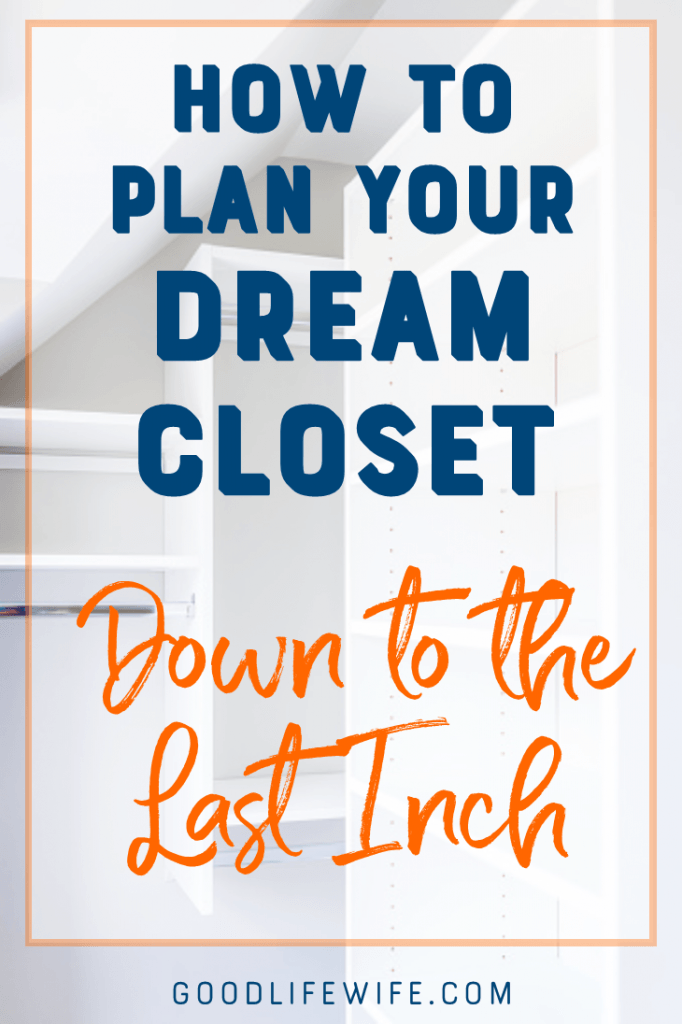 Failing to plan is planning to fail.  You've heard that right?  When it comes to a big project, like designing your dream closet, that old saying couldn't be more true!  Dealing with this can't be done on a whim…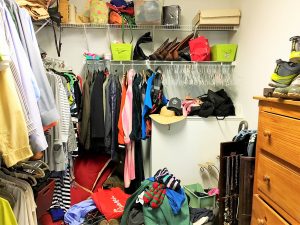 Notice the clever use of real estate by storing old hangers from the cleaners?  Look close and you'll find all sorts of treasures:  pillows for the patio, a tote with firecrackers inside and the carpet cleaner, to name a few.  Really, Kim?
We decided to use Ikea PAX to build our master closet.  If you want to know more about deciding which system is best for you, check out this post.  We're going to go, step-by-step, through the planning process with the Ikea PAX Planner.  Spoiler alert:  it's amazing!
This post contains affiliate links. If you click on the link and buy something, I will receive a teensy commission. Not that Ikea is paying me a commission.  Do they even do that?  I don't know but there might be something else for you to click, so I'm putting this out there.  For more information, please see my disclosure page.
Measure Once, Cut Twice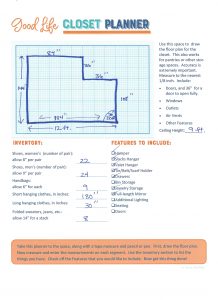 Uh, no, that's not how it goes.  Anyway, you need really accurate measurements of your closet so you can maximize storage.  Make a rough sketch of the closet (leave out all of the crap that's in it!).
Make sure you measure to the nearest 1/8 inch.  Measure any doors or windows and add them to the sketch.  Note the distance between the door and the corner if it's not flush.  Also, add the location of any outlets, switches or light fixtures that you need to work around.  Measure the ceiling height too.
If you want to use this free printable closet planner, be my guest!
Click here
and subscribe to my newsletter.  Then you'll get access to not only the closet planner, but the entire free resource library!
Ikea PAX Planner
Armed with your sketch and measurements, you're ready for some technology.  Open the Ikea PAX Planner.  I gave you the link because it's not all that easy to find.  It took several clicks and scrolls to get there!  Click, "Start from scratch."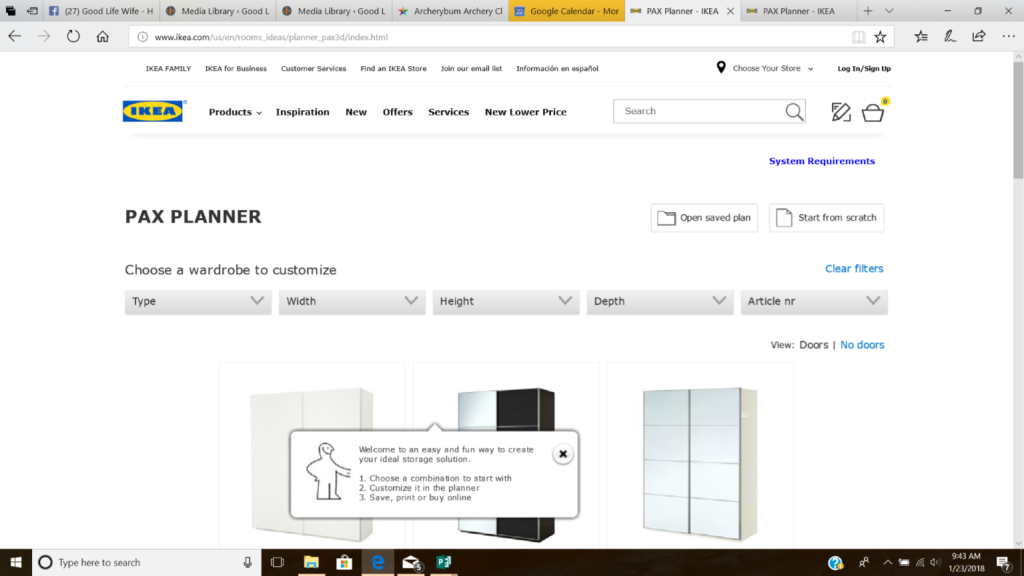 On a side note, check out all of the stuff I have open!  It's a wonder I get anything done…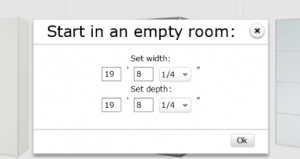 Now it's time to enter your measurements.  Click, "Ok."
Now click, "Room Layout."  Enter the ceiling height under "wall height."

Click, "Build Walls" and select a template most like your space.  Or, if you need to, draw walls.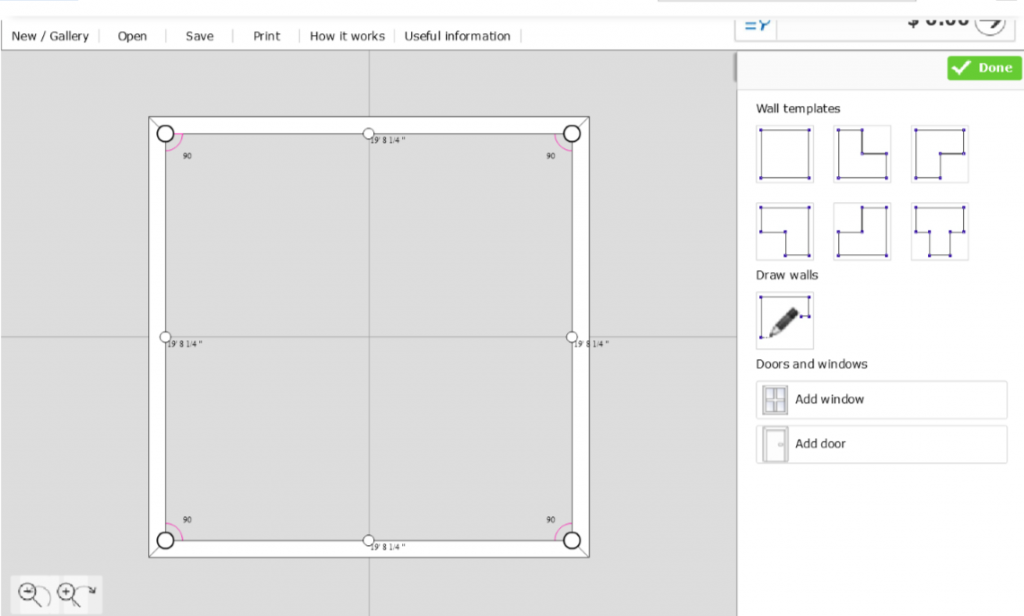 Enter your measurements by clicking on each segment.  Click, "Done" when you're finished.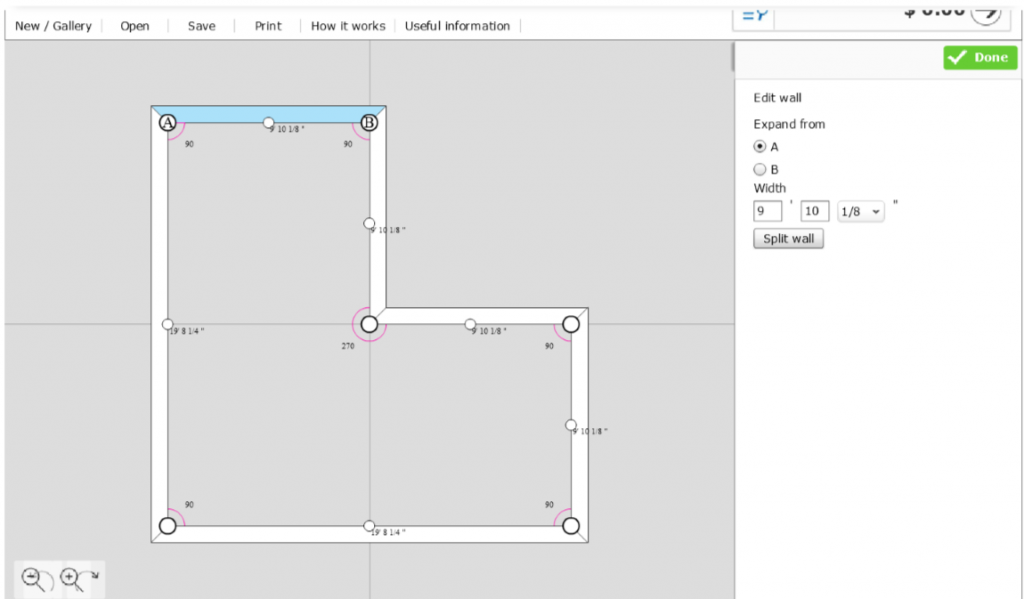 Add doors and windows by clicking and dragging them into position.  Click on it once it's in place to enter measurements.  Click, "Done" when you're done, duh.
Now you can paint the walls and the floors!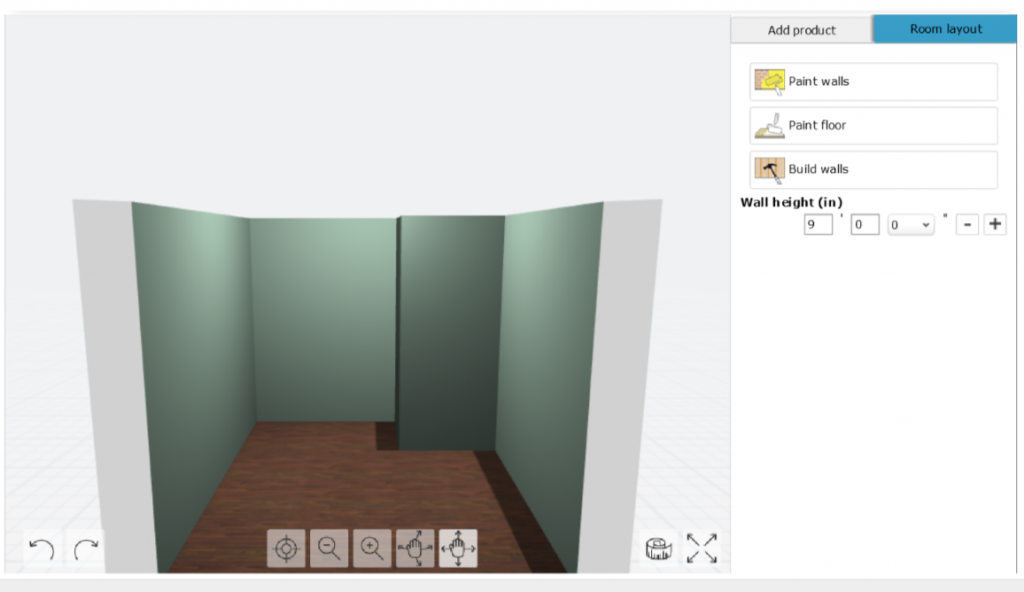 Building the Base
Now that we have a closet that we can visualize, it's time to build the base.  Click, "Add Products," then "Frames."  Frames come in two finish colors:  black-brown and white.
The sizes for Ikea PAX frames are:
19 5/8″ wide
29 1/2″ wide
39 1/4″ wide
They are all 22 7/8″ deep and 93 1/8″ tall.
Let's see how they will best fit your space.  Watch out, 'cause here comes some math.  Don't be scared, we can do this!  Get your phone out and open your calculator.  Divide the length (in inches) of the longest wall by 39.25 (the largest size of frame).  Rounding down to the nearest whole number, this is how many large frames you can fit on that wall.  How many inches do you have left?  Can you fit a smaller frame into that space?  We want to come as close as we can to filling it up.
Example:
Longest wall length = 144″ ÷ 39.25″ = 3.6
I can put three large fames with 26 1/4″ left over, so I can use another 19 5/8″ frame.  I will still have about 6 1/2″ of unused space, but we'll take care of that later.
Figure this out for each wall and drag and drop frames in place.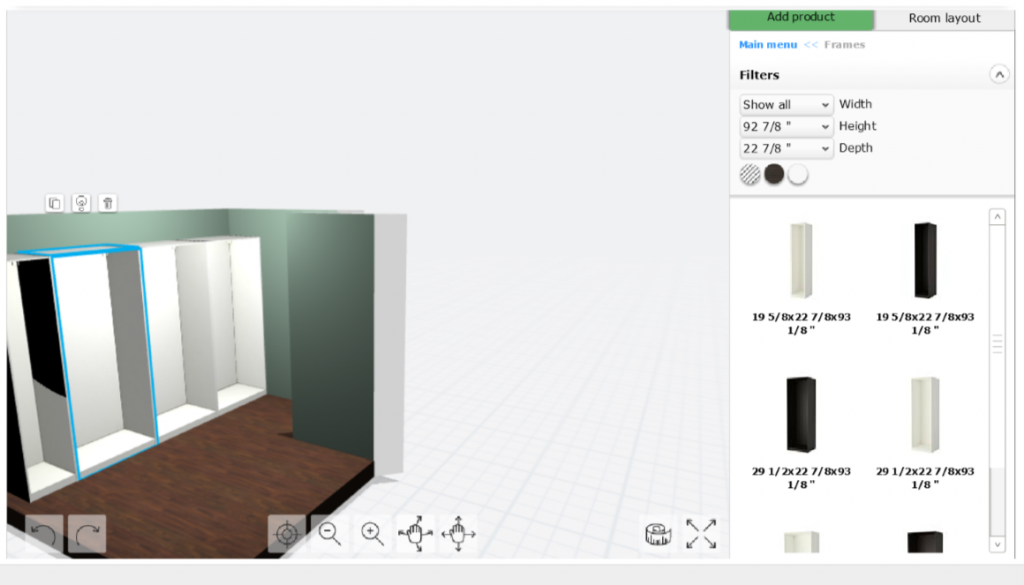 Add Accessories
This is the fun part!  Ikea has tons of accessories to customize your closet.  Click, "Interior Organizers."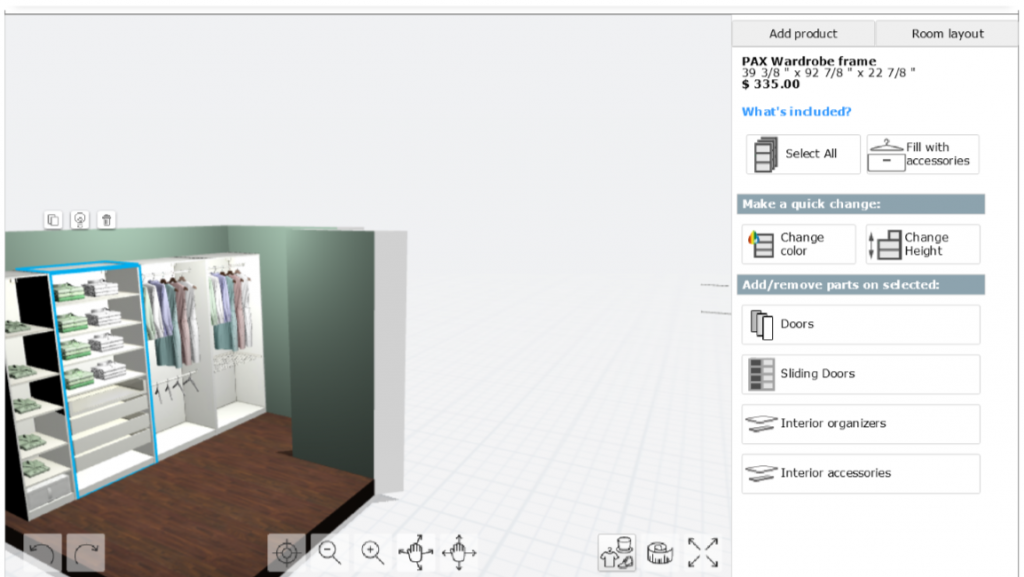 For hanging clothes, you can choose from:
rails for hangers
pull-out, multi-use hangers for belts and ties
pull-out pants hangers for slacks and jeans
Ikea offers several drawer styles and trays.  Customize with glass fronts and add organizers.  It's hard not to go crazy here, but watch out, the costs add up!
Shelves are a must.  You'll want a shelf right above any drawers, so that you can't see down into them.  Also, a shelf above the rails is nice for things you don't use every day.  You can even get glass shelves if you want to get fancy.
Clicking on, "Interior Accessories" will take you to fabric bins.  They are made to fit in the frames and can be used to keep things together (or hide them).
This is probably the best time to add doors if you want them.  I didn't want them because I thought they would just make the space seem smaller and my closet has a door on it.
Pull the Trigger
Now that you have your closet planned and accessories in place, ordering couldn't be easier!  In the upper, right-hand corner, you'll see a price.  Click on it and you'll get a list of everything you need to make your dream a reality.  If you live near an Ikea, you can pay a little extra and have them get your entire order ready for you to pick up.  Wham, bam, thank you, ma'am!  If you live four hours away like I do, it's probably best to pay the $300 delivery fee and they will bring it right to your door.
You can put it all together and slide it right in your closet.  Or…you can talk your husband into helping you make it look like custom built-ins.  Guess which one I did?!  That's right!  In my next post, I'll talk to you about the process of building it in.  I can't wait to show your the finished product!  Until then, get to planning your own dream!