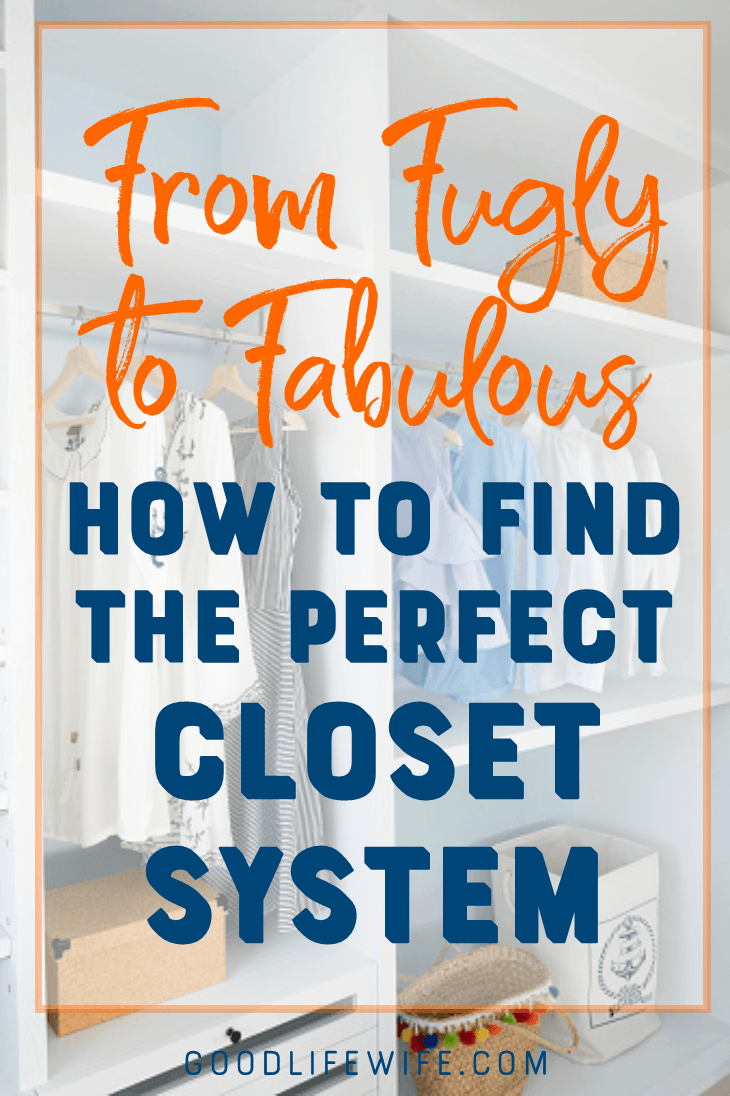 My closet was the worst! It was smelly, disorganized and full of crud I never wore. Sound familiar? We need to find the perfect closet system, but where to start? After a TON of research, I landed on one. I'm going to share this valuable research with you to save you sooo much time!
Of course, you could go completely custom and call a fancy closet company to come and give you the closet of your dreams. But where's the fun in that? Not to mention that's is seriously expensive.
We're going to focus on DIY closet solutions. There are three basic types: wire shelving, wood closet kits, and modular systems. Each has it's pros and cons so you can decide what will work best for you based on your budget, handiness and storage needs.
This post contains affiliate links. If you click on the link and buy something, I will receive a teensy commission. Rest assured that I won't recommend a product that I wouldn't use myself or give as a gift. For more information, please see my disclosure page.
Wire Shelving
Coated wire shelving is the least expensive option. Lowe's and Home Depot have several different lengths and widths of premade wire shelving and they will cut it to size for you. Some have individual brackets and others have a track system.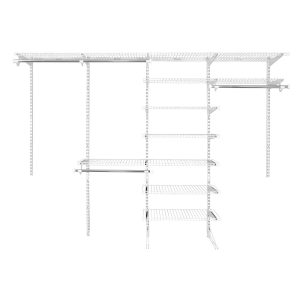 The Rubbermaid system is even designed to overlap so that you don't have to cut it to fit.
Pros
Affordable
Versatile
Easy to install
Cons
Things fall through
Can snag clothes and leave lines
Not the prettiest
Wood Closet Kits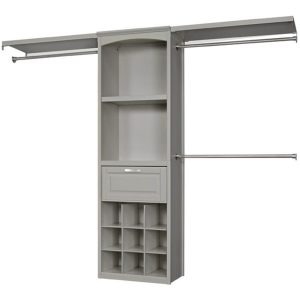 Systems with wooden components or, more commonly, mdf, are a step up from wire shelving. They're more expensive and a bit harder to install. Pre-packaged kits at Lowe's are sold by the wall area they cover and are usually made to fit a 4′ x 8′ closet. They come in quite a few finishes like, white, gray, cherry, oak, etc.
Pros
Sturdy and can hold more weight
Pretty
Flat surfaces won't leave lines or let stuff fall through
Cons
Pricey
Can be tricky to install
Modular Closet Systems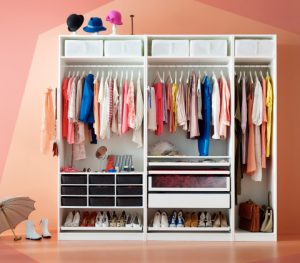 I've saved the best for last! Using a modular system allows you the most flexibility and customization options. Ikea PAX and The Container Store Elfa (which, BTW, is on sale this month) are my favorites. Both come in several finishes and have lots of components like slacks hangers, drawers, shelving, etc. They also have awesome planning programs to design your dream closet. They lead you through measuring and layout so you can maximize your space.
Pros
Customizable
Gorgeous
High quality
Cons
Expensive
Can be tedious to install
Shipping costs can be high
The Perfect Closet System
The Ikea PAX is the clear winner for me. I have a large space to work with and I want a custom look. The downside to Ikea is the crazy shipping costs if you don't live near a store. The closest store to me is about four hours away, so that's kind of a bummer. We also don't have a pick-up and the boxes are too big to fit in my beloved minivan. In the end, after crunching the numbers on renting a truck, etc. we decided that we would just have to shell out the $300 for delivery. It was so worth it!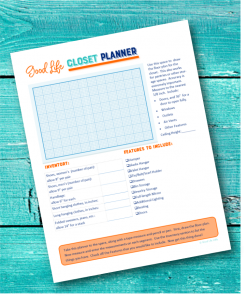 In my next post, I'll be detailing how I planned my dream closet down to the last square inch! If you're in the planning process, check out the free printable closet planner! Click here and subscribe to my newsletter. You'll get access to the closet planner and the entire free resource library.