Are you in the market for an easy, delicious week night meal? Well, here you go! This Lemon Chicken Florentine is fabulous! Fun fact: spinach is what makes a dish, "Florentine." It's on my Hey, Hot Stuff, What's Cookin'? menu plan at least a couple of times a month. If you need an amazing menu plan to keep you on track, click here.
Good Life Wife Lemon Chicken Florentine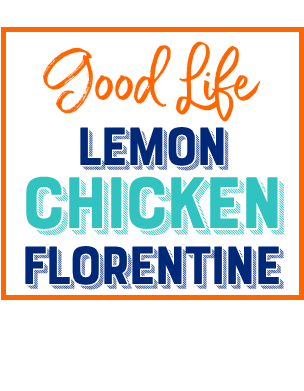 Ingredients
4 chicken breasts, sliced into cutlets
1 1/2 cups flour
1 tspn salt
1 tspn lemon pepper seasoning
1 tspn granulated garlic or garlic powder
1/2 cup olive oil
1 clove garlic, crushed
1 lemon, zested and juiced
2 big handfuls of fresh spinach
1/2 cup parmesan, freshly grated
1 1/2 cups heavy cream
Instructions
Preheat the oven to 350 degrees.
Combine flour, salt, lemon pepper seasoning and granulated garlic in a shallow dish.  Mix well.
Dredge chicken cutlets in flour mixture.
Heat oil in a large skillet.
Brown cutlets in batches, about 3-4 minutes per side.
Place browned cutlets on a wire rack put in a sheet pan and finish in the oven while you make the sauce.
Discard all but 2 tablespoons of oil in the skillet, being careful to keep all of the yummy brown bits on the bottom of the pan.
Sauté spinach until wilted.  Add garlic and cook for about a minute.  Add cream, parmesan, lemon juice and zest and cook until thickened, stirring constantly.
Remove chicken from the oven.  Serve on cooked pasta and top with sauce.