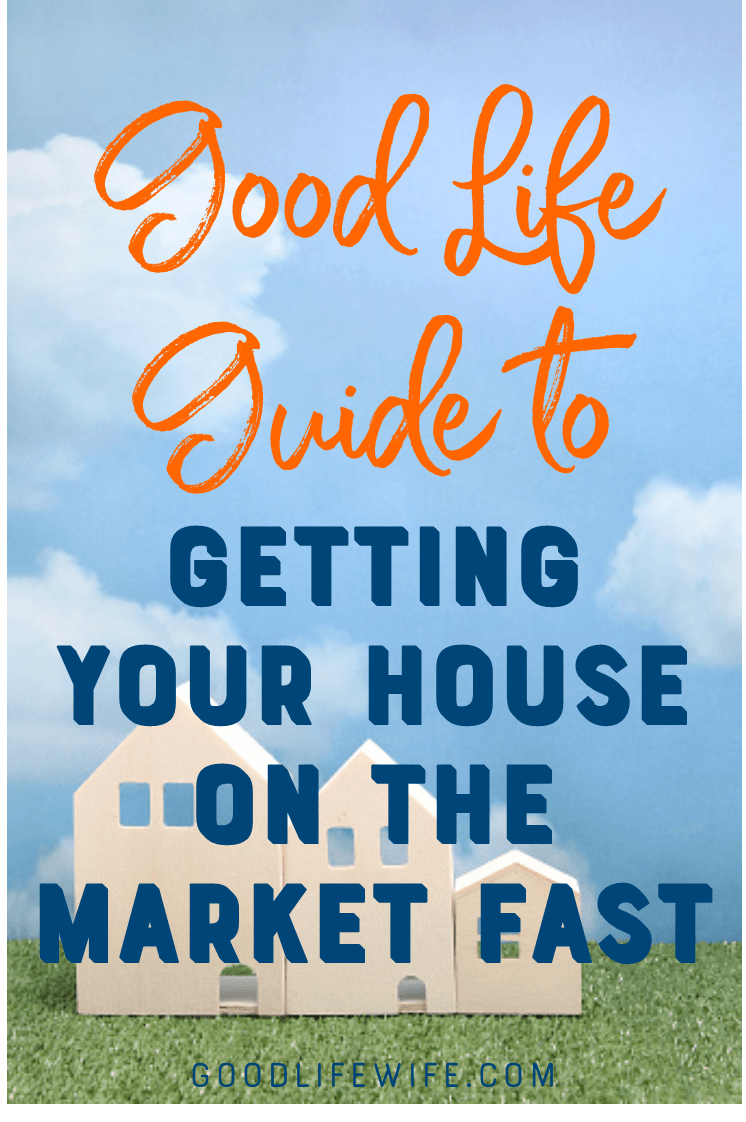 We had a bit of a surprise recently, and not the good kind.  The people renting our old house decided to move.  After talking with my friend, Barb, who just happens to be a realtor, we learned that the market is hot and we could finally get what we paid out of our home.  We needed to get our house on the market fast as it costs us a bundle every month to own this joint.
Barb let me know the four things to focus on when selling your home are having it clean, making repairs, updating and staging.
Clean, Clean, Then Clean Some More!
The importance of cleanliness can't be stressed enough.  I bought that house because it smelled like bleach!  Buyers are totally grossed out by dirty, messy houses.  They just can't see themselves living there.  If you need tips on cleaning, check this out.
In addition to cleaning basics, some very detailed cleaning is necessary:
light fixtures
light switches and outlets
windows
doors
walls
ovens
baseboards and chair rails
fireplace
carpets
Buyers are going to be looking (snooping) everywhere.  Make sure your pantry and closets are neat and organized.  Now is a good time to purge like crazy.  You can't organize clutter, so get rid of what you don't need.
Clean out your kitchen drawers and cabinets then wipe them down.  Ditto for the fridge.  Kitchens and bathrooms are the rooms that sell houses, so these places need to be so shiny you're blinded by the glare.
If you think cleaning all of this crud is a bummer, remember that you have to keep it this way.  All.  Of.  The.  Time.  Until the day you close, because it ain't over until you give 'em the keys.
Mr. Fix It
You know that knob that's been hanging by one screw in the guest bath?  Fix it.  Go through your house with a fine-tooth comb and repair everything that's broken.  Remember, you're likely to face a home inspection and those people are picky!  The FHA has a handy guide.
Some repairs will keep buyers from getting a mortgage loan on a property.  These things can be costly, but you may have to bite the bullet and get them done anyway.
Updated, Turnkey, Move In Ready
Fresh and bright is your mantra.  Your goal is for buyers to walk in and be able to see themselves living in your space immediately.  Most sellers are competing with new construction, which is hard to beat in terms of fresh and bright, so we need to give them something more:  move in ready.  A few key things to think about:
Painting.  A fresh coat of paint can do wonders.  If you're wondering what color to choose, pick Agreeable Gray by Sherwin Williams.  It's a gorgeous neutral.  I used it everywhere and painted all of the trim bright, shiny white.  It took my rental from clunker to classy!  Here's a picture in the living room with just one coat.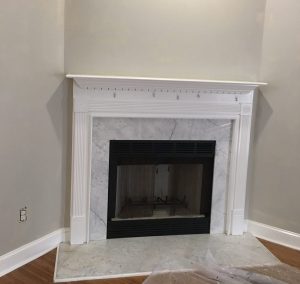 I wish I would have taken a before, but I was too overwhelmed to think of it.  The former color was an ugly, yellowy beige the renters put up.  Oh, and check out the awesome Command Strips that never, freakin' come off.  Do I sound bitter?  Moving on…
Finishes.  Because of the popularity of home improvement shows, buyers expect more than ever.  Thanks, HGTV!  Young buyers, in particular, want updated finishes and fixtures.  If you have dated plumbing fixtures, cabinet hardware or lighting, consider changing them.  These things are relatively inexpensive and most you can do yourself.
Wallpaper.  Wallpaper has got to go.  If it is new and awesome, leave it.  But, the wallpaper most of us have is from the 1990s and it's ugly as hell.  It's kind of a sucky job, but scrape it off and paint.  Score the paper then spray with warm water and a few drops of Dawn.  Give it about 10 minutes to soak in then scrape it off with a putty knife.
Windows.  If you have any heavy window treatments, consider taking them down.  You want to let in as much natural light as possible and heavy drapery, swags and cascades can feel dated.  Make sure your windows are clean inside and out.
Front Door.  Is your front door in bad shape?  If it's chipped, dented and scratched, you should paint it.  Navy front doors are hot right now and red is a classic choice.  My house is gray with white trim and black shutters, so red is really going to pop.  You don't get a second chance to make a first impression, so make sure your entry is what?  Fresh and bright.
Staging
You've cleaned, fixed, updated and painted, so you can throw open the doors and buyers will come running in, right?  Not so fast!  Once again, buyers need to be able to see themselves living in your space.
Depersonalize. It's hard for buyers to get past your wall of family photos, signs that say, "Smith Family, est. 2010," and that boudoir photo on your husband's nightstand.  I know it's all super cute, but it needs to be packed up to use in your next house.
Simplify.  Too much furniture can make rooms look small and cramped.  Get rid of the giant recliner taking up half of your family room.  If you are using a room for something it's not meant for, consider changing the décor.  For instance, if you're using the formal dining room as a play room, it will show better if you pack up the toys and put in a table.  Look for tight squeezes.  You don't want anyone to feel trapped in a bedroom with too much furniture.
Highlight.  Show off the best features of your home.  Have a fantastic kitchen?  Stage the counter with a beautiful cookbook and new tea towels. Showcase bathroom with spa essentials and fluffy new towels.  Set up a seating area to take advantage of a great view.
If your house is vacant, you still need a bit of staging.  Towels in the bathrooms, wineglasses in the kitchen, a seating area in the family or living room, are good places to start.  I'll have more on this next week, so stay tuned!
So You Have Your House on the Market, Now What?
So now there's a sign in your front yard and it's the realtor's job to get this baby sold.  Not quite!  You absolutely must keep your home show-ready until you close.
Keep it clean.  Every morning, straighten up and walk through with a duster and a Swiffer.  Check this post for tips on cleaning routines.
Light and bright.  Turn on every light in the house so that it's light and bright. Open the blinds or curtains.
Smells good.  This is so important.  Smell is a deal breaker, so don't let it keep you from selling your house.
Next week, I'll have a sign in the front yard of my rental.  Please send me all of the luck, good vibes, positive thoughts, etc.  Or, you could send me a buyer, that would be even better!  What's your best tip for getting a house on the market fast?