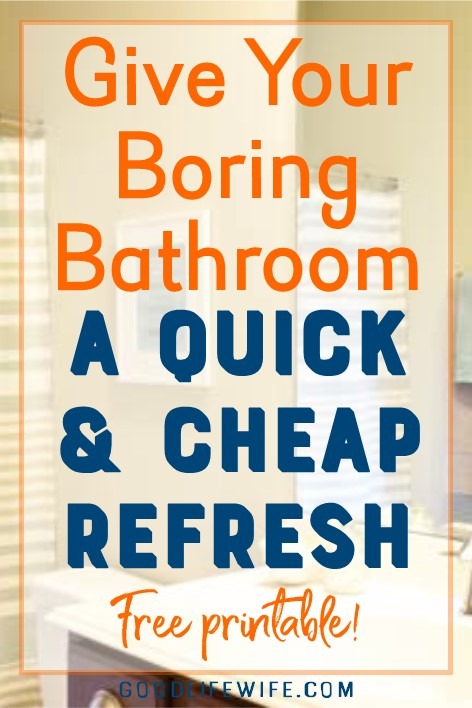 Is your bathroom boring? Maybe the walls are still builder beige and you're using the same shower curtain you bought for your first apartment. Time for a quick bathroom refresh!
We've lived in our house for five years. The guest bath upstairs is one of the last rooms I've yet to deal with. Super cheap builder beige paint, nondescript shower curtain and oooold towels. Yikes!
Of course, I was expecting guests in a few days. Could I pull it off? You bet your sweet bippy!
Before
This is what I was dealing with…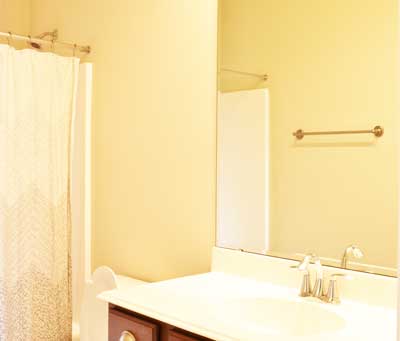 Even though I'm not in love with the counter or fixtures, this wasn't that kind of makeover. We're talking strictly cosmetic! Think new eye shadow, not botox.
Paint Color
If you've read my previous post about paint color, How to Change Paint Colors in a Room, you know my favorite wall color is Agreeable Gray by Sherwin Williams. It's been a couple of years since I discovered it, but I'm still totally crazy about it.
This is just the perfect warm, gray tone. Cool tones can make the light in a room look harsh, which is the last thing you want when you look in the mirror.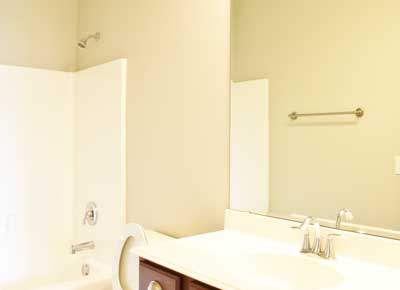 The lighting in this room is not great, so it's a little hard to see the color. Trust me, it's lovely and so much better than beige.
Accessories
Now that I had a fresh coat of paint, time to nail down the details. My mom was visiting and we had such a fun shopping day! Marshalls, TJ Maxx, Home Goods…all the awesome places.
I was able to find a shower curtain and towels at Marshalls. The prices in these stores just can't be beat. Often, they are less than Wal-Mart or Target for better quality.
Be sure to take a paint swatch with you when you shop. Grays are tricky and the wrong one really doesn't look good.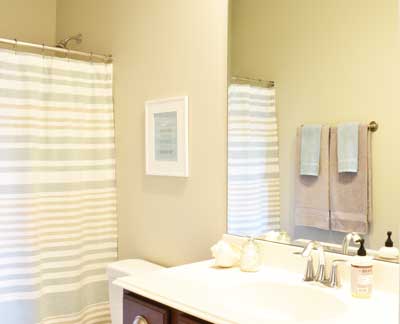 The shower curtain has the perfect gray stripe, along with teal to liven it up. Basic gray towels with teal hand towels gave me a clean, simple look. I didn't want the décor to be too fussy so guys would feel comfortable too.
Wall Art
After I hung the shower curtain and towels, I was left with what to put on the walls. It's a small bath, so I didn't want too much or anything that would be easy to bump.
As I was down to the wire on time, I also wanted something that was super fast. And, cheap, did I mention cheap?
I remembered some pretty, white frames I had used in my daughter's room previously. After poking around a bit and not finding anything to go in them, I decided to make something.
Using a Cricut would have been a great project, but I didn't have the right colors of paper or vinyl. But, I like to make graphics so maybe I could whip something up.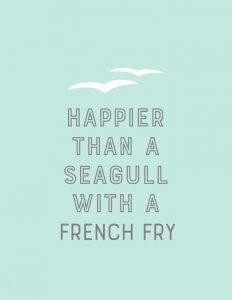 We live near the beach, so this was cute without feeling like a vacation rental. You can grab your own copy right here, without even fessing up your e-mail address. It will open as a pdf in a new window. Be sure to use the best quality setting on your printer. It takes a little ink, so printing on cardstock is also a good idea.
Budget
Honestly, I didn't really set a budget before I started. This whole project was spur of the moment! I just wanted a quick bathroom refresh.
I came in right over $100:
Paint, 1 gallon $39.98
Shower Curtain $19.95
Towels $50
Grand Total: $109.93
Shopping
While I couldn't find the exact shower curtain on Amazon, these would also be pretty and give the same feel.
This post contains affiliate links. If you click on the link and buy something, I will receive a teensy commission. Rest assured that I will not recommend something that I would not use myself. For more information, please see my disclosure page.
When possible, order an extra-long shower curtain. It will hang all of the way to the floor and look so much nicer. I got a standard size one and adjusted the rod so that it would reach the floor. Which is okay, except the liner puddles up in the tub because it's too long.
These towels are comparable to the ones I bought. Look for 100% cotton towels. They feel better and they're more absorbent.
Final words of advice: don't be scared! If you have two days, you can do this quick bathroom refresh. Give yourself half a day to shop, a day to paint and half a day to put everything together. Go forth and refresh!