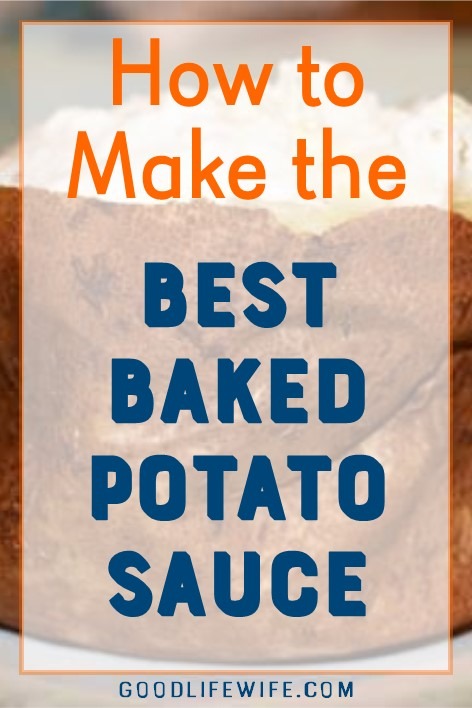 You know what I hate? When you eat up all of the first layer of your baked potato and your next bite is dry and gross. I set about to solve this little problem cause, that's kinda what I do. So, boom, I came up with this super easy baked potato sauce.
The Big Idea
Sometimes a taste memory will just pop into my mind. There is a restaurant in Cheyenne, Wyoming called Little Philly. They make fried pierogi and serve it along side of a big scoop of sour cream with melted butter poured on top and lemon pepper sprinkled on top of that. The result is pretty amazing and I'm pretty sure that all my Cheyenne peeps are thinking about getting in the car and going to get some right now!
Well, I could make my own pierogi but that's a whole lot of trouble. Or, I could make something that tasted kinda the same and was super easy. Yeah, let's go with easy.
Let's Do This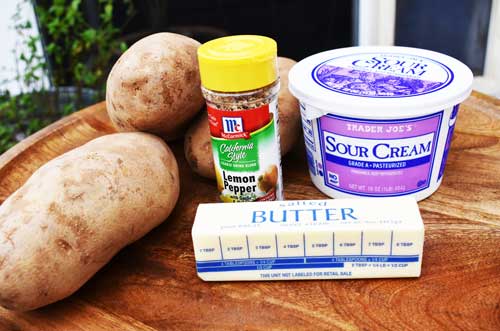 The ingredients are pretty simple and you probably already have them. I use giant, russet potatoes. We can always eat half for lunch the next day and sometimes, that's all my daughter wants for dinner.
Salted butter is a controversy. Really, do tell. Well, lots of restaurant chefs say to never use salted butter because you want to be able to season precisely. Lots of home cooks, including this one, used salted butter because it's delicious.
Any sour cream will do but I'm not crazy about the "lite" versions. It seems like the more processed food is, the worse it is for you. They have to further process full fat foods to make them low-fat, so I'm sticking with all the fat.
This is the lemon pepper they have at my grocery store. I'm sure there are some lemon pepper aficionados out there who have recommendations. LPAs (Lemon Pepper Aficionados) if you're out there, please leave your top picks in the comments.
Yield: 4 servings
Good Life Wife Baked Potato Sauce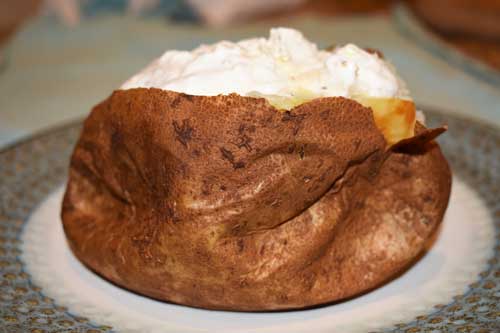 Buttery, creamy sauce for baked potatoes.
Ingredients
Butter, softened 3/4 cup
Sour cream 3/4 cup
Salt 1 teaspoon
Lemon Pepper 1 1/2 teaspoon
Instructions
In a bowl, mix all ingredients well. Top baked potatoes with a generous dollop of sauce and enjoy every bite!
Nutrition Information:
Yield:
4
Serving Size:
1
Amount Per Serving:
Calories:

392
Total Fat:

43g
Saturated Fat:

26g
Trans Fat:

2g
Unsaturated Fat:

13g
Cholesterol:

117mg
Sodium:

1152mg
Carbohydrates:

2g
Net Carbohydrates:

0g
Fiber:

0g
Sugar:

2g
Sugar Alcohols:

0g
Protein:

1g
All information presented and written within goodlifewife.com are intended for informational purposes only.