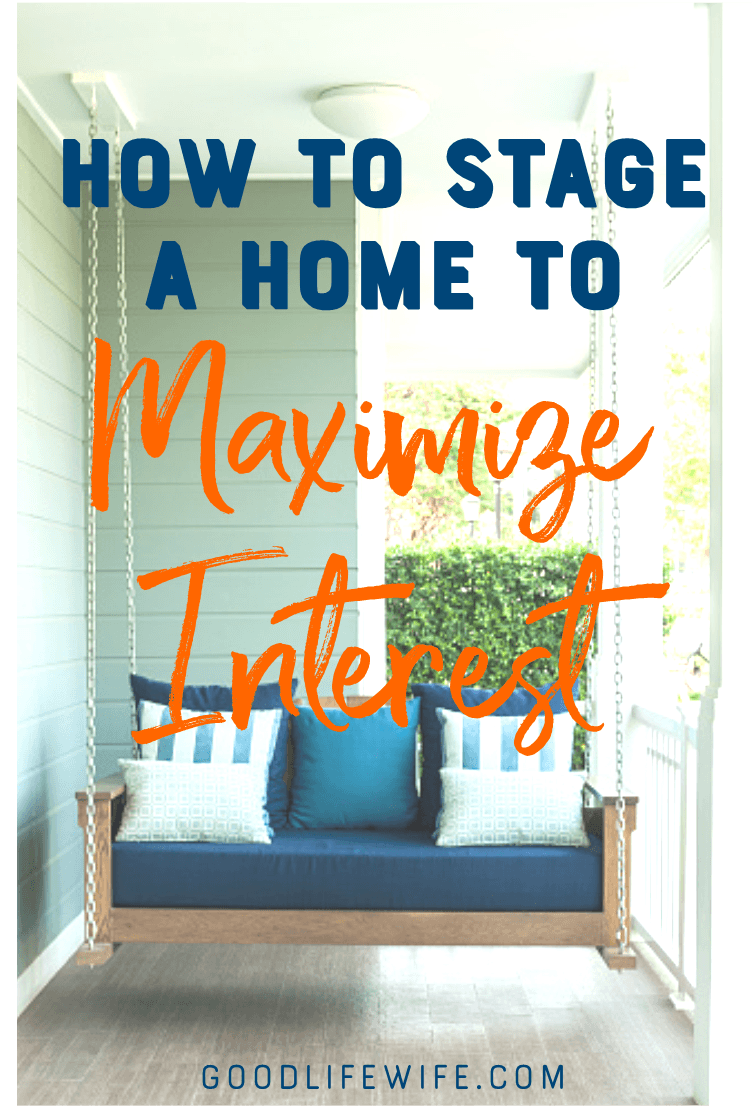 You want to sell your house fast, right? Yes, of course! After you've cleaned and decluttered like I mention here, you're going to need to know how to stage a home in order to sell quickly. Studies show that a staged home spends fewer days on the market. You aren't going to fool buyers but you will gain interest, which is the name of the game. Let's jump in…
Curb Appeal
We begin at the beginning: when your prospective buyer pulls up to the curb in front of your house. What do they see? Go out there and really study this picture. What they should see is an inviting home with a neat, clean outdoor space. Our goal is to make them want to get out of the car, not hit the gas.
Plants. A potted plant with seasonal color will brighten your entry. The grass should be green during the season and neatly cut all of the time. Sweep the walk, use the edger and blow the leaves. Even in the dead of winter, you can keep things looking neat and add a little color.
Porch. If you have room, a seating area is fantastic. Put out new pillows and a new entry rug. I found some super cute ones online and ordered the one on the right from Target. If seating makes the entry too crowded, skip it but add a plant and a little décor.

Front door. Consider a fresh coat of paint or stain. Clean glass and hardware until it shines. Make sure all of the crud is cleaned off the door jam. Add a simple wreath or door hanger. Make sure the wreath doesn't catch on clothes or get closed in the door easily. We want a smooth entry with so snags (pun intended).
One note to remember for décor anywhere in or outside: no personalized or monogrammed stuff. Buyers need to be able to imagine themselves living here and that's hard when greeted with a "Welcome to the Mayo's Party Palace" sign on the front door!
Highlight the Features Most Appealing to Buyers
Kitchens and bathrooms sell houses. These rooms are the most expensive and difficult to renovate, so buyers appreciate the work being done for them. Today's buyers have high expectations.
Kitchens
Anyone who's watched an episode of House Hunters knows that buyers want granite and stainless steel! It's practically in every episode. If you have those things or can afford to put them in, great! But if you're on a budget and need to sell as is, do the best you can with what you have. No matter what materials you're working with, make sure this room is cleaned down to every nook and cranny. Buyers should literally be able to eat off the floor. Things to feature:
Clever storage solutions – leave the door of the pantry or built-in space rack open
Appliances – hang a crisp, new tea towel on the dishwasher or stove
High-end additions, like a pot filler or built-in coffee station – put a pot on the stove, etc.
Island or peninsula – a bowl of lemons or fresh fruit and a couple of wine glasses
Eat-in area – set two places with pretty linens and dishes
Bathrooms
Like the kitchen, this room must be squeaky clean. It also needs to smell fresh. Get rid of any mold or mildew and swish bleach around in the toilet every morning. Whether you are working with an occupied house or an empty one:
Hang a new shower curtain
Put out new towels
Add new bathmats or rugs
Make sure all of the light bulbs are the highest wattage they are rated for
Set out a pretty candle and fancy soap
Home Office
Young buyers, in particular, are looking for home offices. If you have an office, clear it of anything personal, like pictures, diplomas etc. Make sure the desk is clear except for a lamp, a couple of fun accessories or a plant. If you don't have a dedicated home office, consider re-styling a bedroom as a workspace with a desk, chair, lamp and a few cute décor items. Even an empty nook or remote corner can be styled this way. I'm using a slim table and dining room chair to create an office look in a bedroom of the empty home I'm selling.
Master Suite
The master bedroom should feel like a retreat. Calm, soothing colors and pretty bedding are must-haves. If you're dealing with an empty house like me, use a blow-up bed on top of some boxes or crates and dress the bed with several layers to make it look more substantial. Most dust ruffles are 15 inches long, so look for boxes or crates that height.
Remove any furniture that makes the room feel crowded. If you have to turn sideways to get between the bed and something else, take the something else out. Also, arrange the furniture in a traditional layout with the bed facing the door and nightstands on either side.
Smart Storage
We all want plenty of room to store our stuff. Closets can be a great selling feature. A fantastic master closet is a major draw for many buyers. Staging closets means taking most of the things you currently are storing there out. Kind of a hassle, but you want buyers to be able to see the potential, not the clutter. Get matching velvet hangers and hang your core wardrobe neatly, storing out-of-season clothes and shoes elsewhere (like in boxes under your bed). Place a couple of cute pairs of shoes on the shelves, but not every pair of worn-out sneakers you own.
For pantries, clean and reduce to the bare minimum. Use matching baskets or bins to store snacks and paper goods. It doesn't have to be Pinterest perfect, but it should be very neat and tidy.
Family command centers or drop zones are super appealing. Make sure you have removed any personalization and personal information, like bills. Do highlight a charging center or cubbies with a few coordinated items.
Outdoor Living
Create an inviting outdoor living space. It doesn't have to be large or lavish, just a couple of comfy chairs with new pillows. A table styled with a tray, a pitcher and two glasses would be a great addition. Maybe a throw and a couple of books would give it that, "I just stepped away from a relaxing moment" feel!
We're not trying to mislead anyone with staging. We're simply putting our best foot forward so that we'll make an amazing first impression. In real estate, it may be the only impression you get. Look at your home with objectivity and try to tell a story of the "ideal" lifestyle most of us seek: calm, pretty and clean. I'll keep you posted on my progress. Hopefully next week, I'll be telling you that my house is under contract!
What's your best staging tip?