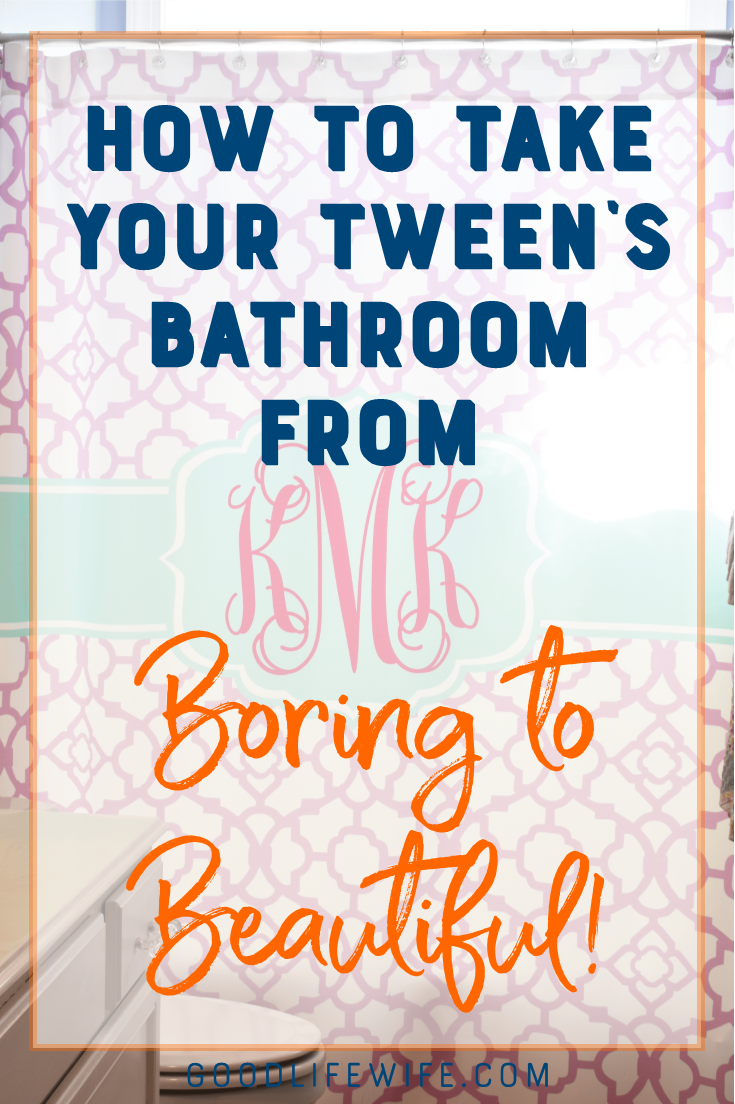 Tweens, huh?  Not only are they great at eye rolls and hair flips but they also have STRONG opinions on pretty much everything!  I was kinda nervous when I decided to tackle my tween's bathroom décor, but I took a deep breath (and possibly a sip of wine) and dove in.
Setting Expectations
Everyone's expectations need to be clear and reasonable.  The girl must be aware that this design project is not being done on an unlimited, HGTV-style budget and mom needs to know that the girl will not be nearly as impressed with the results as she hoped.
I wish I could report that this was a fun project that my daughter and I did together while talking about our feelings and singing show tunes.  That. Did. Not. Happen.  But if you and your girl are able to work together, go for it!
Umm, have you met me?  Well, I'm a teensy bit of a control freak.  I got my client's (read daughter's) input and ran a few things passed her but seriously folks, this bathroom is at the top of the stairs and is the first thing you see as you're coming up.  No way was I going to go dark purple and magenta in here. We "compromised"…on lavender and teal with a little hot pink thrown in for good measure.
This post may contain affiliate links. If you click on the link and buy something, I will receive a teensy commission. Rest assured that I will not recommend something that I would not use myself.  For more information, please see my disclosure page.
Finding Inspiration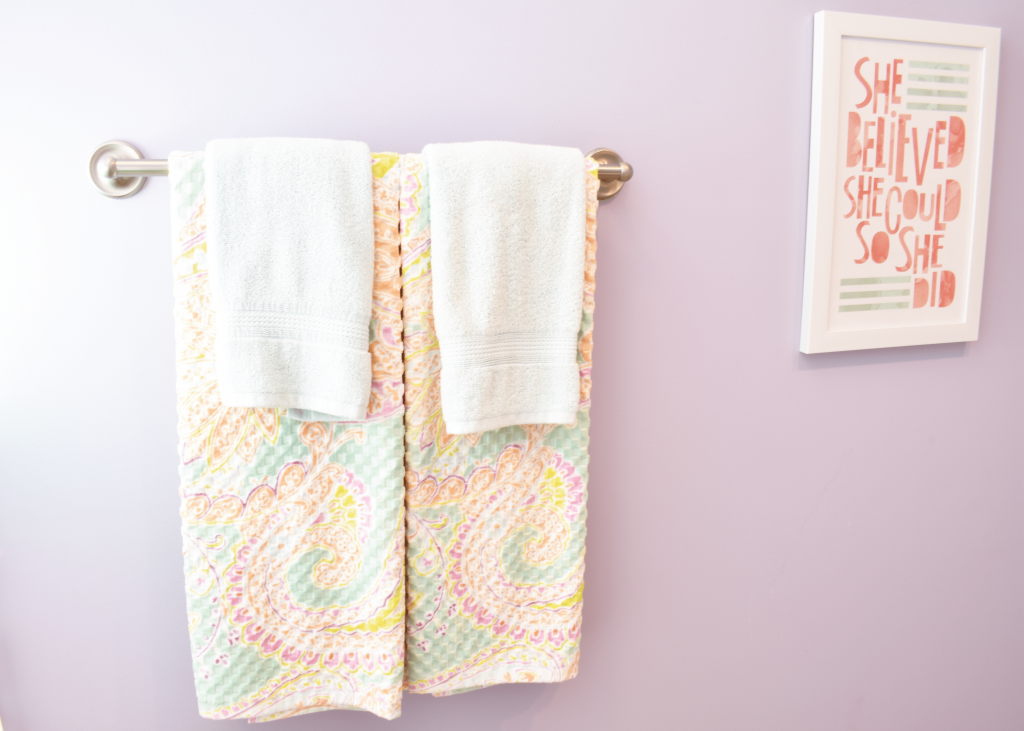 These towels were the inspiration for this room.  When I was wandering around in Marshall's one day, these beauties drew me in like a magnet!  I had actually already painted the walls but just couldn't move forward until these pretty towels came into the picture.  They have a modern paisley pattern with light teal, lavender, hot pink and coral.  The design process for this tween's bathroom décor would be super easy now.
Painting
The walls are painted HGTV Home by Sherwin Williams, Sea Island Cotton, purchased from Lowe's.  It's a nice, soft lavender that's a little dusky.  Where do they get these paint color names?  Sea Island Cotton doesn't describe this at all!  This color is very feminine without being too little girlish for my sophisticated tween.
The vanity was brown and really didn't go with my design, so it had to be changed.  Replacing it wasn't in the budget, so I decided to chalk paint it.  I chose Annie Sloan Chalk Paint and mixed Pure White with Old White in a 1:1 ratio.  This magic formula was perfect!  New hardware completed the transformation.
Finishing Touches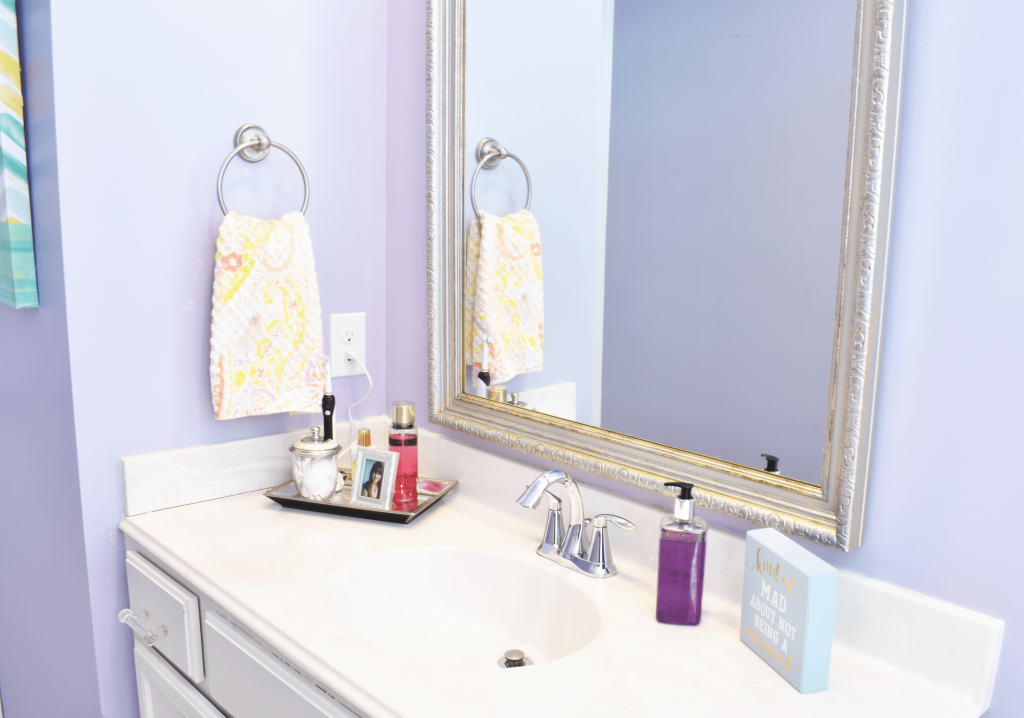 Another thing that had to go:  giant builder mirror.  My in-laws gave us this mirror and it's the perfect size.  It was mostly gold, so I rubbed a little silver on to give it a more updated look.  I just used silver craft paint and rubbed it on lightly with a rag.
A pretty silver tray keeps things neat and organized.  The "Kind of Mad About Not Being a Mermaid" sign is a later addition, but it really looks great in here.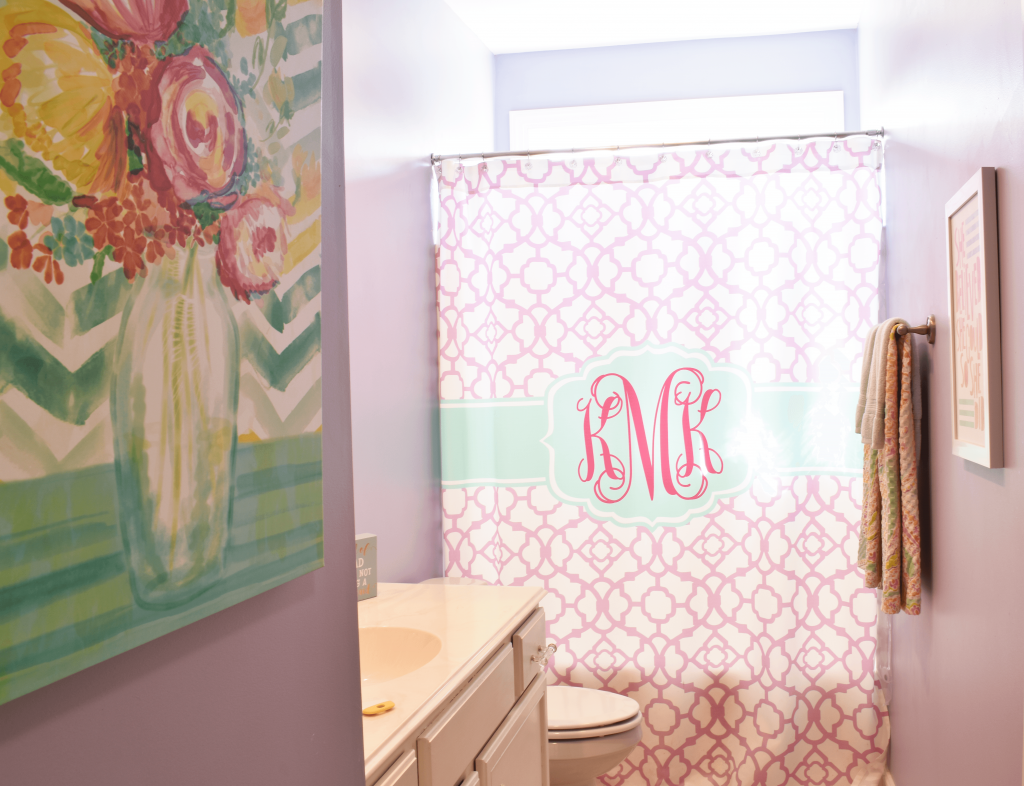 My absolute favorite thing is this adorable, monogrammed shower curtain.  I ordered it on Etsy and you can find similar ones here.  You can choose the colors, pattern and style so it's really fun.
The wall art is from Hobby Lobby and it looks like it was custom made for this space.  What a lucky find!
A Functional Surprise
"Come here and let me smell your head."  Yep, I say that pretty much every time that girl gets out of the shower.  I didn't know this was a thing, but it's totally a thing.  Kids this age seriously resist good hygiene.  Just when they need it the most, they turn away from soap like it's burning their skin.  She will get in the shower and stay for 20 minutes…without using shampoo or soap.
I was at my wit's end so we sat down together and brainstormed some ideas.  We came up with something pretty clever!  I made vinyl reminders with my Cricut and put them right on the shower wall.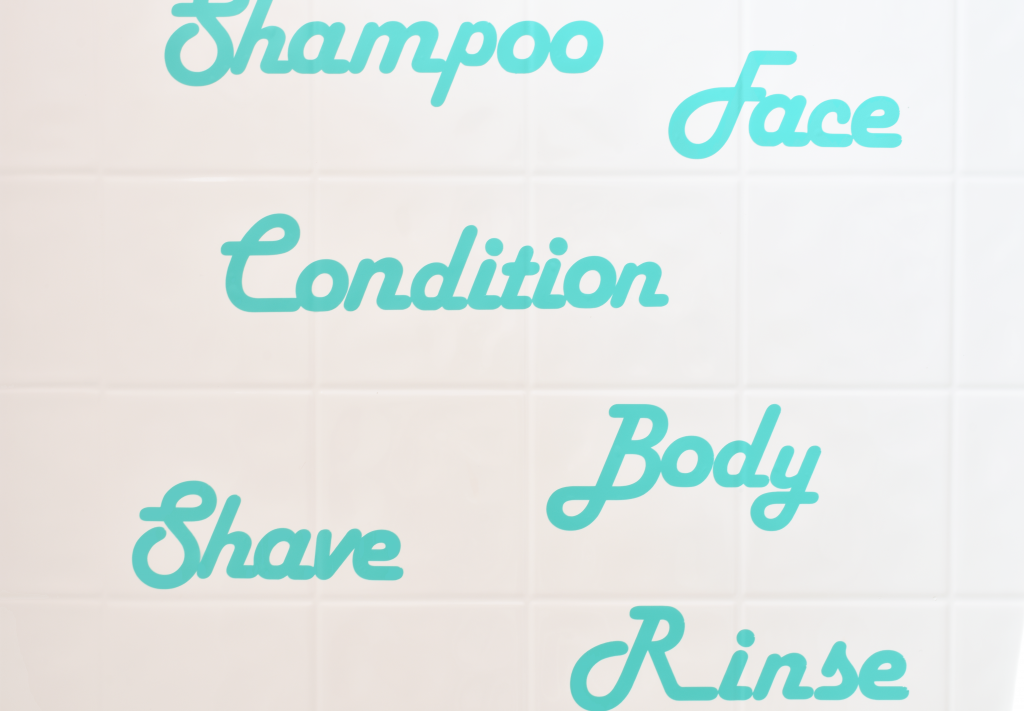 Kids can use a soap crayon to mark things off as they do them.  I put these at eye level but you could put them lower for kids that take baths.  This functional element of my tween's bathroom décor has been a real argument saver!  Not gonna say she remembers to do all the things every time, but it seriously helps.
The vinyl can be removed without damaging the shower, so you can even use it in a rental.
For more fun bathroom décor inspiration, check out this post.  If you're also wondering how in the heck to keep your bathrooms clean, take a look here.  I would love to hear your tips on getting your kids to stay clean!