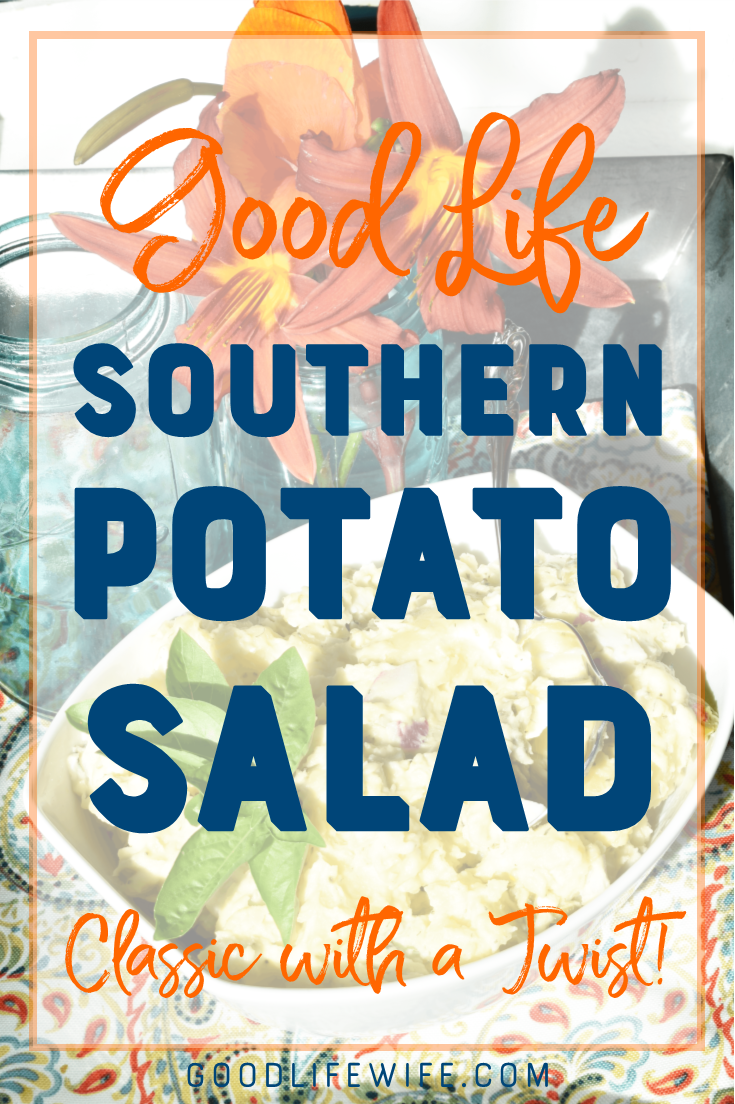 Every time I serve potato salad, I start out by saying, "It's not Brandy's, but it's okay."  My friend, Brandy's, potato salad has always been my gold standard!  It's sweet, creamy, tangy…all the good things.  I've watched her make it dozens of times, but it's so perfect that I would never try to replicate it.
But, I love potato salad and now live 2,000 miles away from Brandy, the potato salad goddess.  What's a girl to do?  Keep trying…and failing.
Until now!  Through much trial and error, I've come up with a recipe that's really good.  Not Brandy's, but really good.  It's a classic southern style with a few twists.
This post may contain affiliate links. If you click on the link and buy something, I will receive a teensy commission. Rest assured that I will not recommend something that I would not use myself.  For more information, please see my disclosure page.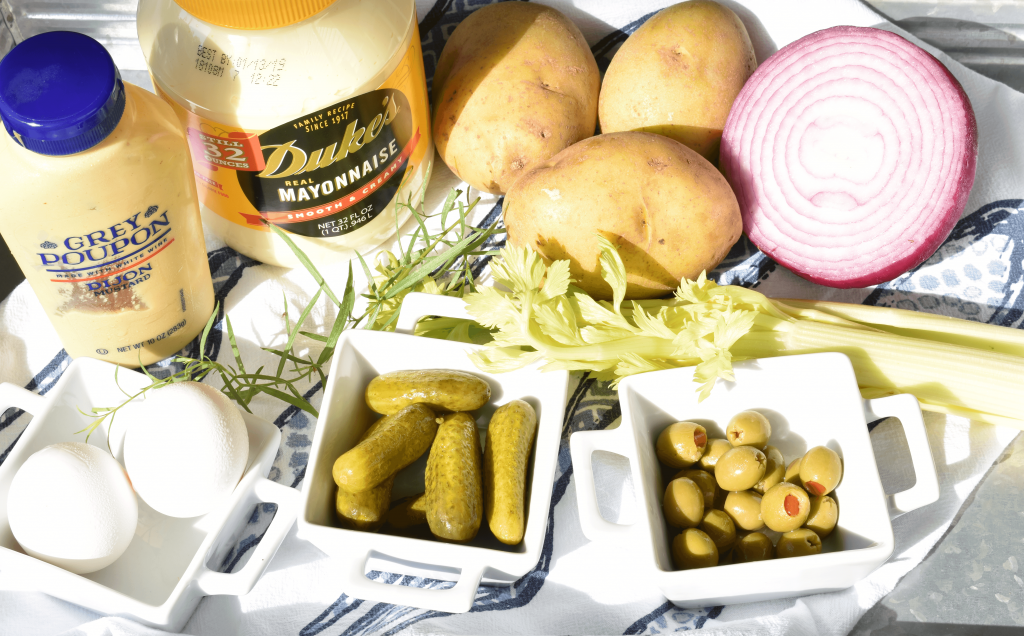 Good Life Southern Potato Salad has just a few ingredients and most you probably already have on hand.  One of the things that makes this recipe a little different and so good is the fresh tarragon in the dressing.  I always have it growing in my herb garden because I use it in chicken salad too.  Tarragon is slightly bittersweet and smells a little like anise, or licorice.  It's a nice compliment to the tangy Dijon.
The other mind-blowing trick in this recipe is, duh, dat, dadada, pouring dill pickle juice on the hot potatoes after they are drained.  This crazy step gives a ton of flavor to the potatoes.  In the spirit of transparency, I read this years ago in Cook's Illustrated, but the method they used was super complicated and dirtied up another dish, so I didn't love it.  No extra dishes to wash with this recipe!
Okay, here's the recipe.  I hate those blog posts where you have to scroll down three feet to finally get to the recipe, which is what you really wanted in the first place.  Pin and enjoy!  You might try this potato salad with a great steak, or pulled pork.
Yield: 4 cups
Good Life Southern Potato Salad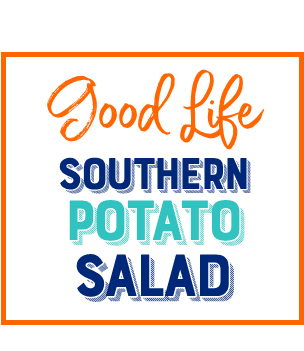 Classic southern potato salad with a twist!
Ingredients
2 lbs. Yukon gold potatoes, peeled and cut into 3/4 inch cubes
1/4 cup Dill pickle juice
2 stalks Celery, diced
1/4 cup Dill pickles, diced
2 tbsp. Red onion, diced
1/4 cup Spanish olives, halved
2 Eggs, hard boiled and chopped
Dressing
1/2 cup Mayonnaise
1 1/2 tspn. Dijon mustard
3/4 tspn. Salt
1/2 tspn. Black pepper
1 tbsp. Sugar
1 tbsp. Tarragon, minced
Instructions
Start hard-boiled eggs.  Place two eggs in a saucepan and cover with one inch of cold water.   Bring to boil.  Cover and removed from heat.  Let the eggs stand, covered in the pan for 15 minutes.  Plunge eggs into iced water and peel.
Peel and dice potatoes while the eggs are cooking.  Place them into a large pot and fill with cold water.   Bring to boil, then reduce heat to medium high and simmer for 8-9 minutes.  Potatoes should be fork-tender.
While potatoes are cooking, make the dressing.  Add all ingredients in a small bowl and mix well.  Set aside.
Drain the potatoes and return to pan.  Pour 1/4 cup dill pickle juice over potatoes, toss gently and let stand 20 minutes.
While potatoes are standing, prep the celery, dill pickles, onion, Spanish olives and eggs.  Put them in a medium bowl.
Add potatoes to the bowl and gently toss all ingredients with dressing.
Cover and refrigerate about an hour before serving.  Garnish with fresh herbs.