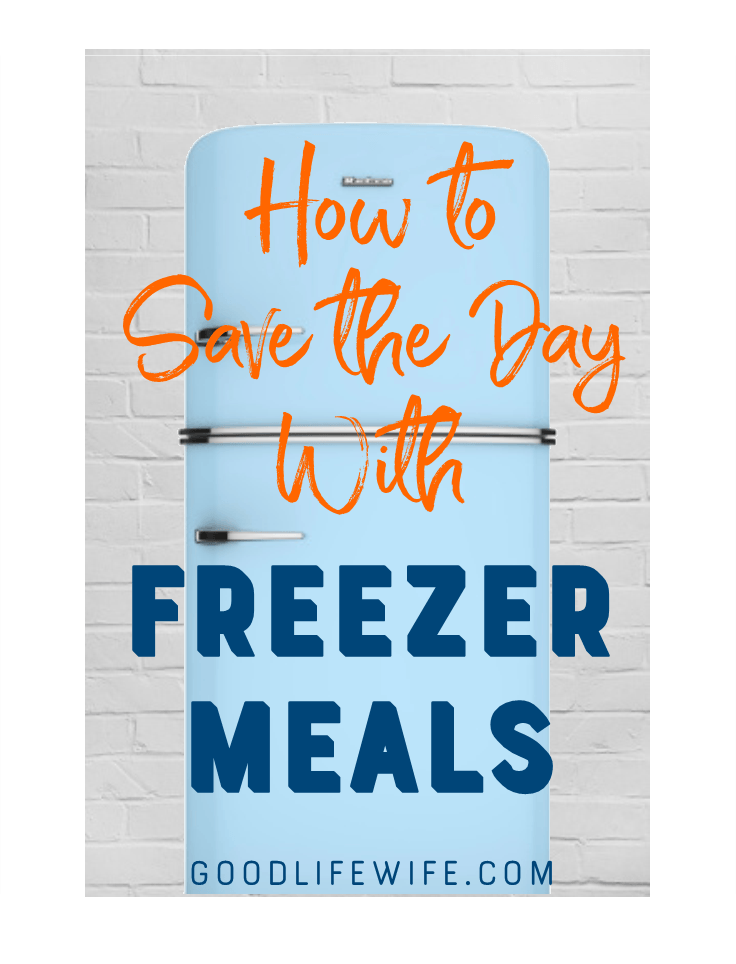 Ever had a day from hell when everything that could go wrong did? Me too! The last thing I want to do after I've cleaned up a poopapocalypse, done six loads of laundry and picked up a sick kid from school is to cook dinner. Going out under these circumstances is really not an option because I haven't showered in, well let's just say, recent memory. But we still gotta eat. Enter the beloved freezer meal!
You can get these meals into your freezer a couple of different ways: take a day every few months to cook and freeze or you can simply make a double recipe of something freezable when it's on your Hey, Hot Stuff, What's Cookin' menu plan. Click here[/popup_trigger] if you need to grab a copy. No matter which route you take, you'll need to follow the same basic steps: plan, cook and store.
Plan Your Freezer Meals
How do you decide what to make? Stick with proven family favorites. It really sucks to pull out a pan from the freezer, heat it up and have no one eat it. Casseroles, crockpot recipes, baked goods and soups usually freeze pretty well.
Making and freezing holiday meals ahead of time is awesome! Maybe this year you can actually enjoy Thanksgiving. If you're already thinking about that challenge, take a look at this post for some ideas.
You'll need some basic supplies for making freezer meals. Regular Ziploc bags and old take-out containers don't really cut it for frozen storage. You'll get freezer burn and ice crystals which will make the stuff that you worked so hard on taste like crap, so don't do it! Grab some:
Aluminum Pans. These are best for casseroles and things that you'll take out and heat up in the oven. You can get them at the dollar store or buy in bulk at Costco or Amazon (still no affiliate links, am I ever going to get that done?). Steer clear of the ones in the grocery store as they're pretty expensive.
Freezer Ziplocs in gallon and quart sizes. One of the best things about Ziplocs is that they're flat, so they don't take up much room in the freezer. Fill them with soup or other things that will be reheated on the stovetop and lay them on a sheet pan in the freezer until they're solid. Now you can stack them up or file them vertically.
Sharpies. Label everything that you put in the freezer. Taco meat and meat sauce can look suspiciously alike but no one wants taco meat in their spaghetti! Be sure to put a date and reheating instructions too.
Foil. Use this to make a good seal on the aluminum pans, even if you have the plastic or paper lids. Don't use it for high acidity food though as it can have a reaction.
Cook Freezer Meals
Lasagna is a popular freezer dish. I have a small family to cook for and it would take us a week to finish a whole pan of lasagna. So, I split a recipe between two smaller pans and freeze one for later. Just use your favorite recipe and use an aluminum pan for the baking dish. When you have your lasagna assembled, let it cool completely, then wrap it up tight and pop it in the freezer instead of baking. This is also a great dish to keep on hand for when you need to take dinner to a neighbor or friend. Any type of noodle casserole works well.
Soups are fantastic freezer meals. Again, use your favorite recipe, let it cool completely and freeze it. You might want to avoid potato soups as sometimes the potatoes can be mealy after being frozen.
Cook plain pasta until it's very al dente, then freeze. You can toss it in boiling water to reheat in just a couple of minutes, instead of the 10 or 15 needed to cook dried pasta.
Quick breads like banana bread are perfect to freeze. Bake and cool completely, then wrap and freeze. You can take one out before bed and it will be thawed for breakfast in the morning!
Do I put frozen dishes directly into the oven or should I thaw them first? Most things will be better if you thaw them in the fridge, then reheat or bake. Not pasta though; put it directly in boiling water.
Again, you can go at this in a marathon cooking session or you can make it a part of your regular meal plan. There are benefits to both ways or maybe you want to do a little of both.
Marathon. Choose four or five recipes that will be good for the freezer. If you shop in bulk and use coupons, you can save quite a bit of money. Prep ingredients in bulk. For instance, you can chop all the onions for several recipes at once.
As You Go. Every week, choose one or two menu items that will freeze well and double the recipe. Eat one tonight and freeze one for later. It really doesn't add much time to make two of something, so you won't need to set aside a block of time like the marathon method.
Store Freezer Meals
Storage is the most important part of this deal. If you don't store things the right way, they aren't going to taste good when you heat them up. Air is the enemy of frozen food. It's what allows ice crystals to form, which makes it yucky.
Ziplocs. Fill them pretty full and close. If there is air in the bag, lay it flat on the counter, open it a tiny bit and slowly let the air escape and seal it up. Put bags on a sheet pan in the freezer so that they will freeze flat.
Foil. Works great for baked goods. I wrap banana bread up tight in foil, then put it in a Ziploc bag, again forcing all of the air out.
Glass. Be careful! Liquids expand as they freeze. If you fill a jar up all the way, it will break. Then you will have a frozen brick of chicken stock with a broken jar stuck to it. Not great!
Aluminum pans. Lay foil across pushing it down so it touches the food, then seal the edges.
Plastic containers. Make sure the lids aren't cracked and that they seal tightly.
Label everything! Use a Sharpie and note the contents, the date and the reheating instructions. Sometimes I think that I'll use it soon and remember what's in the bag. I have found many mystery bags stuffed down in the bottom of the freezer!
Final Thoughts
Some foods don't freeze well because of the high water content: lettuce, cucumber, eggplant, raw tomato, watermelon. Others don't freeze well because they will separate: mayonnaise and sour cream.
Make sure food is completely cooled before you put it in the freezer. When you put something hot in the freezer, the things around it can partially thaw and refreeze, giving them a weird taste and texture. Which brings up another thing: don't thaw and refreeze 'cause it will taste weird.
I've seen people on Pinterest who's freezer are completely filled with neatly labeled containers. Mine doesn't look like that! I don't have 50 meals ready to take out of the freezer, just three or four (or one, whatever). It's just nice to have on hand for when life happens.
What's your favorite dish to keep on hand in the freezer?