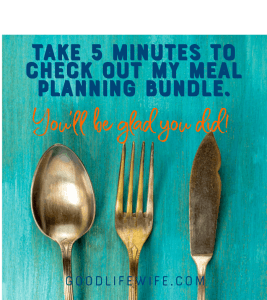 I had a friend a few years ago who was complaining about having to go to the grocery store every day.  She said that she didn't have time to plan. She would just stagger around the store, desperately looking for something to sling on the table that night.  I'm like, "Wait, what???"  I was thinking about this poor gal when I created my Meal Planning Bundle!
Make a New Plan, Stan
Meal planning will save you time, money and stress.  Sitting down once a week and planning your menu should only take 15 minutes or so, then you hardly need to think about it again.  It takes less time than one trip through the drive-thru!
Every time you walk into the store, you are going to spend money.  Doesn't it stand to reason that you will spend less if you only go in once instead of seven times?  Let me break it down for you:

Having a well planned menu (or even a half-assed planned menu) will make life so much easier.  No more snapping at anyone when they ask you what's for dinner, panic about what to serve when you're pressed for time, or putting a baggie of pickles and a can of sardines in your kid's lunch.   Are you convinced?  Read on…
How am I Supposed to Come Up with Meals for a Whole Freakin' Week?
Settle down, it's going to be okay.
Click here
to print out the Menu Mastermind from the free resource library.  Now check out the categories and think of things that you like to make and start plugging them in.  Get out your go-to cookbook for inspiration.  My favorite quick (and cheap) meal is breakfast for dinner.  You can knock out scrambled eggs and pancakes in no time, flat.  Keep adding to your Menu Mastermind as you discover new things your family loves.  You can follow me on Pinterest for more recipe ideas.  Now you have your foundation, let's move on…
Okay, What do I do Now?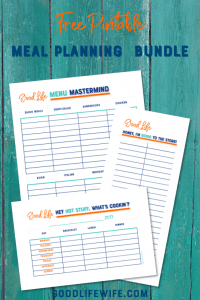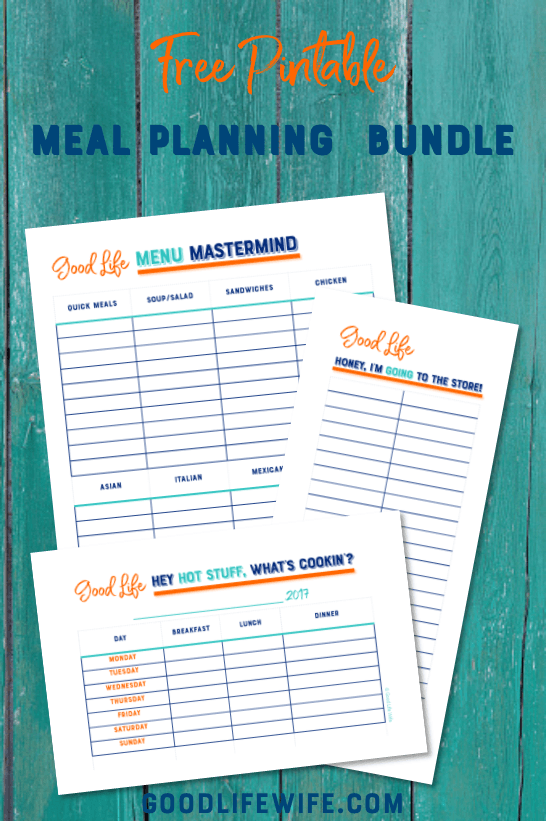 First, gather the supplies you need:
Grocery store weekly flyer or email
Calendar with family activities for the week
Menu Mastermind (that thing that you just printed and filled out)
What's Cookin' Hot Stuff? menu plan from my free resource library
Honey, I'm Going to the Store! grocery list, another freebie
Now, go to the kitchen.  You gotta be in your kitchen during this process so that you can see what you have and what you need.
5 Steps to Great Meal Planning
Print out a bunch of my What's Cookin' Hot Stuff? menu plans and cut them in half.  Won't they be cute on your fridge?
Fill in the dates for the week you're working on.  I like to keep three or four weeks of these plans so I can see what I've made for the last few weeks.
Check your calendar.  Are you going out to eat any nights?  Which nights are you pressed for time? Are the kids off school or do they have any half-days?  Keep these things in mind when you're deciding what to fix when.
Shop your own fridge, freezer and pantry.  Do you have a package of chicken breasts that need to be used?  What about a bunch of cans of tomatoes?  You get the picture.  Next, look at your grocery store's flyer to see what's on sale.  If pork chops are BOGO, match them up with a recipe from your Menu Mastermind.
Breakfasts and Lunches.  I confess I'm not a creative, crafty mom who packs amazing bento boxes for lunch.  My family likes the same thing for breakfast and lunch every, single day. But, having them on the list will remind you to get cereal, milk and bread.
Dinners.  This is where your Menu Mastermind really comes into play.  Look at this list of yummy dishes and plug them into your menu plan.  If you have ball practice on Wednesday, use something from your sandwich or quick meals list.
OMG, you did it!  You have a plan for every meal your family puts in their pie hole this week.  Booyah!
That pretty much wraps up meal planning.  Make a plan, save money, time and stress.  Now that you have a fabulous plan, you're going to want to shop for all that stuff.  Check out this post for tips on making the most of a trip to the grocery store.
What's your biggest meal planning challenge?