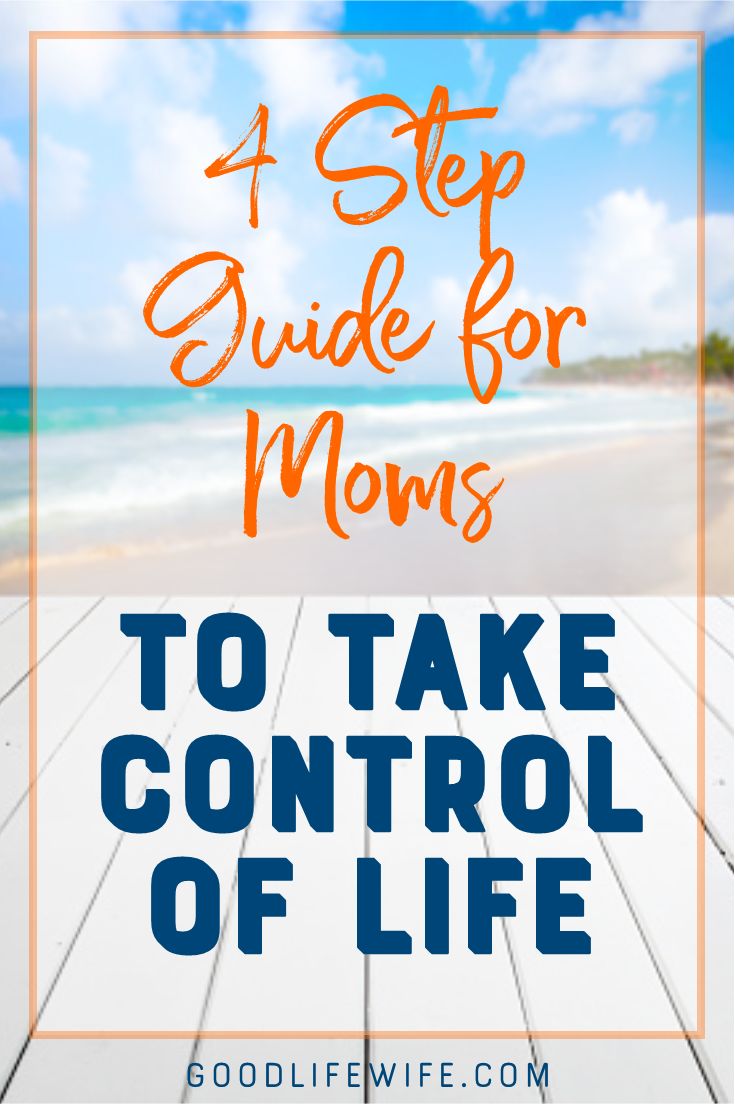 Does your life feel completely out of control? You are not alone. The mom game is tough. From toddlers to teens, our kids need a lot of attention and our own needs fall to the bottom of the priority list. But you want to live the good life, right? The good life includes calm, organization and planning. So, honey, you've got to…
Get Your Shit Together
You kind of already knew that though, or you wouldn't be here. Do any of the following things sound familiar?
My mind is always running and I can't focus.
There is a load of unfolded laundry is sitting on my dining room table.
I have no idea how much money I have in the bank.
I'm considering serving cereal for dinner…again.
Don't Worry, I Have a Plan
Here's a four-step plan to get you fixed up in no time. Well, that's not strictly true. It will take some time, but it will be so worth it. Try to tackle one step each week. Be kind to yourself. Your life didn't get all crazy in a day, and you can't fix it that quickly either. Just take it slow and steady and by next month, you'll be workin' life like a boss!
This post contains affiliate links. If you click on the link and buy something, I will receive a teensy commission. For more information, please see my disclosure page.
No. 1 Practice Mindfulness
First, you have to learn how to relax again. Not the kind of relaxing that involves Netflix. The kind that brings you lasting peace and calm. Many practices are out there: praying, meditation, yoga, tai chi. Having lunch with a good friend can really help us unwind. I'll tell you what works for me and what other moms are doing to maintain sanity in this post.
No. 2 Have a Clean and Organized Home
Next, it's time to get control of your environment. Where do you spend most of your time? In your house and your car, am I right? You are going to learn not only how to get your house spick and span, but keep it that way. Is anyone else wondering what "spick and span" means? I Googled it and it comes from Old Norse for "like new"…who knew? Anyway, I included some pretty printables in my free resource library to make cleaning seem like more fun. (Don't kid yourself, it's not fun but I really like making checkmarks on paper so I try to focus on that.) These posts will tell you everything you need to know:
No. 3 Create a Budget
Now that you're calm and most of the jelly is removed from underneath your coffee table, let's take a look at your finances. Mm-hmm, that's right, we're going to talk about money. This may be an uncomfortable subject but, trust me, life will be better if you know how much you have and how much you can spend, instead of holding your breath when you swipe your debit card at Target, praying that it will say, "APPROVED." Here are some great budget tips.
No. 4 Plan Meals
Okay, now you're cruising around in an (almost) Cheerio-free car, you're sleeping on clean sheets, and you've got your budget under control. What next? How about having an answer ready when your family asks, "Mom, what's for dinner?" I don't know about you, but my husband asks that every day and I cringe when the answer is, "I have no freakin' idea."
Here's a fun fact about me, I love going to the grocery store. I look forward to it every week! Part of the reason is that I take the time to carefully plan a menu for the week, and make an organized list so I'm not running around the store. Of course, I 'm going to give you a cute menu planner and grocery list, and some options on how to plan your meals here and here.
Let's Do This!
I hope you're feeling more confident about taking control of your life. By practicing mindfulness, organization, budgeting and planning, your life will be running as smooth as Kentucky bourbon. I know some people say, "as smooth as Tennessee whiskey," but I'm a bourbon girl, myself.Click here to subscribe to e-mail so that you never miss a thing! You'll also get access to my free resource library of printables to help you live the good life.
What are some of the things that you're doing to get yourself together?