We serve this punch every Halloween as a treat for our grownup trick-or-treaters!  It has flavors of fall and is always a big hit.  John and I set up a table and chairs at the end of our driveway to serve candy and cocktails.  We put the punch in a big drink dispenser marked "adults only."  I got distracted last year and caught a little lady helping herself to a bit just in the nick of time!
Good Life Wife Bourbon & Apple Punch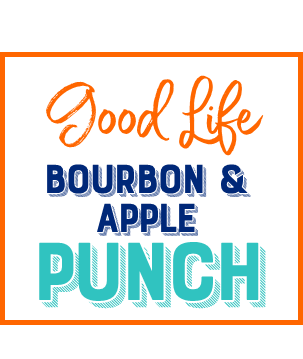 Ingredients
1 gallon Fresh apple cider
1 gallon Ginger beer
1/2 gallon Bourbon
1 Apple, sliced crossways so you can see the "star"
Instructions
Stir first three ingredients together and drop apple slices in for garnish.  Serve over ice.