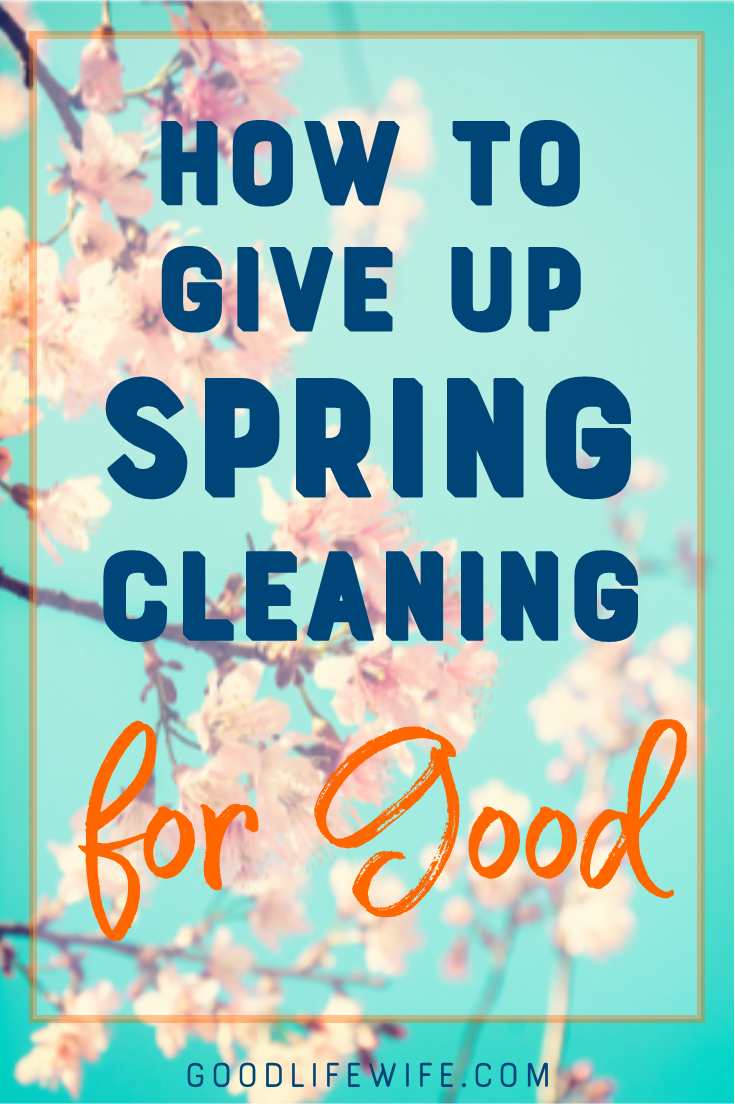 Seriously, who has the time or the inclination to take hours spring cleaning? Not me! Shocking confession: I've never really "spring cleaned" my house. The concept is kind of old-fashioned. We just don't live the way our grandparents did.
Our homes are well insulated, so they don't get as dusty. Most of our houses are heated with clean energy, not coal furnaces or open fires, so we don't have soot on the walls. Modern vacuum cleaners really work so we don't have to beat rugs outside anymore either.
Get ready for my all-new, revolutionary, mind-blowing alternative to spring cleaning…
This post contains affiliate links. If you click on the link and buy something, I will receive a teensy commission. Rest assured that I will not recommend something that I would not use myself. For more information, please see my disclosure page.
Monthly Deep Cleaning Schedule
I mean, you didn't think I was just going to tell you it was all right if you didn't clean stuff at all, did you? Naw, but spreading out the tasks over the whole year will make deep cleaning practically painless.
You've already been using some type of cleaning routine for the day-to-day chores, right? No? Okay, read this and start integrating some routines into your schedule. Then, just add the monthly deep cleaning chore on a day when you have a little extra time.
Nothing on this list should take you much more than an hour. This is about focusing your attention on one specific task and not getting distracted by other things.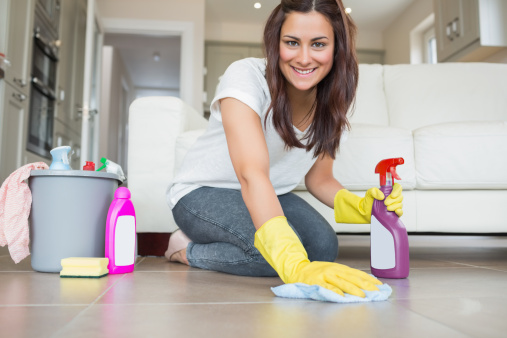 Check out this chick, all happy to be using her generic cleaning products and cleaning while she's wearing jeans and ballet flats. In what world does this happen? If you pop by my house on cleaning day, you will find me unshowered, wearing a t-shirt with a hole in it and a comfy pair of leggings and I probably won't be smiling. Anyway…
The Details
January. Clean out the master closet. If you haven't worn something in a year, get rid of it. Anything that's still nice gets donated but if it has a hole, throw it away. Straighten drawers. You might want to try out the KonMari method. Vacuum all of the nooks and crannies. Go through your jewelry and donate anything that you don't love anymore. Reorder your hanging clothes so they make sense: by color, season or style.
February. Make your laundry room shine. Clean the washer, especially if you have a front loader. This post gives step-by-step instructions. Clean the dryer and vents. Declutter and organize drawers and cabinets. Vacuum any lint that is clinging to walls or ceilings.
March. Clean out bathroom cabinets. Throw out expired medicine and supplements, old makeup, hair products, etc. Vacuum out drawers and cabinets.
April. Clean all ceiling fixtures. Dust ceiling fan blades and lights. Wash glass globes and dust shades.
May. Time to do the windows. Fill a spray bottle with half white vinegar and half water. Use a squeegee for a streak-free finish. I let the power washer get the outsides.
June. Clean bedrooms. Wash dust ruffles comforters and shams. Flip or rotate mattresses. Purge and vacuum out nightstand drawers.
July. Clean window treatments and furniture. Vacuum draperies, curtains, blinds, shades, etc. Vacuum furniture, polish wood and condition leather.
August. Tackle the kid's closets. Make room for school clothes by donating things that don't fit. Throw away socks and underwear that are too small. Vacuum nooks and crannies. Straighten drawers and reorder hanging clothes.
September. Clean the hall or coat closet. Purge, straighten and vacuum. I change mine for the season and move from beach bags to book bags.
October. Get the pantry and kitchen drawers ready for holiday cooking. Purge expired food and spices. Vacuum and organize drawers and cabinets.
November. Clean the playroom, game or family room. Purge unwanted or broken toys to make room for more next month! Organize Legos, put missing game pieces back in the box, etc.
December. Clean out the fridge and freezer. Throw out expired food and anything that's been in the freezer for over a year. Wipe down surfaces. Don't forget the beer fridge in the garage!
No More Spring Cleaning!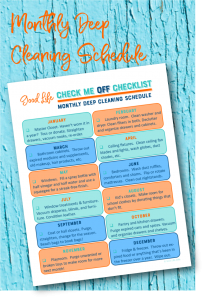 Now that you know you're off the hook for spring cleaning, you might want to click hereand give me your email address so you can print this cute checklist. If you do, you'll have access to the entire free resource library and that, my friends, is gold! You'll get a meal planning bundle, cleaning bundle, budgeting bundle, monthly deep cleaning schedule and holiday timelines.
Pinky swear not to spam you or sell your info. I hope that you're as relieved as I am that you no longer have to dread spring cleaning. Just do a little every month and you'll be fine. What's your most dreaded cleaning chore?