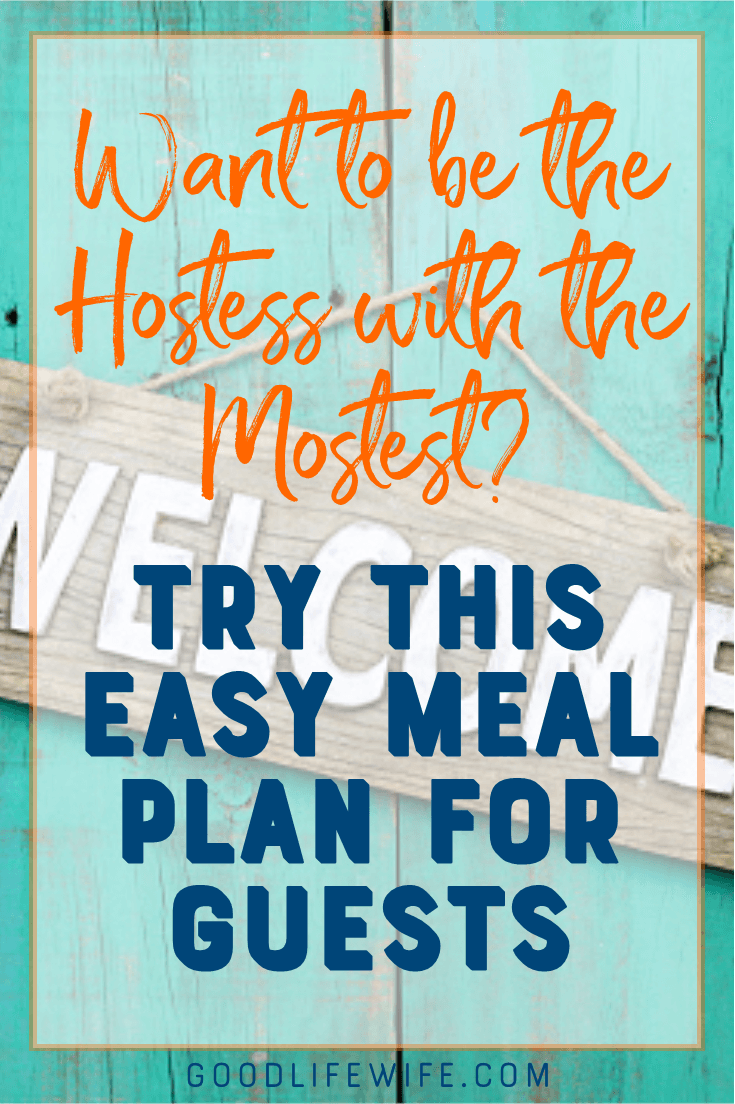 Does the idea of having weekend guests sound great but the reality makes you shake in your shoes?  It can be pretty intimidating to think about feeding a bunch of people for several days.  That's why you need an easy meal plan for guests.
My mom is an amazing hostess.  Everyone loves to stay with her because she's not only a great cook but she makes her guests feel welcome.  The secret is being calm and organized.  She plans ahead, so getting a beautiful meal on the table looks effortless.   She shared her system with me and it's just ingenious!
My hometown, Cheyenne, Wyoming hosts the world's largest outdoor rodeo, Cheyenne Frontier Days, the last full week of every July.  There are parades, concerts, pancake breakfasts, a carnival and, of course the rodeo.  This means mom has company for about 10 days because everyone wants to visit during Frontier Days!  She and her husband have an authentic chuckwagon and they host chuckwagon dinners and barbeques several times during the week.  She will easily feed 15-20 people on any given night.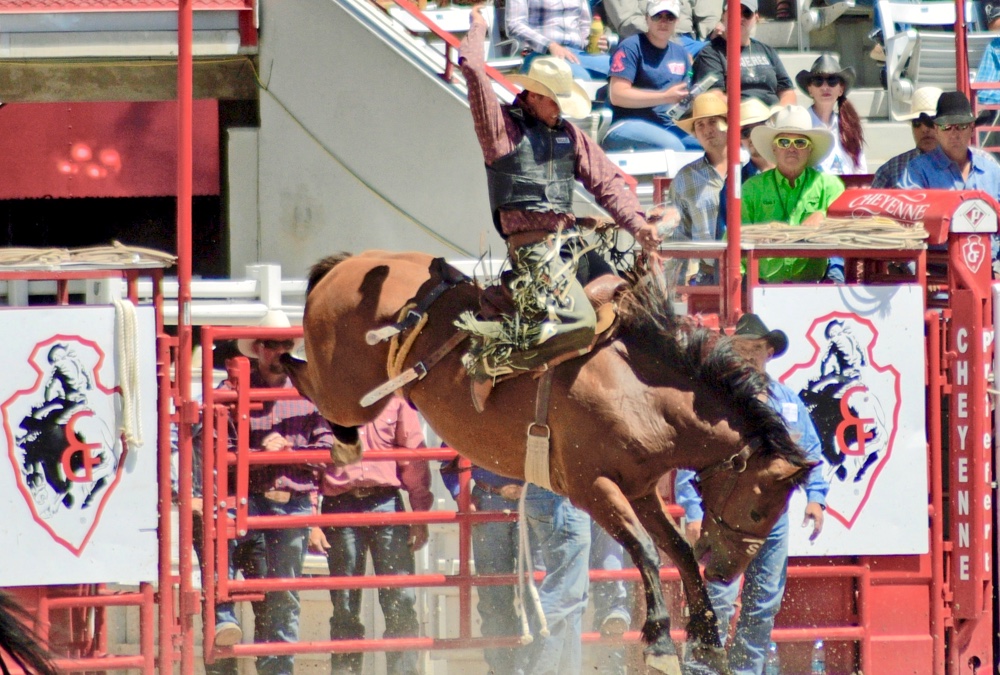 This amazing meal plan for guests keeps everything moving during Frontier Days but it would also be great for beach week, family reunions or whenever you have a lot of people to feed and keep track of.  Heck, you could probably use it for everyday.
This post may contain affiliate links. If you click on the link and buy something, I will receive a teensy commission. Rest assured that I will not recommend something that I would not use myself. For more information, please see my disclosure page. 
Gather Data
With any system, it's only as good as your data.  Find out (and write down) the following:
How many days will they be here?
How many people will I be feeding?
What meals will I be providing?  Breakfast, lunch and dinner or just dinner?
Does anyone have food allergies or special dietary considerations?
What activities will we be doing and what will our schedule be?
Master Schedule
Make a master schedule with activities and meals for each day.  For instance:
Tuesday, July 24: 
Parade at 9:00 am, rodeo from 1-4:00 pm, night show at 8:00 pm. Quick breakfast for seven and dinner for 16.
Wednesday, July 25:
Pancake breakfast at 7:00 am, rodeo from 1-4:00 pm, chuckwagon dinner at 6:00.  Lunch for five and dinner for 20.
You get the picture.  Be as detailed as possible.  Keep in mind that you probably won't stick to this schedule 100%, but it's good to start out with a clear picture of what's going on.
Index Card Meal Plan
Get a stack of index cards and create a card for each day with everything you need to know.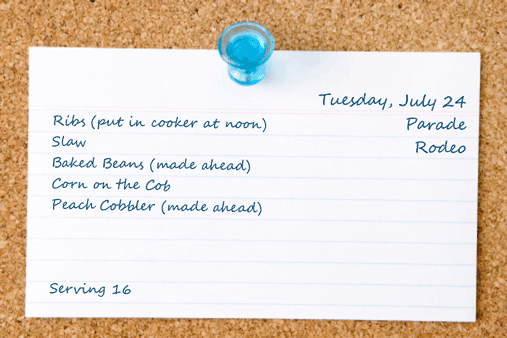 Put the date on each card and write the menu out for each meal to be served.  Note how many will be eating each meal.  List all of the activities for that day.  If you need to get anything at the grocery store, make a list of what you need to pick up right on the card.
Now, look at the schedule for tomorrow.  Do you need to take anything out of the freezer for tomorrow's dinner?  Make a note on today's card so you won't forget!
Keep your stack of cards somewhere handy so you can check them often.  Don't put them where your kids can get them and draw on them though.
Flexibility
Being a good hostess means going with the flow.  If everyone decides they want to just go out to dinner, no problem!  Look at your master schedule and make a new plan.  It's as easy as crossing the date off the top and writing in a new one!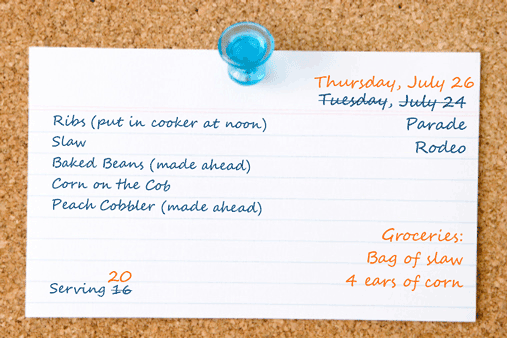 Looks like mom got a few more cowpokes added to guest list so she's going to grab another bag of slaw and a few more ears of corn.  Easy peasy!
If you've prepared food and plans change, put it in the freezer and you'll have a nice meal all put together after your guests go home.
What to Cook
When you're feeding 20, it's not really the time to experiment with gourmet cuisine!  Even if you're only having another couple for the weekend, you'll probably feel more comfortable serving meals that you've made successfully before.
Fill the menu with things that are easy and that you feel good about making.  Sheet pan fajitas are great for a crowd.  They're easy on the chef and your budget.
Think of dishes that can be made ahead like lasagna.  After a long day of fun, it's awesome to be able to just slide a pan of pasta in the oven.  Did you see on mom's card that she already had the baked beans and peach cobbler made?  Smart cookie!
Grab and go things like breakfast burritos or bagel sandwiches are perfect for mornings.  Most of us are perfectly happy with a yogurt or a breakfast bar.  You really don't want to get dressed and have a sit down breakfast on your vacation, so keep it casual.
Guests might prefer to be on their own for lunch.  If you're out sightseeing, it's fun to grab lunch out.  If you're hosting an event like beach week where everyone is pretty much home all of the time, put out sandwich fixings and let them serve themselves.
Don't break the bank.  You won't be able to have a good time if you're broke because you spent all your money on lobster tails!
Hospitality Bonus Points
Most people don't feel super comfortable digging around in other people's kitchen.  Put out a basket with healthy (or not healthy, whatever) snacks.

This awesome Cravebox from Amazon would be perfect to have on hand!
Having drinks available is another nice thing.  Put bottled water in the fridge or set up a beverage station.
Having a couple of glass beverage dispensers filled with sweet tea and water will save you from being a waitress!
While it may seem like a really good idea to have margaritas in one of these handy dispensers, check yo' self before you wreck yo' self.  If you get into the booze at 9:00 am, there's no way you're getting supper on the table that night.
You Can Do This!
With a little planning, hosting a big ol' bunch of crazy family or friends is fun!  Don't be afraid to take on the challenge.  Just get your stack of index cards out and start writing!  Is your house in shape for company?  Check out this cleaning plan to get you ready.