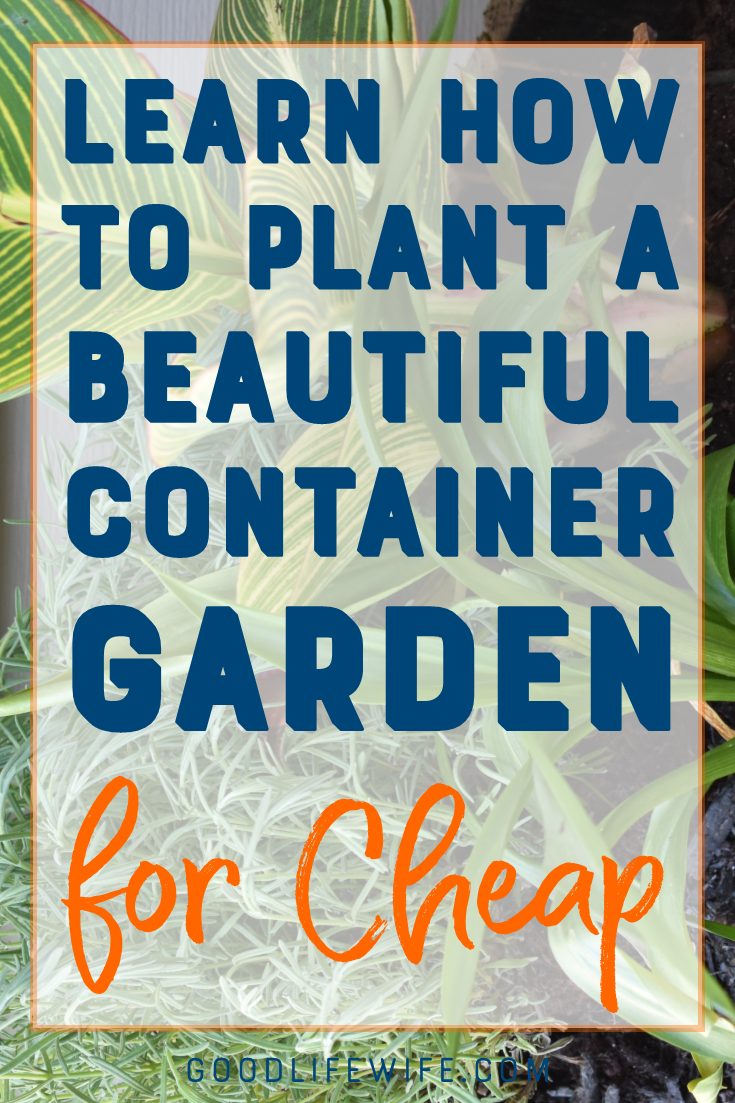 Do you want a gorgeous container garden on your front porch without spending a ton of money?  Perfect, I'm here to help!
It's unbelievable how much you can spend on plants but you don't have to.  The secret is to buy smaller plants and let them grow.
Materials
Planter.  I used a whiskey barrel that I keep on my front porch and change with the seasons.  You could also use an inexpensive galvanized bucket like this one for a farmhouse look.  Shop your own house first and consider repurposing an old container.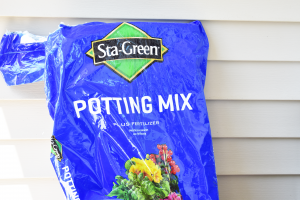 Soil.  Who knew dirt could cost so much?!  We've found that Sta-Green Potting Mix works well and is the best value at Lowes.
Garden tools.  Tools really aren't a must.  You can just use your hands to dig the holes and pat the soil back down, but if you must, this is a cute set.
Plants.  This is where you can really break the bank but I've got some tips about that in a bit.
Planting the Container Garden
First, you need to prepare your container and soil.  If you're using an old container with soil still inside, rake it up and add more potting soil.  With a new container, take all of the stickers off and rinse it out.  Add about an inch of rocks to the bottom for proper drainage.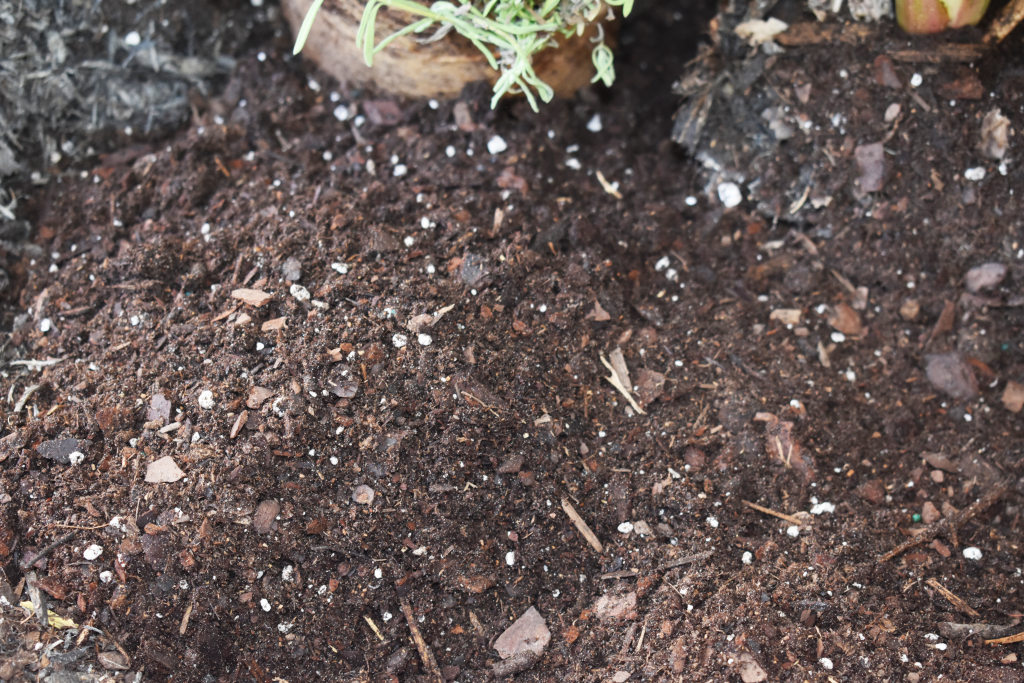 To get that gorgeous designer look for your container garden, follow this easy formula:

Tall plants are the thrill.  Plant them first.  My container is in a corner, so I planted my thrill plants towards the back.  If your container will be seen from all sides, plant it in the middle.  I dug up a canna lily from a bed in our back yard so it was free.  Yay, free!  It will be about four feet tall, so it will balance out the large barrel.   You can also use a tall grass or topiary.  Anything that will stand above the rest of your plants.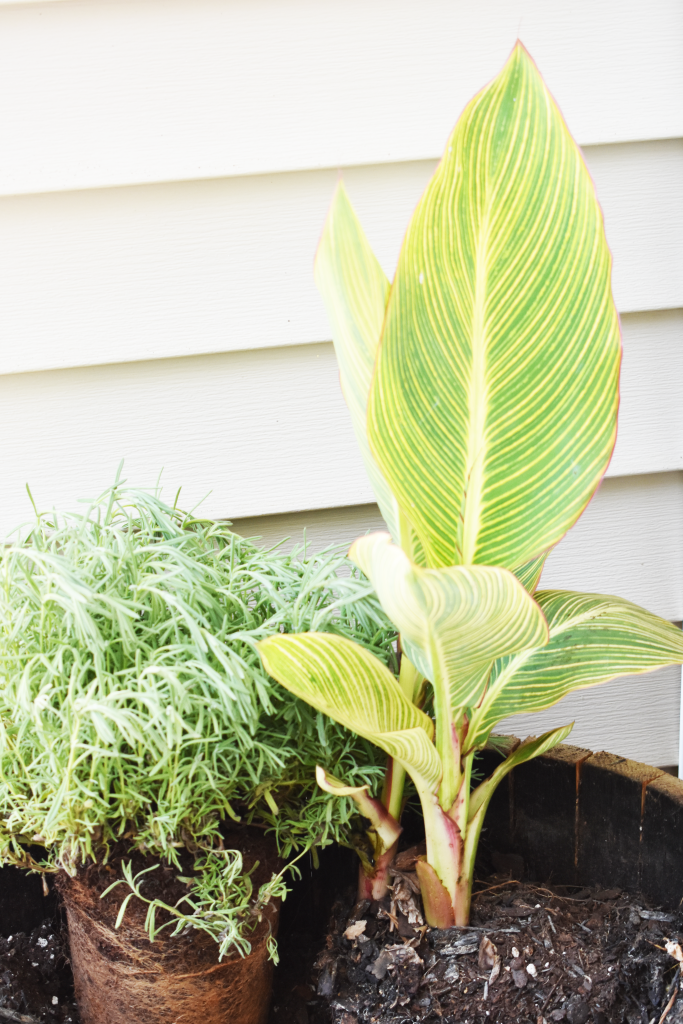 Next, plant the fill.  These plants will be shorter than the thrill plant.  The way to spend less here is to look for small plants that will grow to the right size.  In our climate, things grow super fast, so what seems skimpy today, will be lush in a few weeks.  Herbs would also be great fill plants.
Another way to save money is to check out the clearance plants.  I call these the rescue plants!  The plants on the racks at the back of the garden section usually look pretty rough, but with a little TLC, they can make a big comeback.  See that wispy, little white plant in the middle?  It was $1!  While it doesn't look like much now, in a couple of weeks, it will be a beauty.  Those taller purple plants were $1.88 each.  The lavender in the back wasn't on sale but it was still pretty cheap.  It will smell so good when you walk on the porch!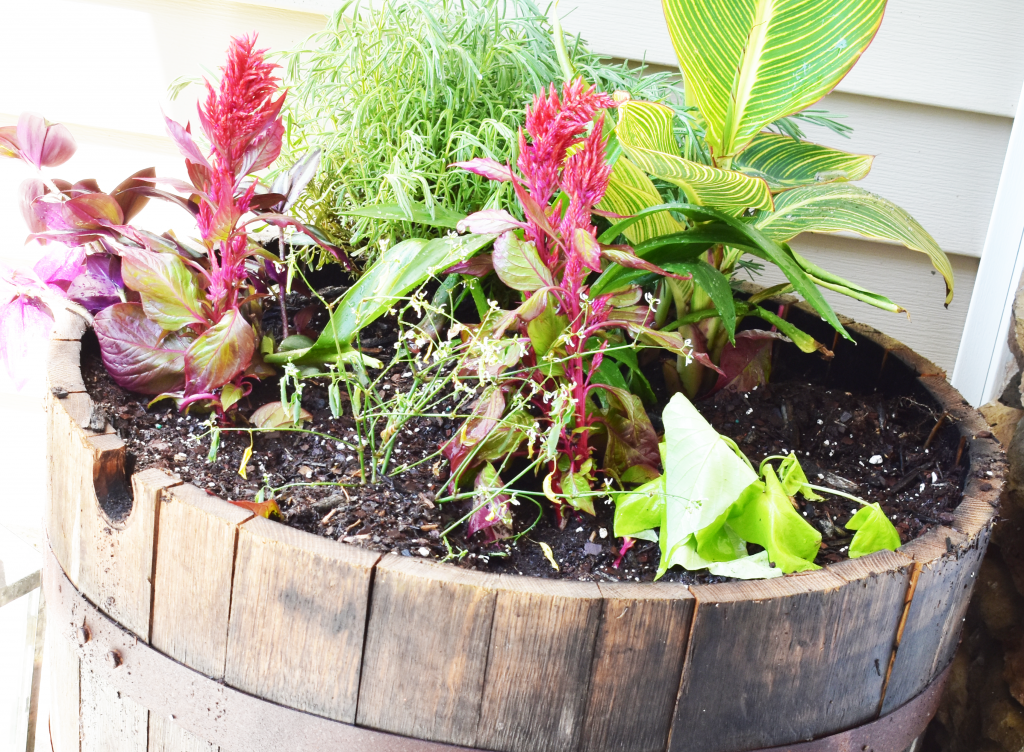 Finally, plant the spill.  These are plants that will hang over the sides of the container. I used a sweet potato vine and a purple heart.  Both of these plants are really small now but will grow quickly and will flat take over if you don't watch them.
Do you notice how this picture is kinda out of order?  In the spirit of transparency, John did the actual planting and he got going before I could get him to plant in order so I could take a picture of each step!  Anyway, you can see that this Vigoro sweet potato vine was $3.98 and the purple heart was too.   Mature plants would have cost twice that.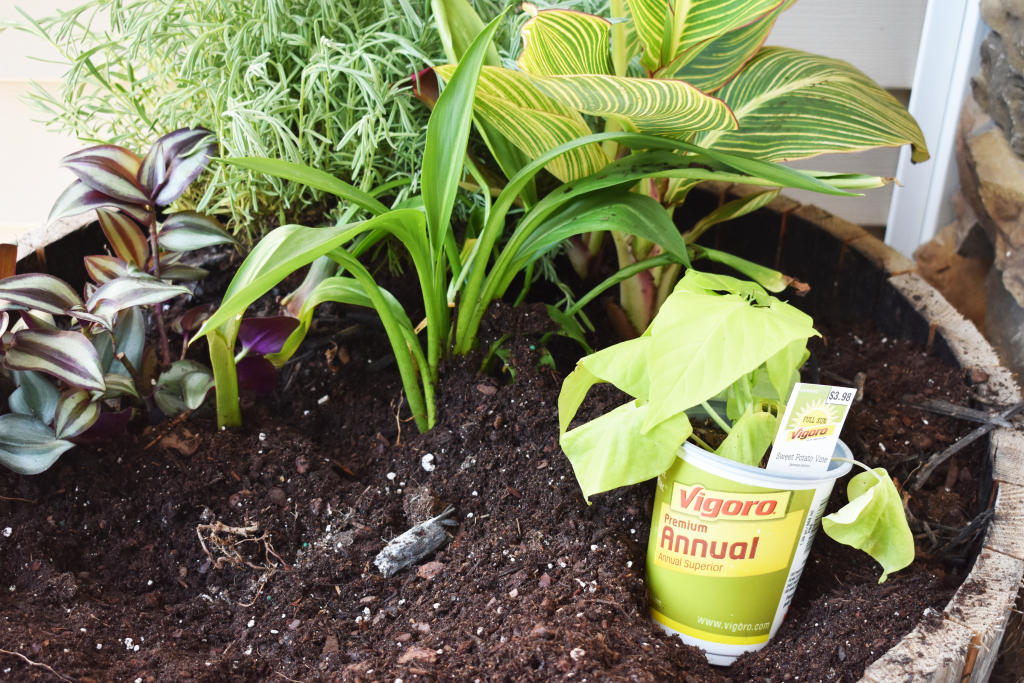 Water & Wait
After you get all of the plants in, give them a good watering.  And now you wait.  Wait for the sun and water to do their jobs and turn your skimpy little planter into a lush beauty!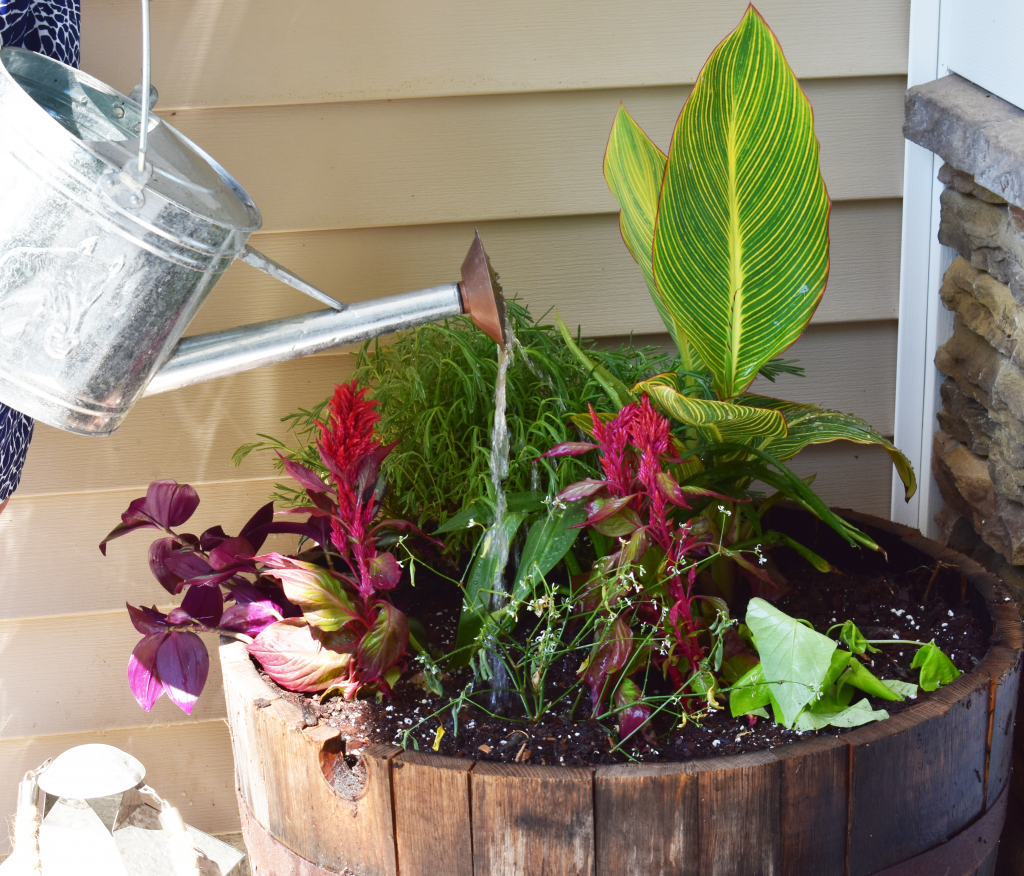 Yes, it's a tiny bit sad now.  It's really not the "gorgeous" planter that I promised, but it will be!  Stay tuned for an update in a few weeks.  I would love to see some pics of your container gardens in the comments!