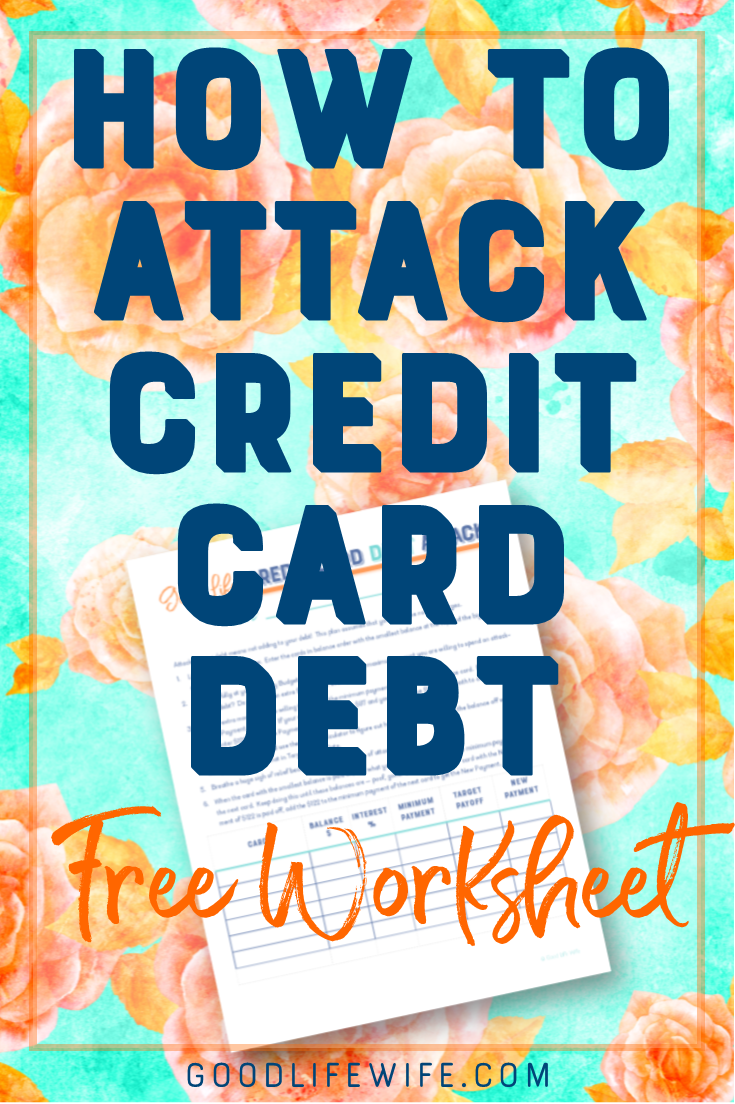 Are you drowning in debt? Do you lose sleep over how you're going to pay all of those bills? Take a deep breath and read on. We're going to attack credit card debt and learn how to keep it at bay for good!
First of all, you need to get past some of the negative emotions that go hand-in-hand with a ton of credit card debt. Right now, let go of blame, whether it is yourself or someone else. Forgive yourself and whomever else you're in this with.
Focus on the present. From now on, don't think about how you got here, think about how you're getting out.
Ready? Let's get started on making a plan to attack credit card debt!
But Before We Get Started…
You need to agree to one, fundamental element of debt reduction: DO NOT ADD TO YOUR DEBT! Seriously, first rule of Get Out of Debt Club is don't talk about…wait, I'm getting sidetracked. The first rule of Get Out of Debt Club is to stop using your credit cards as of this minute.
If you continue to charge, you will NEVER get this shit paid off. Moving on.
This post may contain affiliate links. If you click on the link and buy something, I will receive a teensy commission. Rest assured that I will not recommend something that I would not use myself. For more information, please see my disclosure page.
Just the Facts, Ma'am
We need to know exactly what we're dealing with. Go get all of your credit card statements, paper or digital. Do not work from memory or use estimates! From now on, we're dealing in reality.
You're going to need a couple of your Budget Bundle forms. What? You don't have the amazing, free printable Budget Bundle? Well, click here, pop your email address in and get immediate access. Don't worry, I'm not going to spam you.
You might want to check out this post and this one for more good stuff on getting your budget under control.
Okay, go ahead and print out the Credit Card Debt Attack worksheet. If you're already using the Monthly Budget Plan, go grab it. If not, you'll want to fill that in first.
Credit Card Debt Attack Worksheet
First of all, list all of your credit cards, along with the interest rate and minimum payments. Here's an example for us to work with.

This poor gal, let's call her Betty, has almost twice the national average in credit card debt. She owes $13,000 to The Man and it's getting her down.
If Betty continues to make the minimum payments each month, it will take …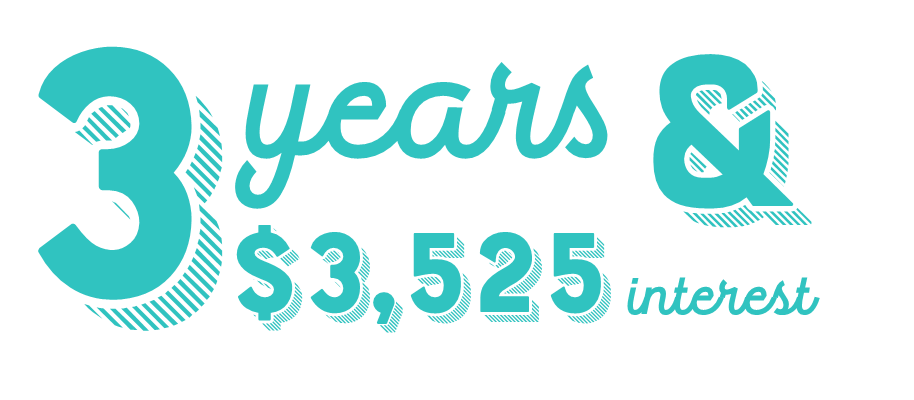 Whoa! That's a lot of money in interest! Think of what Betty could do with all that dough.
The System
The Credit Card Debt Attack relies on the snowball method. You start with the smallest balance and add a little extra to that minimum payment. When that card is paid off, you add what you had been spending on it to the next smallest balance and so on. This method allows you to gain momentum as you go. For an in-depth discussion of the snowball method, check out Dave Ramsey's site.
The more you can put towards paying your debt, the quicker you do it…and the less interest you pay in the end. When you think about how much money you spend each month in interest alone, you definitely will not want to use those cards.
How Much Are You Willing to Spend on Becoming Debt Free?
Now your Monthly Budget Plan comes into play. What do you have in that big, orange circle? How much can you put toward becoming debt free?
Betty has a pretty tight budget, so she has decided to put an extra $25 per month towards her credit card debt.

By adding just $25 a month to one payment, look what that does!

Betty will save $1,908 in interest and will pay off her debt six months sooner.
What Can You Give Up to Save a Ton of Money?
Suppose Betty decides to give up her daily coffee and adds that $75 per month to her $25 for a total of $100 extra a month.

Check her out! This small sacrifice pays off big time!

She will pay her credit cards off in just a little over two years and will save a whopping $2,349 in interest!
You Deserve This!
You deserve to live a debt-free life! You deserve to feel confident about your future! You are 100% worth the hard work and sacrifice it will take to get there.
Every time you consider inserting your card into the reader, remember $2,349. If I had an extra two grand, I would put it towards a fun, family vacation. What would you do with $2,349?
P.S. Go back and print your forms out. Of course I know you didn't do it when I told you; I'm a mom! While you're waiting for them to print, share this awesomeness with all of your peeps on Pinterest and Facebook!