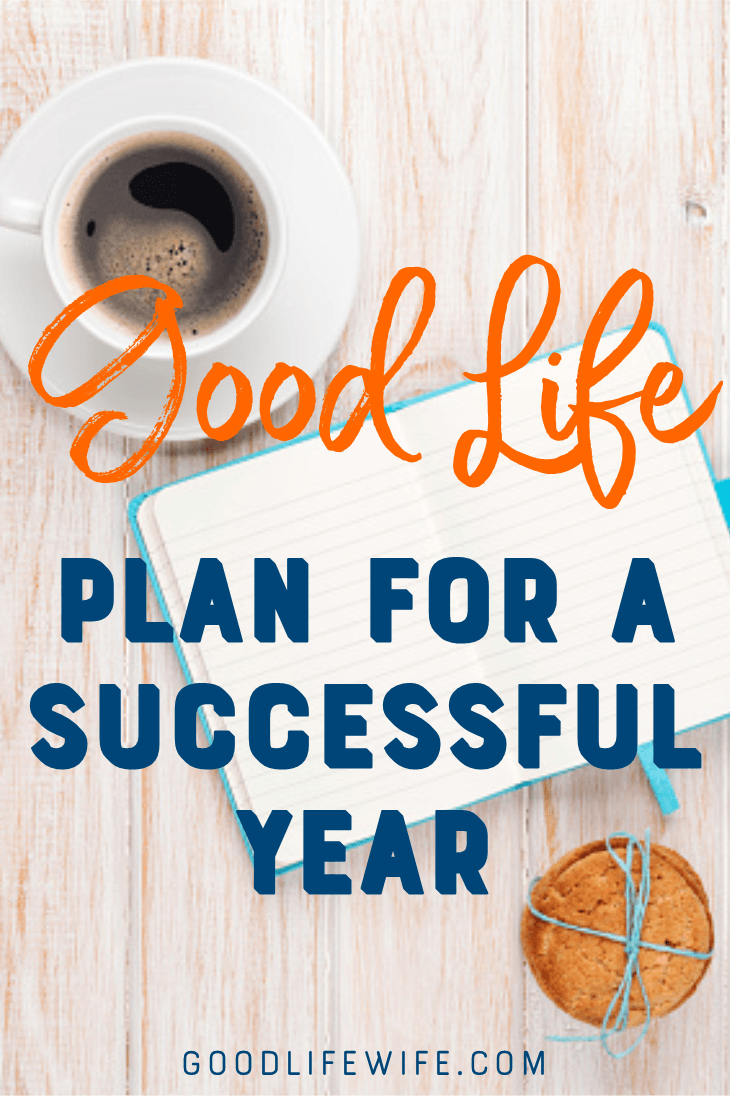 This post contains affiliate links. If you click on the link and buy something, I will receive a teensy commission. Rest assured that I won't recommend a product that I wouldn't use myself or give as a gift. For more information, please see my disclosure page.
It's that time of year. We're setting goals, writing reviews, getting our work plans together. Trying to come up with a plan for a successful year.
Wait, what? Uh, I'm a stay-at-home mom, I don't have goals or plans.
Well, missy, it's high time you did! You're the CEO of your family. You make most of the decisions about the direction your "organization" takes. Many of your chief concerns are similar to business owners: expansion, cash flow, healthcare, facilities maintenance. Should we have another baby? Will we have enough money? How can we stay healthy? How the heck do I keep this house clean? What about workforce morale? I know you worry about keeping your kids happy!
Like it or not, you're the boss of this outfit, so let's plan just like the big shots, and make sure you have an amazing year. I'm going to blow your mind, so be sure to read till the end!
Mom Life
Don't worry, we're not going to make a bunch of spreadsheets or power point presentations. We're going to keep it pretty simple so we don't go down a rabbit hole of planning, planning, planning and never doing. Sound familiar?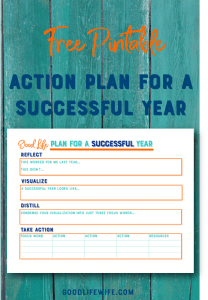 When I sat down to think about my own goals, of course I couldn't begin until I had created a jazzy form. I mean, who could possibly just use a piece of paper? Pssshhh. Three days and many edits later, I had a jazzy form…and nothing else! Well, at least I've saved you the trouble of designing your own form. Just click here, hand over your email address, and you'll have access to my Good Life Plan for a Successful Year, as well as all of my other amazing printables.
I'll wait until you get it printed out, then we'll go through it step by step. Tick tock, tick tock…seriously, I'm waiting. Let's get this show on the road!
Reflect
Before we get into what's next, let's take a look at last year. It's important to figure out what works for you and what doesn't. I'm a firm believer of, "if it ain't broke, don't fix it," so we don't want to mess with anything you've been doing right. We just want to take note of it so that you can keep doing it.
What's absolutely not been working? Do you wish you had more time to cook? Feel like you can't get a handle on your housework? Do your kids need more attention from you?
Make sure you're not comparing yourself to someone else or a picture-perfect Instagram fantasy. Be completely honest with yourself about what YOUR family needs.
Just to give you some ideas, here's what I put in that spot:

Visualize
What does a successful year look like for your family? Success will look different for everyone and will change as your family moves through the phases of life. You'll notice that I'm not using the word, "perfect" here. We have to give up the notion of perfection and focus on good. All of us are capable of good, none of us are capable of perfection.
Right now, this is what success looks like for me:

Distill
Now we need to distill our vision down to three focus words. It's important to keep this process pretty simple, or you're tempted to get lost in the details. Think of it as looking at the map view of the route you'll take rather than the turn-by-turn directions.
My friend, Miranda, at The Reluctant Cowgirl has a great post on creating your focus word. Check it out if you're feeling stuck.
My focus words are:

Take Action
First we plan, then we do. This is the doing part! Let's take each of our focus words and come up with three actions that support our vision of success.
If "clean" is one of your focus words, creating a cleaning routine could be one action. Here's a post on incorporating cleaning routines if you need ideas.
My action plan looks like this:

You'll notice that I'm not very detailed here. We're just trying to get our route planned, we'll use a daily to-do list in the future for the "turn-by-turn" instructions.
Commit
Commitment is the key to success. You can make a beautiful plan, with stickers and color coding and pretty drawings, but if you don't commit to actually doing, you're just going to have some nice artwork at the end of the day. Commitment means looking at the actions you take every day and asking yourself, "Did this support my vision of success?"
I'm a huge fan of lists. If I don't write it down, it's probably not going to happen. After sitting down Monday morning and going over the calendar for the week, I'll jot down a to-do list. It's kind of a brain dump, just listing all of the things that I think I need to do that week. The key to staying focused is to look at each item and decide whether it supports my vision. Tons of stuff gets crossed out because it just doesn't matter. A few things get added because they will get me where I want to go.
Mind Blown
Here's where I blow your mind! This plan isn't permanent and you don't have to stick with it for a whole year. What? You just said we had to commit! I know, but life changes fast. We're also kind of awesome and sometimes it really doesn't take a year to accomplish stuff. Even worse, if we give ourselves a whole year to do something, chances are we'll wait until the very last minute.
When we have some wins, we gain momentum, which leads to more wins. That's why I want you to pull out a fresh plan about every three months. Take a look at what worked during the last quarter and what didn't. Make adjustments and make a new plan.
I read The 12 Week Year: Get More Done in 12 Weeks Than Others do in 12 Months by Brian P. Moran recently. What an amazing concept! A year is such a long time and it's easy to lose sight of your goals over 12 months. But 12 weeks is perfect. It's way easier to maintain focus over a shorter amount of time.
Tools
You need the right tools to do a good job. Here's a couple of things that I use to stay on track.
Google Calendar. I could not live without Google Calendar. Every appointment, date and event goes in. It's available on your phone, so the whole family can see what's happening. When you're at the doctor setting up a follow-up appointment, enter it in the calendar instead of losing the appointment card in the bottomless hole of your purse. Print out a weekly calendar and keep your to-do list on it.
Best Self Journal. This planner is awesome. Each journal covers 12 weeks, so it's perfect for our changing lives. It has tons of motivational quotes and really light lines so that you can personalize it in a way that works for you. I'm getting a ton done with this thing!
Go Forth and Kick Ass
You're amazing, go out and do it! Hey, would you leave me a comment with your focus words?