What's not to love about cheesy, gooey, lasagna?  This dish has comfort written all over it!  It's kind of time consuming, so if you're making one, may as well make two and freeze one for later.  This recipe calls for Good Life Magic Meat Sauce, so make sure you have the recipe before you start!  We have lasagna every year on Christmas Eve, so it always brings happy memories.
Good Life Wife Classic Lasagna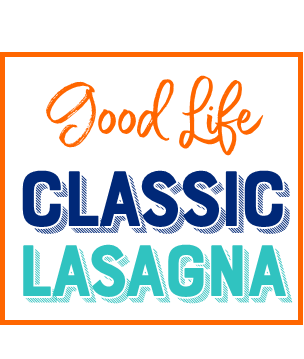 Total Time
1 hour
40 minutes
Ingredients
2 boxes Lasagna noodles
2 cups Ricotta cheese
2 cups Parmesan, freshly grated
2 eggs
1 lbs. Mozerella, grated
6-7 Basil leaves, sliced thinly
1 recipe Magic Meat Sauce
Instructions
Preheat oven to 350 degrees.
Butter a large baking dish and set aside.
If you don't have Magic Meat Sauce in your freezer, make a fresh batch. 
Boil lasagna noodles per instructions on package.   Meanwhile, in a medium bowl, mix ricotta cheese with one cup freshly grated parm, eggs and basil.
Drain noodles and rinse with cool water until cool enough to handle.
Spoon a ladle or two of meat sauce into buttered baking dish and spread evenly.  Lay lasagna noodles in a single layer, completely covering sauce.
Spread one-third of the ricotta mixture over noodles.  Ladle sauce over ricotta, covering completely.  Sprinkle grated mozerella over sauce in an even layer.  Repeat layers until all ingredients have been used, finishing with mozerella on top.  Sprinkle the remaining parmesan on top.
Bake for one hour.  If you make this dish ahead of time, let it come to room temperature before baking.