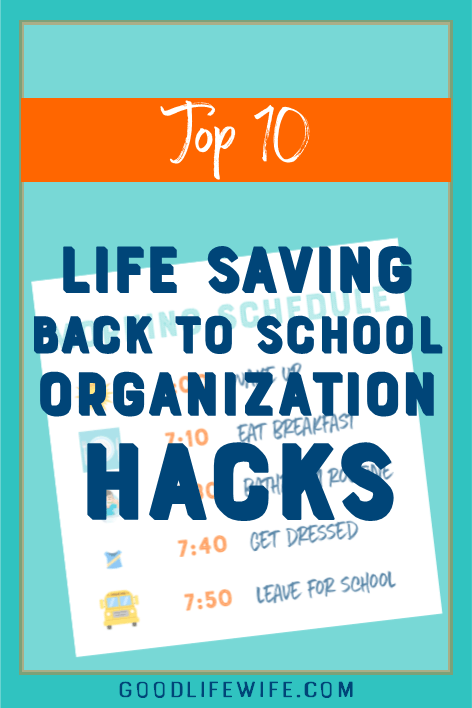 Are you ready for the kids to go back to school?  Yep, it's time, right?  Chances are they're ready too even if they don't want to admit it.  Let's get started on the right foot with some life saving back to school organization hacks!
No. 1 – Printed Schedules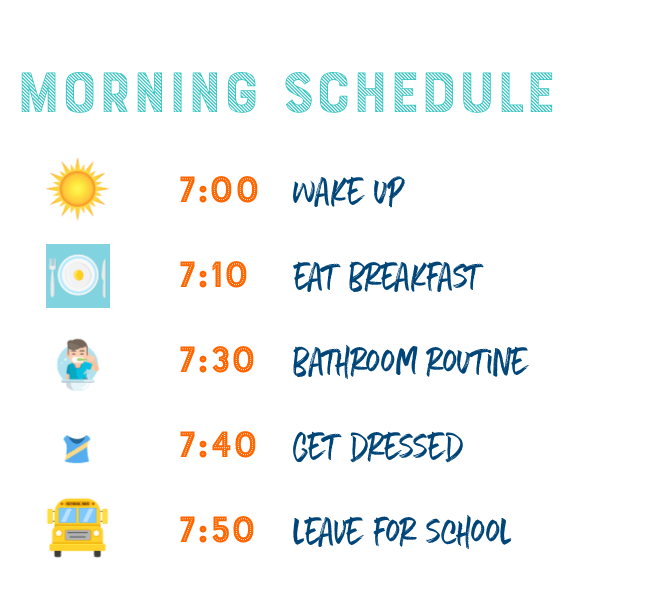 Having a printed schedule to look at every morning is super helpful to keep kids on track.  Believe it or not, it really IS hard for them to remember to do #allthethings.
For littles, use more pictures than words so they can have a visual reference.  Even for older kids, keep the words to a minimum.  Too much detail can feel overwhelming.
This post may contain affiliate links. If you click on the link and buy something, I will receive a teensy commission. Rest assured that I will not recommend something that I would not use myself.  For more information, please see my disclosure page.
No. 2 – Breakfast Kits
You can make up kits in a couple of different ways, depending on how your family functions.  If mama is getting up and cooking a hot breakfast every morning, make a kit for yourself.  (P.S.  You're my hero)  This can be an acrylic bin in the fridge with eggs, cheese and bacon.  Just take the whole bin out and get to it.
If breakfast is more of a serve-yourself deal, make a bin in the fridge with yogurt and another with fruit so they can grab one of each.  For breakfasts on the go, make up bags with a bar and a banana so they can munch away in the car. These bins are on Amazon and I'll get a small commission if you order through this link!
The goal of creating kits is to take as much thought out of the process as possible.  Mornings are usually a hectic time and less thinking means less stress!  A little back to school organization goes a long way.
No. 3 – Lunch Kits
Whether kids are making their own lunches or you are doing it for them, grab-and-go is awesome.  Bins in the pantry or fridge with a "choose one from each" system makes packing a lunch easy for even the littlest ones.  This lazy Susan from Amazon is pretty cool.
Even if you're making sandwiches every morning, organize all of the things you need in one bin so that you can pull it all out together and put it away easily.
Bonus points if you do all of this the night before!
No. 4 – Morning Routine Kits
Now that we've eaten breakfast and packed our lunch, let's get cleaned up!  Set up a cute caddy in the bathroom with a washcloth, tooth brush, tooth paste and a hair brush or comb.  This one kinda has baby stuff in it but I love the color.  You could add labels with your Cricut!  (check out this post for tips on monogramming)
For older kids, add deodorant and acne cream!
No. 5 – Outfit Cubbies
These hanging cubbies are pure genius! Pop a complete outfit, down to the socks, in each spot and you're done for the week.  Again, the less thinking, the better.  This one is super cute with the days of the week already on it.
The same thing could be accomplished with labeled shelves.
No. 6 – Landing Zone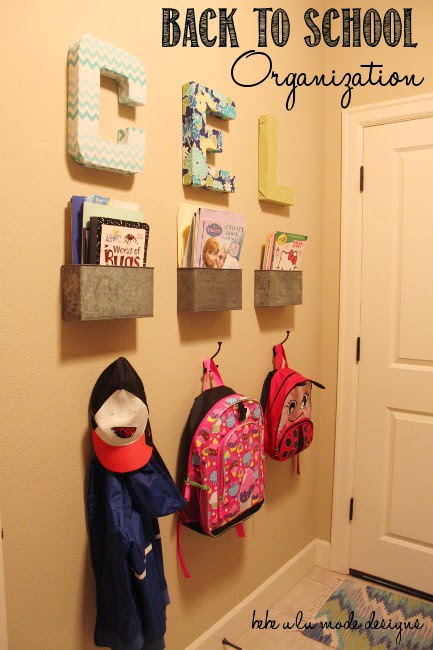 We're home from school after a long day.  In the rush to get a snack and get outside, things can get kinda crazy!  Create a landing zone as close to the door as you can.  Put hooks for bookbags and an inbox for anything that needs to be looked at or signed by you.  This is the FIRST stop for everyone.  I love this simple but adorable solution from Britney at bebe a la mode Designs.
Even if you're the one going through backpacks, you'll appreciate the convenience of having a spot to put everything.  Trust me when I tell you it's embarrassing when the teacher calls you on the morning of a fieldtrip to say that unless you get down there with a signed form, your kid's not going!  Avoid this with a little back to school organization.
No. 7 – Homework Station
I don't know a single parent or kid that doesn't hate homework.  But complain as we may, most schools are going to hand it out.  Getting it done will be a whole lot easier if you have a designated spot.
Create a caddy or lazy Susan with everything needed:  pencils, erasers, pens, rulers, colored pencils, glue sticks, etc.  This caddy from Amazon is pretty simple but you could jazz it up with your Cricut.  When you're making that turkey with the thankful tail feathers, you'll thank me when you know where the glue sticks are.
No. 8 – Practice Week
Everyone benefits from a little practice.  That's why we have fire drills, right?  The week before school, start getting up at the time you'll have to for school.  Get your breakfast, lunch and morning routine kits set up and have the kids practice using them.
Try adding one new thing every day so it's a more gradual transition back to reality.  Monday, just try to get up on time.  Tuesday, add in the breakfast kit. Try the lunch kits on Wednesday and the morning routine caddy on Thursday.  Friday, get the outfits planned for the next week.
No. 9 – Backpacks Necessities
Before school starts, make sure the kids have emergency supplies tucked away in bookbags.  Lunch or ice cream money, a comb, wet wipes, chapstick, Kleenex and hand sanitizer are good for younger kids.
For older girls, make sure they have pads hidden in there.  It's real sucky to start your period at school and have to ask the school nurse for a pad.
If you're child has braces, put floss picks or those brushy things in there.  Nope, they're not going to use them, but you'll feel better.
No. 10 – Stock the Car
We spend quite a bit of time in the car going to and from activities, etc.  It's great to have a few things on hand to make life easier.  Make an emergency homework kit with a pencil, pen, eraser, scissors, tape, small ruler, and a clipboard.  They can get an amazing amount of work done in the time it takes to drive across town to a doctor's appointment.
Pack some healthy snacks too.  Kids are hangry after school and having a granola bar to offer may stave off a meltdown…from you!
With a little back to school organization, and a lot of patience, you'll be back in the swing of things in no time!  What's your best back to school tip?